SSC GD Constable 2017: Preparation tips and tricks
In this article, we will discuss the tips and tricks comprehensively to crack the written examination. SSC GD constable exam is very important, as there are a higher number of vacancies with a lucrative pay and job security.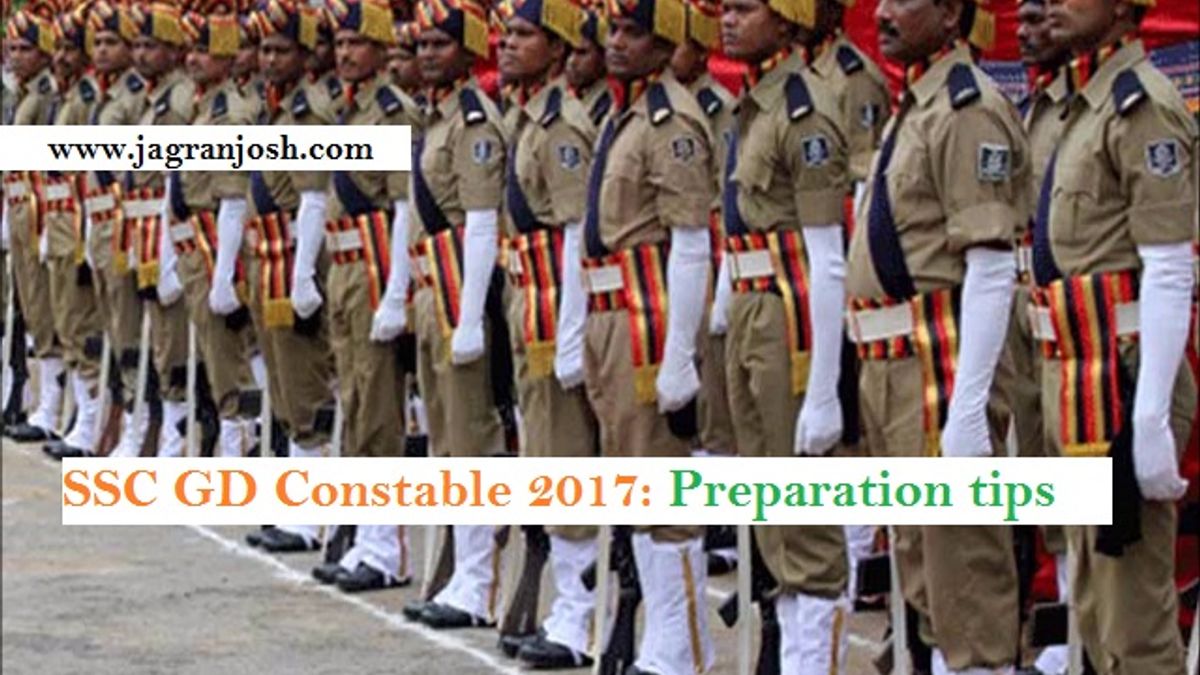 ssc gd preparation tips
Staff selection commission organizes the GD constable exam for hiring candidates in BSF, CRPF, CISF, ITBP, SSB, NIA and SSB and Rifleman in Assam Rifles as per the requirement of the organizations. At any time, SSC can announce its notification for GD constable possibly in the end of August 2017. So, Most of the aspirants are thinking about the preparation tips and strategies.
In this article, we will discuss the tips and tricks comprehensively to crack the written examination. SSC GD constable exam is very important, as there are a higher number of vacancies with a lucrative pay and job security. This is one of the most sought after exams among the candidates who belong to rural areas.
About SSC GD Constable Exam
Staff selection commission conducts online constable exam for recruiting the deserving and physically fit candidates for the post of constable in BSF, CRPF, CISF, ITBP, SSB, NIA, and SSB. The minimum educational qualification required for this exam is High school. However, at present most of the graduate students are also applying for this post. That is why; the level of competition is increasing day by day. The written examination is very easy in nature and objective type. You will have to select the correct answer. There are following four levels to qualify this exam-
Physical Standard test (PST)
Physical efficiency test (PET)
Written Examination
Medical Examination
This written examination is comprised of the following subjects-
General Intelligence and Reasoning
English/ Hindi Language
Elementary Mathematics
General Knowledge
SSC GD Constable: Job Profile, pay scale and promotions
SSC GD Constable Exam 2017: Preparation Tips
Preparation tips and strategies given below will prove worthy in qualifying SSC GD Constable Exam 2017.
Time Table
Prepare a viable timetable before starting preparation of the subjects and allocate sufficient time for each subject. Do not forget to allocate time for PET test. It is advisable to make a plan of 6 hours daily and follow it strictly. Do not just formulate timetable and forget it.
Syllabus
Go through the syllabus mentioned for the SSC GD exam especially. Do not assume that its syllabus is quite similar to the SSC CGL or other SSC exams. There are many topics, which are in SSC CGL exam but not in it. It is seen that most of the candidates used to study out of syllabus topics, which will never be asked in this exam. Hence, they drain their energy.
Previous year papers
Collect at least last five years question papers for SSC GD Constable Exam. Practice all of them strictly, because SSC use to put a few of them in the upcoming exams. Previous year question papers are also very important in the following context.
- Topic wise distribution of questions
- Difficulty level of questions
- Cut off marks
- Type of questions
It is advised to tally all above things before starting study for subjects. Find the areas in which you have enough knowledge and weaknesses. Then, plan your studies accordingly. It will boost your confidence and save time.
Standard Books
Always study from the standard books, which are specially designed for SSC GD examination. Such books contain properly defined syllabus, all type of questions, previous year questions, shortcut tricks, all concepts and proper exercises. Reading such books considered sufficient and enhances your chances of selection in written examination. It is suggested that you must not leave any page unturned of any of such books.
You can find such books at any Bookstore. However, some eminent publishers and writers publish such books and edit them time to time. They try to cover all aspect of the exam. Arihant publications, Kiran Publications are one of them.
SSC GD Constable 2017: Complete Syllabus
Mock tests/ Question Banks
After completing the standard books, Divert your attention to the mock tests and question banks. There are many online and offline sources that provide Mock tests and question banks at nominal rates. With the help of solving them, you can test your knowledge and clarify the concept that was wrongly understood. Practicing Mock tests/ question banks eliminates the fear in the examination hall, boosts your confidence, and trains you to solve the questions under the stipulated time.
Physical Activities
Do not forget to train yourself physically because you will not sit in the written test until clearing the PET and PST test. So, manage at least 1 hour in the morning for physical activity and go for it on daily basis. In PET test, you have to run 5 kilometers in 24 minutes. So, prepare it accordingly.
Breaks
Take naps in between your preparation. It gets very hectic and exhaustive to continue such activities consistently. So, try to take short breaks and entertainment related activities to reduce mental and physical stress.
SSC GD constable 2015: Morning Shift question paper
Be positive
SSC adopts a very comprehensive process for selecting candidates, which takes a lot of time. It takes approximately one year and sometimes more than that for deputing candidates under departments. So, Stay positive and give your best at every stage.
We at jagranjosh.com, are dedicated to deliver each and every delicate information regarding any SSC exams. So, for more assistance and help, keep on visiting us at our SSC official webpage.
All the Best!