Tips to cope with horrible day at work
Take a look at the tips that will help you cope up with a horrible bad day at workplace. Stay stress free and don't let your work get affected by tussles at work.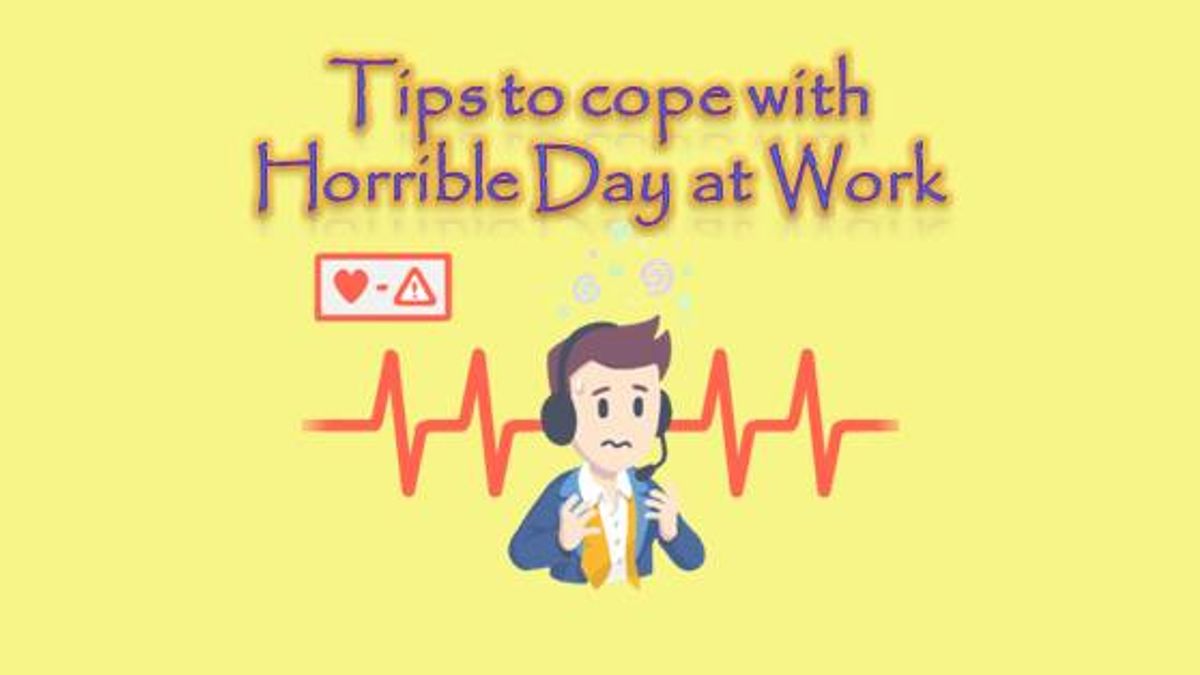 BAD DAY AT WORK
There is no definition of a perfect work day. Call it occasional or frequent co-incidence, but a bad day at workplace is unnecessarily stressful. There are 'n' number of reasons that makes employees feel lousy and demotivated at workplace. Whether it's your boss criticising your work, or your colleague arguing on a trivial matter, anything issue can become a spoiler for your otherwise happening day. Dealing with people coming from diverse backgrounds and carrying distinct mind set can be quite challenging. In fact you cannot act indifferent when you are aware of the tension going on between you and your pals. Simultaneously the pressing deadlines take toll on your productivity levels.
In a survey conducted by Woohoo.inc, when employees were asked about how often do they have a bad day at work, survey came up with these findings:
Taking cue from this survey, it is evident that the pressure of dealing with too many emotions at one go can be quite stressful. So here are a few tips that will help you cope with a horrible bad day at work. Hopefully these tips will save you from downgrading your potentially bright day. Take a look at these tips to stay afloat from a bad day at work:
1. Admit your mistakes
If you think that you have done something wrong, don't think twice to save yourself from the situation. Accept the mistake gracefully and put forward a promise to not to repeat the mistake. This will ease out the tensed situation. Admitting mistake for the wrong done is one of the most effective ways. When you hide from telling the truth, you will live in the fear of getting caught in the future. So the best way is to accept the truth and move on. This will nowhere hurt your ego or belittle you in the eyes of others. In fact you will be looked upon as a person with clean conscience and reliable source for the organisation.
2. Approach someone whom you trust
Sharing woes with someone whom you trust acts as a balm during the testing times. Find someone who can be trusted to keep your secrets. That person can be an office friend or colleague or your manager! There is no harm in sharing your feelings when you are stressed. People who share similar issues tend to bond better and find it easy to deal with a bad day at work. It feels good to know someone who is sailing in the same boat on which you are riding.
Should you make friends at workplace?
3. Use break time to distract yourself
A lot can happen at a cup of coffee. It is a well said and you must bank upon this opportunity to distract yourself. Gel with people around in the canteen and ward off the negative vibes that kept your mood low. Do not discuss work and office issues when you go out on break. Talk about your hobbies and interests and other trivial with your colleagues. You have a big world filled with numerous topics that will act as a stress-buster to uplift your mood.
5 valuable tips to keep cool at work
4. Listen to music to boost your mood
Music is the healer for a melancholic soul. It is the best therapy that will undoubtedly soothe your dull mood. Put your headphones on and play your favourite songs on the playlist. Experience the change in your emotions. You won't get affected by the tantrums of colleagues or humdrums of work.
5. Don't take it Home
Remember that your bad day at work shall remain at work. Don't carry it to home! Your home and time with family is an escape from the qualms that keep pestering you throughout the day. Utilise the after office hours to relax and unwind yourself with good food and a night walk to stay fit. Take a sound sleep of not less than six to seven hours so that you are up to face another challenging day at workplace.
5 work habits that can keep you away from office troubles
There is no apt stress management strategy to cope up with a horrible day at work. It is all about how good you are managing your emotions and controlling the anger. Once you develop the art of dealing with the disturbing elements at workplace, you will enjoy each day irrespective of the circumstances.
Know someone who finds it hard to deal with a bad day at work? Share this article with them and help them cope up with the stress of facing a bad day. You can also share with us your tips to deal with a horrible day at work, in the comments section below. For more tips on stress management, stay tuned with us at https://www.jagranjosh.com/jobs
Also Read
5 stress-inducing jobs that puts professional capacity to test