Article 35 A: Tinkering with Article 35A will be akin to setting a powder keg on fire, says Mehbooba Mufti
Article 35 A: Mehbooba Mufti said, "we would fight till death any attempt to tinker with the state's special status."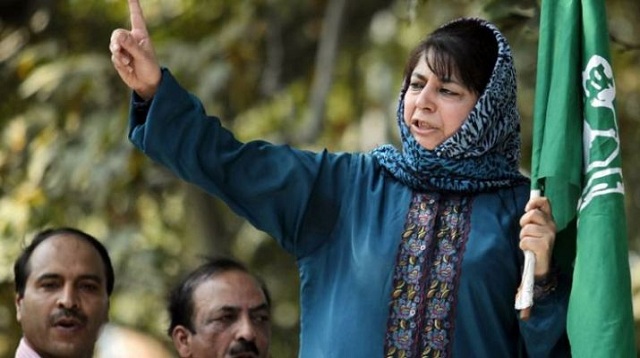 Mehbooba Mufti
Article 35 A: Mehbooba Mufti, former Jammu and Kashmir Chief Minister, warned the ruling government saying that any tinkering with Article 35 A would be akin to setting a powder keg on fire. The warning statement was given by Mehbooba Mufti while addressing a function to celebrate the 20th raising day of Peoples Democratic Party.

The PDP President warned saying, "We want to tell the Central government that tinkering with Article 35A will be akin to setting a powder keg on fire. If any hand tries to touch Article 35A, not only that hand, but that whole body will be burnt to ashes."

"Article 35A kay saath cheed Chaad karna barood ko haath laganay kay barabar hoga. Jo haath 35A ke saath chhedd chaadd karne ke liye uthenge wo haath hi nahi wo saara jism jal ke raakh ho jaega," warned Mehbooba Mufti.

Mehbooba Mufti further stated that we would fight till death any attempt to tinker with the state's special status. The former J&K Chief Minister claimed that many attempts would be made to harass PDP and its leaders. Mufti said that New Delhi knew that PDP was the 'only party' that 'stands like a wall' to protect J&K's state's special status and identity.

What is Article 35A and Article 370?

Article 35A provides special status to the permanent residents of Jammu and Kashmir and also defines the permanent resident status. The Article also bars non-permanent residents from settling permanently in the Valley.

Article 370 provides special autonomous status to the state of Jammu and Kashmir. The Article also limits the Parliament's power to make laws concerning the state.

Article 35A to be scrapped?

Mehbooba Mufti's warning to the government comes after the Union Home Ministry, in a recent move, ordered the deployment of 10,000 paramilitary personnel in the Kashmir Valley to maintain law and order and for counter-insurgency.

The move was criticized by J&K political leaders including PDP President Mehbooba Mufti and NC chief Omar Abdullah. Mehbooba Mufti had written on twitter saying that the decision of the centre to deploy additional 10,000 troops in the Valley has created fear psychosis amongst people. She claimed that J&K is a political problem which won't be solved by military means.

There have been reports of the ruling government planning to review and repeal Article 35A. Earlier, Union Home Minister Rajnath Singh had said that Articles 370 and Article 35A should be seriously reviewed and scrapped.