BRICS Summit 2017: Xiamen Declaration condemns Pak-based terror groups
The leaders of all five BRICS nations including Brazil, Russia, India, China and South Africa convened for the 9th BRICS Summit on 4 September 2017 in Xiamen, China.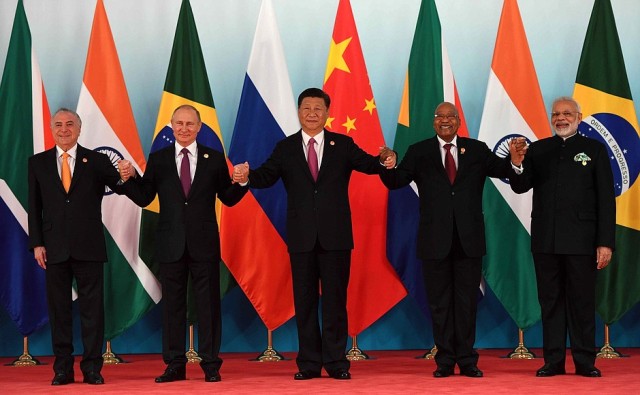 BRICS Summit 2017: Xiamen Declaration condemns Pak-based terror groups
The leaders of all five BRICS nations including Brazil, Russia, India, China and South Africa convened for the 9th BRICS Summit on 4 September 2017 in Xiamen, China.
The main theme of the summit was, "BRICS: Stronger Partnership for a Brighter Future". It saw the leaders come together and discuss various international and regional issues of common concern and adopt the Xiamen Declaration by consensus.
Key Points of the Declaration:
• The leaders jointly agreed to energise their practical cooperation to boost development of BRICS countries by promoting exchanges of good practices and experiences on development and facilitating market inter-linkages as well as infrastructure and financial integration.
• The leaders agreed to enhance communication and coordination in improving global economic governance to foster a more just and equitable international economic order.
• They agreed to emphasize fairness and justice to safeguard international and regional peace and stability.
• They agreed to embrace cultural diversity and promote people-to-people exchanges to garner more popular support for BRICS cooperation through deepened traditional friendships.
Economic Cooperation
• The leaders called upon all the countries to calibrate and communicate their macroeconomic and structural policies and strengthen policy coordination.
• They emphasized on the need to be vigilant in guarding against inward-looking policies and tendencies that weigh on global growth prospects and market confidence.
• They welcomed the first report on the implementation of the Strategy for BRICS Economic Partnership, and the broad package of outcomes delivered by the sectoral ministerial meetings.
Science & Technology
• The leaders highlighted the importance of innovation as a key driver for mid and long term economic growth and global sustainable development.
• They committed to promote cooperation on science, technology and innovation (STI) to forge synergy in tapping new growth momentum for the five economies and continue to address the development challenges faced by them.
• They also welcomed the BRICS STI Cooperation MOU and showed their support for enhanced cooperation on innovation and entrepreneurship, including by promoting technology transfer and application, cooperation among science and technology parks and enterprises as well as mobility of researchers, entrepreneurs, professionals and students.
Industrial Cooperation
• The leaders reaffirmed their commitment to BRICS industrial cooperation so as to jointly seize the opportunities brought about by the new industrial revolution and expedite their respective industrialization processes.
• They agreed to enhance joint BRICS research, development and innovation in Information and Communications Technology (ICT).
• They also agreed to support active collaboration in implementing the BRICS ICT Development Agenda and Action Plan.
Sustainable Development
• The nations reaffirmed their commitment to fully implementing the 2030 Agenda for Sustainable Development.
• They also advocated equitable, open, innovation-driven and inclusive development, to achieve sustainable development in its three dimensions - economic, social and environmental- in a balanced and integrated manner.
• They recognised the important role of the United Nations in coordinating and reviewing global implementation of the 2030 Agenda.
Energy Cooperation
• Recognising the strategic importance of energy to economic development, the nations committed to strengthen BRICS cooperation on energy.
• They recognised that sustainable development, energy access, and energy security are critical to the shared prosperity and future of the planet.
• They agreed to work together to promote most effective use of fossil fuels and wider use of gas, hydro and nuclear power.
Cooperation on Climate
• The leaders committed to further promote green development and low-carbon economy and enhance BRICS cooperation on climate change and expand green financing.
• They called upon all countries to fully implement the Paris Agreement adopted under the principles of the United Nations Framework Convention on Climate Change (UNFCCC) including the principles of common but differentiated responsibilities and respective capabilities.
• The leaders also agreed to take concrete actions to advance result-oriented cooperation in areas including prevention of air and water pollution, waste management and biodiversity conservation.
Corruption
• The leaders announced their support for the efforts to enhance BRICS anti-corruption cooperation.
• They acknowledged that corruption including illicit money and financial flows, and illegal wealth stashed in foreign jurisdictions is a global challenge, which may impact economic growth and financial stability negatively.
• Further, they supported the strengthening of international cooperation against corruption, including through the BRICS Anti-Corruption Working Group.
Disaster Management
• Recalling the Saint-Petersburg and Udaipur Declarations of BRICS Ministers for Disaster Management and the decision to establish a BRICS Joint Taskforce on Disaster Risk Management, the leaders underlined the importance of consistent joint work of emergency services of BRICS countries.
• The main aim behind the move is to build a safer future by reducing existing disaster risks, including exchange of information on best practices concerning disaster risk management and cooperation in the field of forecasting and early warning for effective response to natural and human induced disasters.
International Peace and Security
• The leaders committed to enhance communication and cooperation in international forum on issues concerning international peace and security, keeping in mind the global security challenges and threats.
• They emphasized that no country should enhance its security at the expense of the security of others.
• The leaders opposed the use of chemical weapons by anyone, for any purpose and under any circumstance.
• The leaders also strongly condemned terror groups, especially the Pakistan based groups like Lashkar-e-Taiba, Haqqani network, Jaish-e-Mohammad, for the first time ever.