Col Chewang Rinchen Setu Inaugurated in Eastern Ladakh by Rajnath Singh
Colonel Chewang Rinchen Setu, located between the Karakoram and Chang Chenmo mountain ranges, is a 400-meter long bridge.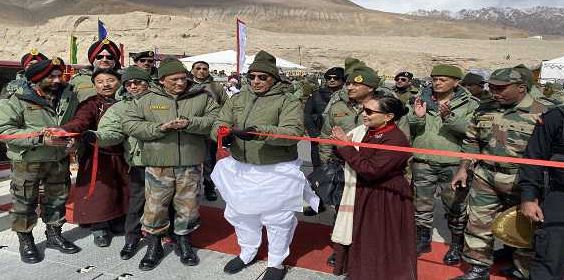 Image: PIB
Colonel Chewang Rinchen Setu in Eastern Ladakh has recently inaugurated by Defence Minister Rajnath Singh. This is India's all-weather highest altitude bridge which is about 45 kilometres away from the Indo-China border.
Col Chewang Rinchen Setu has built by Border Roads Organisation (BRO) on River Shyok. The bridge connects Durbuk and Daulat Beg Oldie areas. It is a section of the road between Karakoram Pass and Leh region.
Key Highlights
• The Colonel Chewang Rinchen Bridge, located between the Karakoram and Chang Chenmo mountain ranges, is a 400-meter long bridge, built at an altitude of about 15,000 feet using micro piling technology.
• This bridge not only connects Durbuk with Daulat Beg Oldie but also connects the people of Ladakh and all interior areas of Jammu and Kashmir with other parts of the country, this will provide new development opportunities and investment for these areas.
• It is an integral part of the government's strategy for the development of the border area.
• New opportunities in the areas of employment, agriculture, education among others will be created.
• BRO has built this bridge in 15 months which has 10 spans of 140 ft each with 4.25 m of width.
Also Read | India condemns Turkey's military offensive in Syria
Strategic Importance
• Colonel Chewang Rinchen Bridge will be helpful in strengthening national security through border security management in border areas near China, such as Aksai Chin, Arunachal Pradesh etc. in Jammu and Kashmir.
• The bridge will provide quicker movement of army forces in the region.
• Colonel Chewang Rinchen Bridge will help in tackling the challenges related to the smuggling of Chinese products and dumping of goods in the border areas.
• Infrastructure development works will be taken place because of the bridge.
About Col Chewang Rinchen
• Col Chewang Rinchen was born on 11 November 1931 in Nubra Valley. He is also known as 'Lion of Ladakh'. He is one of the six soldiers of the Armed Forces, who have been awarded the highest Indian gallantry award, the Mahavir Chakra twice.
• Chewang Rinchen joined the Nubra Guards in 1948. He fought Indo-Pak war in Nubra Valley. He was promoted through the ranks and awarded Mahavir Chakra for bravery.
• Rinchen served in 1962's India-China war where he was awarded, Sena Medal.
• He played an important role in the Indo-Pakistani War of 1971 as he led the battalion to capture the Chalunka complex of the Pakistani Army and a strategic outpost of Turtuk.
Also Read | India's most advanced Electronic Interlocking System installed on Grand Chord Route
Also Read | Jammu and Kashmir opens for tourists after two-month travel ban