Current Affairs 11 April 2019 Digest 1: Benjamin Netanyahu set to win record fifth term, New Zealand bans semi-automatic weapons
With more than 99 percent of votes counted, Netanyahu's Likud party is set to lead a right-wing bloc with 65 of the 120 seats in parliament.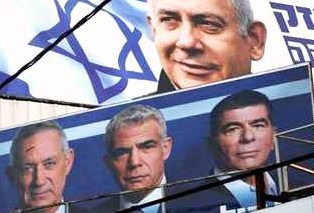 Benjamin Netanyahu set to win record fifth term
Story 1- Benjamin Netanyahu set to win record fifth term, as key rival concedes

Incumbent Israeli Prime Minister Benjamin Netanyahu is set to win a record fifth term in the country's most closely-fought general election in years after his main rival conceded defeat.

With more than 99 percent of votes counted, Netanyahu's Likud party is set to lead a right-wing bloc with 65 of the 120 seats in parliament. Netanyahu's key rival, Blue and White Party's Benny Gantz, accepted the result on April 10, acknowledging that he had failed to unseat the prime minister.

Although Gantz's Blue and White Party was set to win a similar number of seats to Likud, there was no obvious path for its leader to find a parliamentary majority, as a number of right-wing parties expressed their support for Netanyahu.

Big Win for Netanyahu

With the election results, Netanyahu is now set to embark on a record fifth term in office thus, becoming Israel's longest-serving prime minister.

His previous terms have been marked by a rightward shift in Israeli policy towards the occupied Palestinian territories, as peace talks with the Palestinians have collapsed and the expansion of illegal Israeli settlements in the West Bank had accelerated.

In the run-up to the election, Netanyahu had promised that he would annex Israeli settlements if he won a fifth term.

Netanyahu received the popular mandate despite facing the possibility of being indicted on charges of corruption, fraud and breach of trust in three cases.

Israel Elections: Key Highlights

• The citizens of Israel on April 9, 2019 voted to elect a new parliament in the country's most closely-fought general election in years.

• Overall, fourteen main parties were competing for 120 seats in the Knesset or the Israeli parliament.

• Netanyahu, who was seeking a fifth term, faced main opposition from Benny Gantz, a former chief of staff of the Israeli military.

• In Israel, voters cast votes for a party and not individual candidates. The seats are divided proportionally based on the percentage of the vote each party receives.

• Any party that wins 3.25 percent or more of the vote gets at least one seat. If parties don't pass that threshold, which many smaller parties do not, their votes will not be counted. This raises the share of seats given to other parties.

• The more votes a party gets, the more seats it will obtain in the Knesset as the government is based on a nationwide proportional representation system.

• No party has ever won a majority in Israel's 120-seat parliament. Hence, as soon as the results start coming in, negotiations will begin on the formation of a governing coalition.
• Netanyahu's key rival in the race was Benny Gantz, head of the centrist Blue and White alliance, who challenged him on the issue of security, corruption and has promised cleaner politics.
• While Gantz sought allies from across the spectrum, Netanyahu reached out to the far right to strengthen his prospects for a parliamentary majority. Netanyahu even promised to begin extending sovereignty over the occupied West Bank, which the Palestinians want for a future state if he is re-elected.
• The election is the first time that three former heads of the army, the Israel Defense Forces, united to run for office.
• The Blue and White alliance was led by Gantz and two other veteran generals, Gabi Ashkenazi and Moshe Yaalon.
• The leaders drew on their military backgrounds to counter Netanyahu's contention that only he can protect Israel.
Corruption Charges against Israeli PM
There is a huge possibility that Netanyahu could be indicted for corruption charges. A final decision on the charges is likely to come by the year's end.
Under the current law, Netanyahu, if re-elected, would not have to resign until a final conviction, although new legislation or public pressure could force him to step down. Netanyahu has described the charges as a baseless partisan witch hunt.
Background

Benjamin Netanyahu is one of Israel's longest-serving leaders, having served 10 uninterrupted years as Prime Minister. He had previously held the position from 1996 to 1999 when he had become Israel's youngest-ever Prime Minister.

His tenure has been marked by a collapse of peace talks with the Palestinians, confrontation with Iran, armed conflict with Hamas and hostility toward what he views as plots to isolate and delegitimize the Jewish state.

At the same time, Netanyahu has overseen an era of healthy economic growth and stability, thawed relations with Sunni Arab leaders and expanded Israeli trade ties in Africa, Latin America and Asia.

The prime minister is entangled in corruption scandals that could lead to his indictment.

Story 2-New Zealand votes to ban semi-automatic weapons
The Parliament of New Zealand on April 10, 2019 voted to ban all types of semi-automatic weapons and assault rifles following the Christchurch attacks. The bill was passed in the House of Representatives with the approval of 119 members, with just one member opposing it.

The bill will now be sent to the Governor General for his royal assent and is expected to become a law by April 12.

Key Highlights

• An amnesty has been imposed so the owners of the weapons can hand them back, followed by a buy-back scheme which could cost up to 200 million New Zealand dollar.

• Prime Minister Jacinda Ardern announced changes to the law after 50 people were killed last month by a suspected lone gunman at two mosques in Christchurch.

• Australia's Brenton Harrison Tarrant, 28, was charged with the mass murder and 39 counts of attempted murder. The royal commission set up to investigate issues surrounding the massacre is examining how he obtained a gun license in New Zealand and purchased weapons and ammunition.

• Ardern, who won international praise for her compassion and leadership since the shootings, was able to win rare bipartisan support for a bill that makes it illegal to own a military-style semi-automatic rifle. The only dissent was from the libertarian ACT Party's lone lawmaker in Parliament.

• The law includes a buy-back scheme under which owners of outlawed weapons can surrender them to police in return for compensation based on the weapon's age and condition.

Penalty

Anyone found in possession of the banned assault rifles and semi-automatic weapons after the law formally passes, will risk facing jail term of up to five years.

Some exemptions have been allowed for heirloom weapons held by collectors or for professional pest control.
New Zealand had imposed an immediate ban on assault weapons on March 21, 2019 following the Christchurch massacre that claimed the lives of at least 50 mosque-goers.
The announcement was made by Prime Minister Jacinda Ardern, who said that all assault rifles and military-style semi-automatic weapons would be banned with immediate effect, making a pledge to ensure that nothing like the last week's attack ever occurs in the Pacific nation again.
The Prime Minister had added that high-capacity magazines and devices similar to bump stocks, which allow users to fire weapons faster, will also be banned.
• On March 15, 2019, two consecutive terrorist attacks began at mosques in Christchurch, New Zealand during the Friday prayer.
• The attacks began at the Al Noor Mosque in the suburb of Riccarton at 1:40 pm, and continued at the Linwood Islamic Centre at about 1:55 pm. The gunman live-streamed the first attack on Facebook Live.
• The attacks killed at least 50 people and injured 50 more. They were launched by a 28-year-old Australian male, described as a white supremacist. He was arrested and charged with murder.
• The attacks have been linked to an increase in white supremacism and alt-right extremism globally, observed since the mid-2010s.
• Prime Minister Jacinda Ardern referred to the attacks as "one of New Zealand's darkest days". It is the deadliest mass shooting in modern New Zealand history.
• The scale of the attack caused a worldwide outcry, heightened by alleged shooter Brenton Tarrant's use of social media to live stream the carnage.