Current Affairs 26 March 2019 Digest 3: Pak to open Sharada Peeth Corridor; India & Oman begin Sri Lanka's oil refinery project
Sharada Peeth is an ancient Hindu temple and cultural site in PoK. This would be second religious corridor after Kartarpur Sahib that will connect the two neighbouring countries.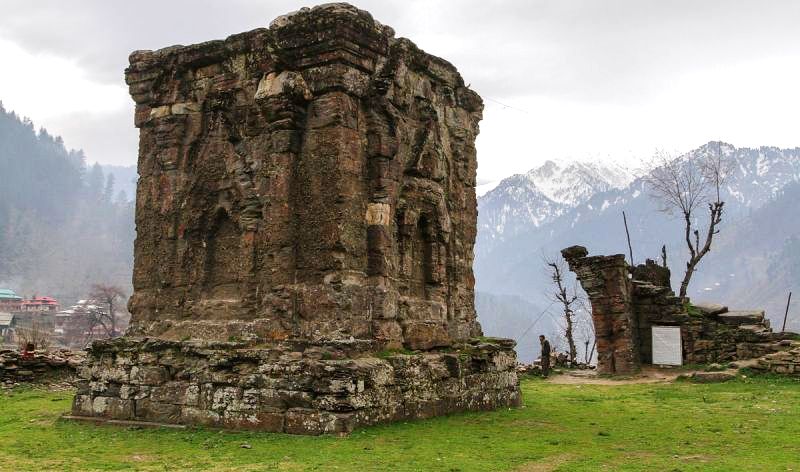 Sharada Peeth
Story 1: Sharada Peeth Corridor: Pak approves proposal for Hindu Pilgrims from India
Pakistan government on March 25, 2019 approved a proposal to open the Sharada Peeth Corridor for Hindu pilgrims. Pakistan government to establish a corridor that will allow Hindu pilgrims from India to visit Sharada Peeth located in PoK.
Sharada Peeth is an ancient Hindu temple and cultural site in PoK. This would be second religious corridor after Kartarpur Sahib that will connect the two neighbouring countries.
About Sharada Peeth
Established in 237 BC during the reign of Ashoka, the 5,000-year-old Sharada Peeth is an abandoned temple and ancient centre of learning, dedicated to the Hindu goddess of learning.
Between the 6th and 12th centuries CE, Sharada Peeth was one of the leading temple education centres of the Indian subcontinent.
The temple is also regarded as a Shakti Peeth, a shrine built on places where body parts of Sati Devi had fallen while being carried by her husband Lord Shiva.
A famous pond near Sharada Peeth is known as "madomati".
It is believed that its water holds great importance as the water of the Katasraj temple (in Pakistan) for the Hindu community.
In the year 1030 CE, the historian traveller Al-Biruni visited Kashmir. According to him, there was a wooden idol of Sri Sharada Devi in the temple. He compared the temple to the Multan Sun Temple, Vishnu Chakraswamin temple at Thanesar and Somnath temple.
18 Hindu Maha Shakti Peethas
Shankari devi - Trincomalee (Sri Lanka)
Kamakshi Devi - Kanchi (Tamil Nadu)
Suvarnkala Devi – Pradyumna (West Bengal)
Chamundeshwari Devi - Mysore (Karnataka)
Jogulamba Devi - Alampur (Andhra Pradesh)
Bhramaramba Devi - Srisailam (Andhra Pradesh)
Mahalakshmi Devi - Kolhapur(Maharastra)
Ekveerakshi Devi - Nanded (Maharastra)
Mahakali Devi – Ujjain (Madhya Pradesh)
Puruhutika Devi - Pithapuram (Andhra Pradesh)
Purnagiri Temple - Tanakpur (Uttrakhand)
Maniamba Devi - Andhra Pradesh
Kamakhya Devi – Guwahati (Assam)
Madhaveswari Devi - Prayaga(Uttar Pradesh)
Vaishno Devi – Kangra (Himachal Pradesh)
Sarvamangala Devi - Gaya(Bihar)
Vishalakshi Devi - Varanasi(Uttar Pradesh)
Sharada Devi - PoK
Background
After partition in 1947, Hindu pilgrims started facing issues to visit this pilgrimage. India had made this request several times as part of the Composite Dialogue between India and Pakistan. It is believed that Maharaja Gulab Singh did the last conservation works at Sharada Peeth in 19th century.
Story 2: India, Oman backed USD 3.85 billion oil refinery project begins in Sri Lanka
India's Accord Group and Oman's Ministry of Oil and Gas began construction of an oil refinery in Sri Lanka on March 24, 2019. The construction of this oil refinery, with investment of USD 3.85 billion , began with inauguration by Prime Minister Ranil Wickremesinghe in Hambantota.
This project is jointly funded by Oman and Singapore registered Silver Park International (owned by India's Accord Group) is the single largest foreign investment in Sri Lanka's history.
Sri Lankan PM Ranil Wickremesinghe lays foundation stone for oil refinery (Image: AFP)

About Hambantota Oil Refinery Project
2,00,000 barrel-per-day refinery will be built on 585 acres near the site of the new Hambantota International Port and a related industrial zone on the Sri Lanka's southern coast.
The refinery is expected to export 9 mt of petroleum products annually, when fully operational.
This will be the first oil refinery in Sri Lanka after the Sapugaskanda oil refinery that was set up in 1967.
Project is expected to be completed in 44 months and it will generate 10,000 direct employments.
Benefit for India
Sri Lanka is an important strategic location for China's Belt and Road infrastructure (BRI) project. China already has a 99 year lease on Hambantota port.. This Indian investment will help ease Sri Lankan economy and make India-Sri Lanka relations stronger. China's hold as the biggest investor in Sri Lanka will also break by this project and give India a new business dimension in the country.
What is BRI ?
The Belt and Road Initiative is a multi-billion-dollar initiative launched by Chinese President Xi Jinping when he came to power in 2013. It aims to link Southeast Asia, Central Asia, the Gulf region, Africa and Europe with a network of land and sea route. The BRI consists primarily of the Silk Road Economic Belt, linking China to Central and South Asia and onward to Europe, and the New Maritime Silk Road, linking China to the nations of South East Asia, the Gulf Countries, North Africa, and on to Europe.