Current Affairs in Short: 06 March 2020
The Tamil Nadu Food Safety and Drug Administration has recently asked the temple administrators to obtain BHOG certificate from FSSAI.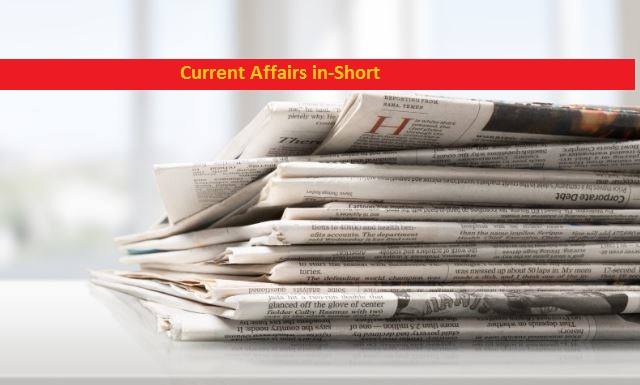 Current Affairs inshort
FSSAI notifies BHOG certification for temples
• The Tamil Nadu Food Safety and Drug Administration has recently asked the temple administrators to obtain BHOG certificate from FSSAI (Food Safety and Standards Authority of India).
• BHOG stands for 'Blissful Hygiene Offering to God'. It is a certification of hygiene by FSSAI. It was started to ensure clean and harm free eatable offerings at temples.
• The project also provides training for food operators on basic food security apart from maintaining the high quality of food items in the temples. It includes Gurudwaras, Temples, Mosques and all other religious places.
Ukraine's Parliament approves Denis Shmygal as new PM
• Ukraine's parliament approved the name of Denis Shmygal for the post of Prime Minister. Earlier, the former Prime Minister had to resign due to criticism of the President.
• Most of the Members of Parliament voted in favour of Denis Shmygal, nominated by President Volodymyr Zelensky. Earlier, Shmygal was the Deputy Prime Minister of the country.
• Denis Shmygal is the third Prime Minister of Ukraine in just over six months. He had also served as the governor of Ivano-Frankivsk region. Also, he was chief of DTEK Burshtynskaya, a coal power plant.
University of British Columbia discovered 17 new planets
• Michelle Kunimoto, a student of the University of British Columbia, has discovered 17 new planets. These planets have been discovered by the Kepler space telescope of the National Aeronautical and Space Administration.
• Nearly two million stars have been studied by NASA's four-year Kepler mission using the transit method for this discovery.
• These new planets have been discovered in the Gold-lock zone where the presence of water on the rocky surface of the planets is also being estimated. Among the discovered planets, KIC-7340288b is an extremely rare planet.
Scientists identify bacteria that can replace fertilizers, fungicides in tea plants
• According to an article published in the famous science magazine 'Frontiers', Endophyticactino bacteria associated with tea plants promote the growth and fungicidal activities of tea plants.
• A study conducted by scientists on 46 bacteria found this result that Endophyticactino bacteria spend their lives independently.
• As per the report, most of the endophyticactino bacteria having antifungal activity showcased presence of NRPS, chitinase, PKS-1 gene that helps to grow pathogenic plant fungi.
Most joyful festival of Mizos 'Chapchar Kut' celebrated
• Chapchar Kut is the most joyful and biggest festival of Mizoram. It is being celebrated in the Mizoram on March 6, 2020. It is also believed as the most popular spring festival of the Mizoram.
• Mizo people dance and greet each other in good spirits. Chapchar Kut is a public holiday in the Mizoram.
• R Lalzirliana, Mizoram's Art and Culture Minister welcomed all people to participate in the festival. The state government of Mizoram organized traditional bamboo dance 'Cheraw' and other dances at the Assam Rifles Ground at Aizawl.