Current Affairs in Short: 08 November 2019
US Government has increased H-1B work visa application fee by 10 US Dollars.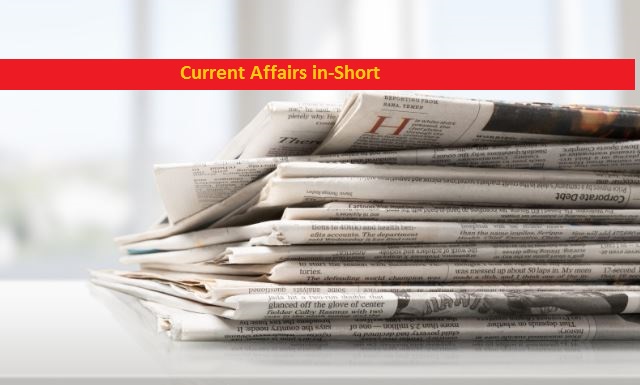 current affairs inshort
H-1B work visa application fee increases
• According to the revised selection process of the US Government, the US Government has increased H-1B work visa application fee by 10 US Dollars.
• It was said by the authority that the non-refundable fee will make the new electronic system more efficient.
• As per the rules of the H-1B program, foreign workers can temporarily work with US companies.
Cycle Bulbul reaches near Bangladesh ports
• The Meteorological department has issued a notice that cyclonic storm Bulbul is likely to hit Bangladesh between 9 and 10 November.
• Bangladesh has been advised to keep hoisted local cautionary signal four in Maritime ports of Chattogram, Cox's Bazar, Mongla and Payra.
• Cyclone Bulbul can hit Bangladesh with a wind speed of 62 km per hour to 88 km per hour.
Kartarpur Corridor: PM Modi to flag off first 'Jatha' tomorrow
• Prime Minister Narendra Modi will flag off first 'Jatha' of devotees from Dera Baba Nanak to Kartarpur Sahib on the same day.
• On the occasion of inauguration of Kartarpur Corridor, the Punjab Government has announced holiday on November 9.
• The first 'Jatha' is included with eminent people like former PM Manmohan Singh, Punjab Chief Minister Captain Amrinder Singh along with 150 other parliamentarians.
Also Read | Devendra Fadnavis resigns as Maharashtra Chief Minister
Earth Heroes Award 2019 conferred
• Royal Bank of Scotland (RBS) has announced 9th edition of the RBS Earth Heroes Awards (REHA) recently.
• The objective of this award is to recognise the grit and determination of individuals and institutions to preserve and protect the environment.
• Dimbeshwar Das is one of the winners of the award. He works as a guard at Kaziranga National Park. He worked hard and helped government agencies for catching poachers and saving rhinos.
Steel Scrap Recycling Policy issued
• Ministry of Steel has issued a steel scrap recycling policy to promote a circular economy in the steel sector.
• This policy will help the industry to evolve a responsive ecosystem by involving all stakeholders.
• The new scrap recycling policy will ensure scientific processing and recycling of ferrous scrap generated from various sources and a variety of products.
Also Read | What is OCI Card: Eligibility criteria, exemption, disqualification
Also Read | Ayodhya Verdict Date: Check here when the SC judgment is coming