Current Affairs in Short: 17 January 2018
17 January 2018: The section covers important current happenings that are relevant to competitive exams such as Cartosat-2's first image, NITI Aayog's first course on Sustainable Urban Planning and China's new guided-missile frigate among others.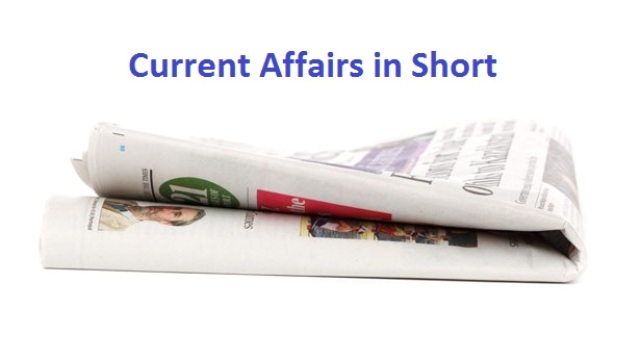 Current Affairs in Short: 17 January 2018
1. ISRO releases first image taken by Cartosat-2 series satellite

The Indian Space Research Organisation (ISRO) on 16 January 2018 released the first image captured by India's recently launched remote sensing satellite, Cartosat-2.

The image shows a part of Indore city in Madhya Pradesh with the Holkar Cricket Stadium in the centre. The image was acquired on 15 January, three days after the launch of the satellite.

The Cartosat-2 Series satellite was successfully launched along with 30 other satellites aboard PSLV-C40 rocket on 12 January 2018 by ISRO from its space centre at Sriharikota. ISRO had said then that the satellite would be brought to its final operational configuration in the next few days following which it will begin to provide high-resolution scene specific spot imageries using its panchromatic (black and white) and multi spectral (colour) cameras.

Cartosat-2 is an advanced remote sensing satellite similar in configuration to the earlier six satellites in the Cartosat series. It is capable of providing scene-specific spot imagery. The data sent by the satellite will be useful for detailed mapping and other cartographic applications at cad-astral level, urban and rural infrastructure development and management, as well as applications in Land Information System (LIS) and Geographical Information System (GIS).

2. YouTube toughens rules regarding which videos get advertisements

YouTube on 16 January announced stricter rules regarding when it will run advertisements with videos as it scrambled to quell concerns by brands about being paired with troublesome content.

The channels at YouTube will now need to have at least 1,000 subscribers and 4000 hours of watch time within the past year to be eligible for ads. Previously, the channels could be eligible for ads as a part of a YouTube Partner Program by racking up 10,000 views or more.

In addition to this, the video-sharing service would also be keeping a close watch for spam, abuse flags and other signals to make sure channels are sticking to its content policies.

YouTube would also be providing advertisers with simpler controls regarding where ads appear and transparency including safety checks by outside parties. The changes were expected to affect "a significant number" of YouTube channels eligible to run ads.

3. NITI Aayog initiates first course on Sustainable Urban Planning

The First Global Initiative on Academic Network (GIAN) course on Sustainable Urban planning using remote sensing and Geographic Information System (GIS) was launched on 15 January 2018.

The course was inaugurated by Niti Aayog's Principal Adviser Ratan P Watal at the Indian Institute of Technology Kanpur's outreach center in NOIDA. The course is being conducted under the Global Initiative on Academic Network (GIAN) Program of the Ministry of Human Resource Development with active support by NITI Aayog and Ministry of Housing and Urban Affairs.

The course mainly aims to give participants state-of-the-art remote sensing and GIS skills that will allow them to rise to the challenge of managing the rapidly changing urban environment of Indian cities. the main focus will be on issues such as water resource management, water pollution and strategic emplacements for water treatment facilities.

Overall, the course is expected to contribute significantly to build trained manpower for the Smart Cities Mission, which was launched by the Union Government on 25 June 2015 with an objective to promote sustainable and inclusive cities that provide core infrastructure and give a decent quality of life to its citizens.

4. Karnataka to organise blockchain hackathon

Karnataka's Information Technology department would be organising a blockchain hackathon from 19 to 21 January 19 to see if participants can create demonstrable prototypes of the use of blockchain in government applications.

The move comes as blockchain, the technology behind cryptocurrencies such as Bitcoin, is fast gaining acceptance worldwide. By hosting the hackathon, the state government of Karnataka hopes to see if the technology can be used in some critical areas of governance in the State.

The IT department of the state has designed the hackathon as a team event. Each team will comprise 3-5 individuals, who will work on individual problem statements provided by different government departments. Each team will have to submit a brief statement of the problem they are attempting to solve with blockchain.

In total, the hackathon will last for 48 hours, during which the participants would not be allowed to leave the venue. They would be provided with all the required facilities at the venue itself.

The event will be open to students, startups and other IT professionals while cloud-based blockchain technology providers will be invited to provide platforms for use.

5. China launches new guided-missile frigate 'Wuhai'

China has launched a new guided- missile frigate called 'Wuhai', which has stronger anti- submarine capabilities.

Wuhai is the latest member of the Type 056 corvettes family. Following the retirement of China's older generation corvettes, Type 037 and Type 053, the Type 056 family has become the Chinese navy's main fleet for offshore defense.

The new version of Type 056 ships including Wuhai are more equipped with anti-submarine weapons and while these ships do not have shipboard hangars, they can accommodate anti-submarine helicopters.

The main duties of the Wuhai, will include patrolling, guarding, escorting missions, and working with other naval forces to strike enemy ships. It is also capable of engaging in anti-submarine warfare and other comprehensive maritime warfare.