Current Affairs in Short: 24 February 2020
Narendra Singh Tomar launched PM KISAN Mobile Application on February 24, 2020. This mobile app has been launched with an aim to increase the reach of PM KISAN scheme.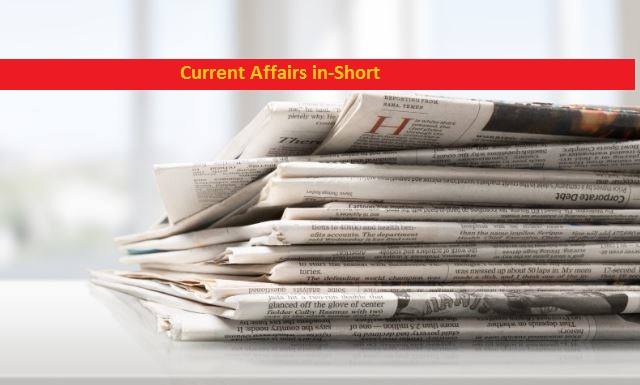 Current Affairs inshort
Agriculture Minister launches PM KISAN Mobile App
• Narendra Singh Tomar, Agriculture Minister, launched PM KISAN Mobile Application on February 24, 2020. This mobile app has been launched to increase the reach of PM KISAN scheme.
• Now, all Indian farmers can know their payment status and correct their names if required. On this occasion, Agriculture Minister said that PM KISAN scheme will play an important role in increasing the farmer's income.
• He also informed that the Government of India is promoting the export of agri-products and organic farming to increase the farmers' income. He also said that the Government is committed to double up the farmers' income by 2022.
Flourishing Index and Sustainability Index Released
• The World Health Organisation (WHO) and UNICEF recently launched 'A Future for the World's Children' report. The report highlights the Sustainability Index and Flourishing Index of 180 countries.
• In Flourishing Index, India secured 131st place while India bagged 77th position on Sustainability Index. Norway secured the first position in the list because of its better service in health, education and nutrition rates.
• On the other hand, Somalia, Chad, and the Central African Republic got the bottom place in the index. The report also recommended that it is very urgent to cut down carbon emissions.
Pakistan starts first Afghanistan transit cargo train service
• Pakistan Railways has started freight train services from Karachi to Kandhar. This is the first freight train service from Karachi to Afghanistan that will transport goods to both countries.
• The first train departed from Pakistan International Container Terminal in Karachi with 35 containers. This train will go to the Pakistani city Chaman near the Afghanistan border. From there the containers will be taken to Afghanistan by road.
• Pakistan's government believes that this project will help in increasing the revenue of Pakistan Railways. Goods train will reach the Afghanistan border in 48 hours under this service.
Archaeological site discovered near Varanasi
• An archaeological site has been recently discovered in Babhaniyav village near Varanasi. This place is about 13 km from Varanasi. A team of surveyors and researchers from Banaras Hindu University discovered the site.
• Experts believe that this site can be one of the craft villages mentioned in ancient texts. A two-line text in Brahmi script has also found on a pillar.
• It is believed that there were sub-urban villages established during the age of Buddha. These villages belonged to the specific work nature, for example, carpenter's village, chariot makers village, etc.
International Judicial Conference held in New Delhi
• The International Judicial Conference was recently held in New Delhi. There were several topics were discussed during the meeting including - Government of India's new rules to recruit women in military services.
• The conference also discussed about the speedy justice system through an "e-Court Integrated Mission Mode Project" of the Government of India. It highlights the importance of the e-court system in India.
• The objective of e-court and this conference was to bring gender equality in various areas where women have to work beyond their natural capacities.