Current Affairs in Short: 25 March 2020
Pune-based testing service MyLab has become the first Indian company to receive commercial approval from CDSCO for the sale of COVID-19 test kits.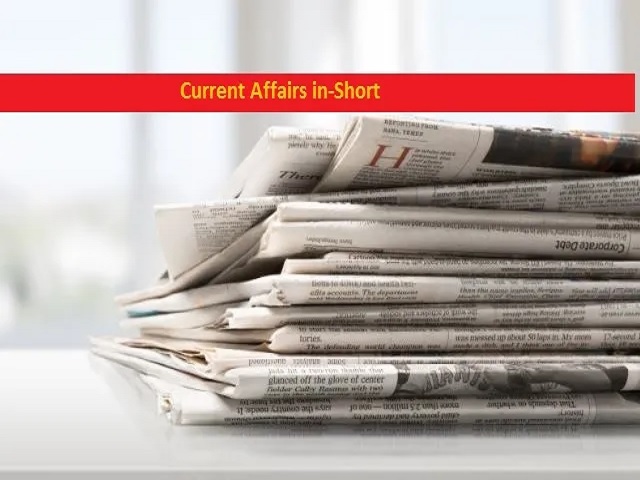 Current Affairs in Short
First 'Made in India' COVID-19 test kit approved
Pune-based testing service MyLab has become the first Indian company to receive commercial approval from CDSCO for the sale of COVID-19 test kits. This kit has been developed by MyLab Test Services.
COVID-19 has a test time of 4 hours in existing laboratory testing services while this kit takes two hours.
The Government of India has fixed the maximum price of COVID-19 test at Rs 4,500. No laboratory in India can charge more than this prescribed amount for testing COVID-19.
Hillel Furstenberg and Gregory Margulis win Abel prize
Israel's Hillel Furstenberg and Russian-American Gregory Margulis have been chosen as the winner of the prestigious Abel Prize for the year 2020.
The Abel Prize is one of the highest awards in the field of mathematics. These two mathematicians have been chosen to introduce the use of probability and dynamics methods in group theory, number theory and combinatorics.
These two mathematicians were the first to use randomness to make easily understandable mathematics certainty.
Mayiladuthurai to be Tamil Nadu's 38th district
Tamil Nadu will have 38thdistrict in the state as Chief Minister Edappadi K Palaniswami recently announced that bifurcation of Nagapattinam district will create a new district that will be known as Mayiladuthurai.
It was a suo motu announcement by the Chief Minister in the assembly. He also said during the announcement that this district will be created for administrative reasons and to speed up the welfare measures to the public.
Tamil Nadu government has created five new districts in the last year. These new districts are - Tirupattur and Ranipet by bifurcating Vellore, Kallakurichi by bifurcating Villupuram, Tenkasi by bifurcating Tirunelveli.
Govt bans export of ventilators sanitizers
The central government has banned the export of ventilators, other ICU equipment and sanitizers because of the growing threat of epidemic coronavirus. The Commerce Ministry has issued an order on March 24, 2020.
Earlier, the government banned the export of all surgical, disposable masks and machinery used for making masks.
The government has to take this decision because the market lacks hand sanitizers and face masks. People have been purchasing sanitizers and face masks due to the panic of Coronavirus. Almost, all leading markets of India have faced a shortage of hand sanitizers and masks.
Sameer Aggarwal becomes CEO of Best Price stores of Walmart
Sameer Aggarwal has been appointed as the Chief Executive Officer(CEO) for its Best Price wholesale stores. He will be responsible to report to Executive Vice President and Regional CEO of Asia, Drik Van den Berghe.
Heis taking over the CEO position from Krish Iyer who is retiring from full-time management. Sameer Aggarwal will assume the role of an advisor to Best Price after eight years with the company.
He joined the Walmart in April 2018 as Executive Vice President overseeing strategy and administration. He was promoted to Deputy CEO in January 2020.