Current Affairs in Short: 26 November 2019
26/11 Mumbai attack: India's largest terrorist attack took place in Mumbai on November 26, 2008.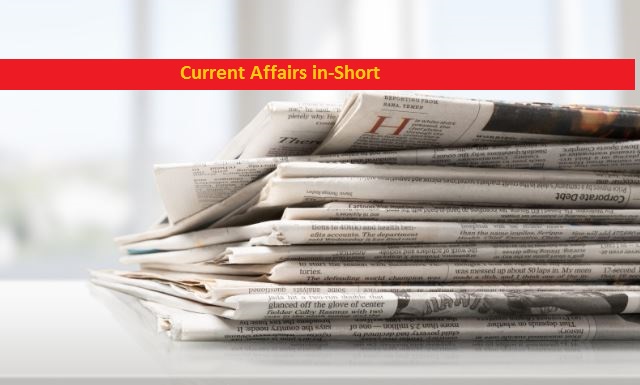 current affairs inshort
India remembers martyrs of 26/11 Mumbai attack
• The country's largest terrorist attack took place in Mumbai on November 26, 2008. Total of 166 people including 26 foreign nationals lost their lives in this painful incident.
• The security forces had an encounter with 10 terrorists from Pakistan for nearly 60 hours.
• It is said that the attackers entered Mumbai via Karachi through the sea. There were four Indians aboard the same boat but they were killed before reaching the shore.
Lokpal logo launched by Justice Pinaki Chandra
• Justice Pinaki Chandra, the Chairman of Lokpal, launched the logo and motto of Lokpal on November 26.
• The motto of Lokpal was also adopted today. Now the motto of Lokpal is - "मा गृधः कस्यस्विद्धनम्" it means "Do not be greedy for anyone's wealth."
• The final logo was chosen among 2236 entries and selection of motto was also done from 4705 entries.
Bangladesh announces several measures to control air pollution
• The government of Bangladesh has announced to shut down illegal brick kilns across the Dhaka. The government also ordered to stop garbage burning.
• It was also decided by the government that the city corporation will spray water on the streets. Apart from that, all construction sites like metro construction work will have to follow environmental law.
Also Read | Arcadia Education Project in Bangladesh wins Aga Khan Architecture Award
Indo-China Army to conduct hand-in-hand exercise
• India and China will conduct a bilateral military exercise 'Hand in Hand' that will begin on December 7, 2019.
• It will be a 13-day exercise that will be held from 7 to 20 December at Umroi near Shillong.
• The major point of this exercise is that more than 100 soldiers from both countries will participate in the hand in hand war military exercise.
Guru Ghasidas National Park to be declared as Tiger Reserve
• It has been announced to make Guru Ghasidas National Park located in Chhattisgarh a tiger reserve.
• Currently, Chhattisgarh has three Tiger Reserves - Achanakmar Tiger Reserve, Udanti-Sitanadi Tiger Reserve and Indravati Tiger Reserve.
• It was also decided by the state government to construct Lemru Elephant Reserve in Chhattisgarh.
Also Read | National Milk Day 2019: All you need to know
Also Read | National Press Day 2019 observed across India