Current Affairs in Short: 29 January 2018
Kolkata, capital of West Bengal has become the first metropolitan city in India to get floating market. The floating market is located on a lake at Patuli in South Kolkata. It has boats doubling up as shops.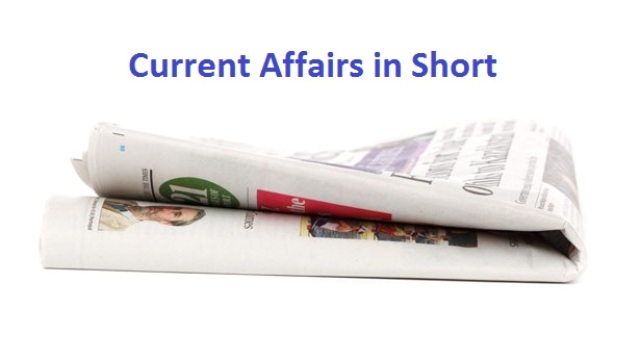 Current Affairs in Short: 29 January 2018
1. India, Lao PDR sign agreement for cooperation in civil aviation

India and Lao PDR have signed civil aviation cooperation agreement for providing SkyRev360, a comprehensive e-data gathering, invoicing and collection system. The historic agreement was signed between Airports Authority of India (AAI) and Lao Air Traffic Management, Department of Civil Aviation.

SkyRev360 is fully automated and comprehensive data gathering invoicing and collection service system, which has been developed in collaboration with the International Air Transport Association (IATA) under Indian government's Make in India initiative.

The system helps to eliminate inaccuracies errors and delays for better revenue management with less manual processing. The system

2. Kolkata becomes first Indian metro to get floating market

Kolkata, capital of West Bengal has become the first metropolitan city in India to get floating market. It was inaugurated by West Bengal Chief Minister Mamata Banerjee on January 24, 2018.

The floating market is located on a lake at Patuli in South Kolkata. It has boats doubling up as shops.

The main aim of establishing the floating market is to rehabilitate over 200 shopkeepers from nearby market that was demolished for the widening of Eastern Metropolitan Bypass (EMB), an important road that connects the northern parts of Kolkata o the eastern and southern tips.

The market will host at least 114 boats, each one accommodating two shops. These shops will sell regular or daily-use items that include vegetables, fruits, flowers, fish and meat and poultry. Shoppers can approach these boats through wooden walkways.

Special provisions have been made to ensure that water in lake does not stink and the aquatic life survives. Nets will be routinely used to fish out vegetable peel, fish scales and other waste from the water.

3. Punjab Government launches Mahatma Gandhi Sarbat Vikas Yojana

The state government of Punjab has launched Mahatma Gandhi Sarbat Vikas Yojna (MGSVY) for the welfare of the downtrodden citizens across the state.

This scheme is aimed at the inclusive growth of the distressed sections of the society. Its main objective is to identify poor and distressed households that have been deprived of the benefits of the various welfare schemes launched by state government. It will give distressed sections much-needed social, economical or psychological help.

It will be implemented in the state's rural areas and will provide benefit of welfare schemes for debt-ridden farmers, poor families that have woman as sole bread earner, out-of-school children, martyred soldiers, families of AIDS patients, differently-abled, abandoned old persons and drug addicts.

4. World Leprosy Day observed

The World Leprosy Day was observed across the globe on January 28, 2018. The day is observed internationally every year on the last Sunday of January month to raise global awareness of Leprosy.

The observance aims to achieve the target of zero cases of leprosy-related disabilities in children. The day was initiated by French philanthropist and writer, Raoul Follereau in 1954 as a way to raise global awareness of this deadly ancient disease and call attention to the fact that it can be prevented, treated and cured.

Leprosy is one of the oldest diseases known to humankind. It is caused by a slow-growing type of bacteria called Mycobacterium leprae (M. leprae), which multiplies very slowly in the human body. The disease affects nerve endings and destroys the body's ability to feel pain and injury. It can also affect the eyes and respiratory system. It is curable with multidrug therapy (MDT).

5. Asha Bhosle selected for fifth Yash Chopra Memorial Award

Legendary playback singer Asha Bhosle (84) has been chosen for fifth edition of Yash Chopra Memorial Award for her outstanding contribution to the Hindi film industry.

She will be presented with award in February 2018 by Maharashtra Governor C Vidyasagar Rao. She was selected by jury members comprising former filmmaker Yash Chopra's wife Pamela Chopra, filmmakers Boney Kapoor, Madhur Bhandarkar, singer Alka Yagnik, actor Padmini Kohlapure, scriptwriter Honey Irani, Anu and Shashi Ranjan.

Asha Bhosle boasts of an illustrious music career, spanning nearly seven decades, within which she has recorded over 11,000 songs in 20 different languages. Her work includes film music, pop, ghazals, bhajans, traditional Indian classical music, folk songs, qawwalis, and Rabindra Sangeets.

6. India's Green Revolution pioneer Dr Gurcharan Singh Kalkat passes away

The former agriculture commissioner of India and noted agricultural scientist Gurcharan Singh Kalkat passed away at the age of 92 in Chandigarh on January 27, 2018, after suffering from a brief illness.

The Padma Shri and Padma Bhushan awardee was the founding chairman of Punjab State Farmers Commission and a pioneer of India's Green Revolution. He was also the former vice-chancellor of Punjab Agricultural University (Ludhiana) from 1998-2001.

He was known for his role in bringing Green Revolution and several exemplary agricultural reforms in Punjab. His contribution had ensured overall development and a phenomenal growth in the agriculture sector.