Current Affairs in Short: 30 October 2018
The Statue of Unity, which honours India's first deputy prime minister, Sardar Vallabhai Patel will be unveiled on October 31, 2018 by Prime Minister Narendra Modi. The tribute to Sardar Patel is twice the size of the Statue of Liberty in New York city in the United States.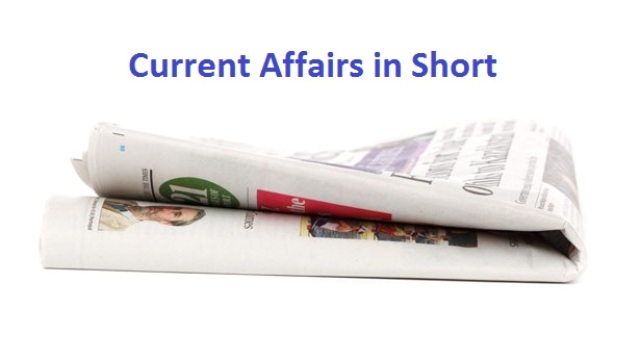 Current Affairs in Short: 30 October 2018
Narendra Modi to unveil 'Statue of Unity'

• The Statue of Unity, which honours India's first deputy prime minister, Sardar Vallabhai Patel will be unveiled on October 31, 2018 by Prime Minister Narendra Modi.
• The statue dedicated to the 'Iron Man of India' has been constructed on a river island called the Sadhu Bet on the Narmada river in Gujarat's Kevadiya town.
• Prime Minister Narendra Modi will inaugurate the structure on the occasion of Sardar Patel's 143rd birth anniversary, dedicating the Statue of Unity to the country.
• At 182 metres, it will be the tallest statue in the world, dwarfing the Spring Temple Buddha in China, currently the world's tallest statue at 128 metres.
• The tribute to Sardar Patel is also twice the size of the Statue of Liberty in New York city in the United States.

Justice Naresh Patil sworn in as Bombay HC Chief Justice

• Justice Naresh Harishchandra Patil was on October 29, 2018 sworn in as the Chief Justice of the Bombay High Court.
• The state's Governor Ch Vidyasagar Rao administered the oath of office to Justice Patil at a brief ceremony at Raj Bhavan.
• Justice Patil had been serving as Acting Chief Justice of the High Court from August 12.

Angela Merkel to step down as German chancellor in 2021

• Germany's Angela Merkel has said she will step down as Chancellor in 2021, following recent election setbacks.
• Merkel said in a news conference in Berlin that she would not seek re-election as leader of the centre-right Christian Democratic Union( CDU). She has held the post since 2000.
• The CDU was severely weakened in yesterday's poll in the state of Hesse, the latest in a series of setbacks.
• Both the CDU and its coalition partners, the Social Democrats, were 10 percentage points down on the previous poll there.
• Merkel said she took "full responsibility" for poor performance, and made clear she would not handpick her successor as party leader.

Fifth National Summit on Public Health Care held

• The 5th National Summit on Good and Replicable Practices and Innovations in Public Health Care Systems in India began in Kaziranga, Assam on October 30, 2018.
• Addressing the summit Union Health Minister J P Nadda stressed on perform, reform and transform as emphasised by Prime Minister.
• Speaking on the occasion Union Minister of state for Health Ashwini Kumar Choubey said health sector in the country has improved of late.
• The objective of the summit is to share and learn the good practices being implemented by several states and organisations for the betterment of the health sector.

INS Tarangini returns after Vogage across the World

• The sail training ship of Indian Navy, INS Tarangini based at Kochi, returned after a seven month long sailing across the world to a grand reception at naval base, Kochi on October 30, 2018.
• The ship was received by Rear Admiral RJ Nadkarni, VSM, Chief of Staff, Southern Naval Command. A welcoming ceremony was conducted by the Southern Naval Command at South Jetty of the naval base to mark the occasion.
• The Voyage named "Lokayan 18" was flagged off on April 10, 2018.

FPIs pull out INR 35,600 crore from Indian capitals market in October

• Foreign investors pulled out Rs 35,600 crore from the Indian capital markets in October 2018. The outflow is higher than Rs 21,000 crore withdrawn in September.
• Prior to that, overseas investors had invested Rs 7,400 crore in the capital markets (both equity and debt) in July-August period.
• According to the latest depository data, foreign portfolio investors, FPIs, sold equities worth Rs 24,186 crore during October 1-26 period and bonds worth Rs 11,407 crore, taking the total to Rs 35,593 crore.
• FPIs have been net sellers almost throughout this year barring a couple of months such as January, March, July and August. In these four months, overseas investors have put funds totalling over Rs 32,000 crore.
• So far this year, FPIs have pulled out a total of Rs 97,000 crore from the capital markets. This includes over Rs 37,000 crore from equities and close to Rs 60,000 crore from the debt markets.

UP and Uttarakhand sign agreement to strengthen bus services

• The Uttar Pradesh government on October 19, 2018 signed an agreement with its neighbouring state Uttarakhand to strengthen inter-state bus services.
• Chief Minister Yogi Adityanath said his government is committed to provide better transport facilities to the people of the state.
• He further added that better mode of transportation will make commuting easy and will help economy in turn and boost cultural integration. He said both the states share common tradition and heritage.
• Adityanath also flagged-off UPSRTC's 51 Prayagraj Kumbh Shuttle buses and three CNG buses that will run in the state.

Senior composer, lyricist Yashwant Dev passes away
• Senior composer and lyricist Yashwant Dev passed away in Mumbai early morning on October 30, 2018. He was 92.
• He was admitted to hospital and was undergoing treatment for chikungunya. His last rites were performed at Dadar in Mumbai.
• The musician had composed and written many popular Marathi songs. He was honored with many awards including Gan-samradni Lata Mangeshkar Award and Gadima puraskar.
Video: Check out the latest current affairs of this week