Current Affairs in Short: 31 July 2019
Atal Community Innovation center has been launched to encourage the spirit of innovation at the community level.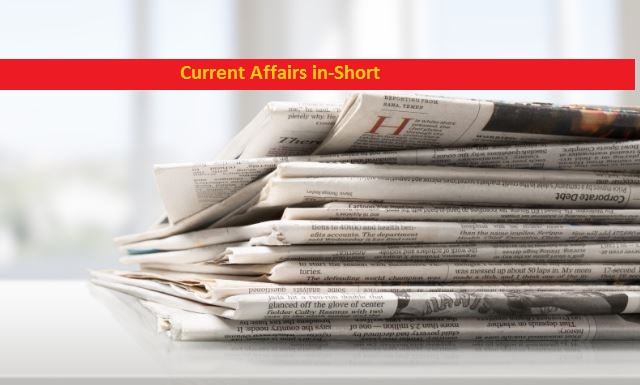 current affairs in-short
Atal Community Innovation Centre inaugurated
• Atal Community Innovation center has been launched to encourage the spirit of innovation at the community level. This initiative aims to encourage the spirit of innovation through solution-driven design thinking to serve society.
• Atal Innovation Mission has a key role to perform in order to achieve the target of five trillion dollar economy by 2025.
• The Atal Community Innovation Centre has been launched to focus on the 484 backward districts where the innovation infrastructure is very weak. This will help to improve the innovation environment in the country.
Sri Lanka Govt exempted Indian tourists from visa fees
• Visa fees, which ranged from 20 to 40 US dollars, will not be charged for grant of one month visa for tourism.
• The tourists can apply for electronic travel authorisations online or apply for visa on arrival. Now India is among 48 countries whose citizens have been exempted from visa fees.
• Tourism has emerged as third largest and fastest growing source of foreign currency. Tourism is accounting about five percent of gross domestic products in 2018.
IAS Rajiv Kumar appointed as new Finance Secretary
• A 1984-batch IAS officer from Jharkhand cadre, Rajiv Kumar was appointed as the new Finance Secretary.
• Kumar, who also served as Joint Secretary and then Additional Secretary in Ministry of Finance, succeeded 1983-batch IAS officer Subhash Chandra Garg as the Finance Secretary.
• Garg was transferred to the Power Ministry as the secretary on July 24.
Tarun Chaudhary Becomes First Pilot to Accomplish Wingsuit Skydive Jump
• Wing commander Tarun Chaudhary became the first pilot of Indian Armed Forces (IAF) to do a wingsuit jump.
• Tarun Chaudhary jumped from a Mi-17 helicopter from an altitude of 8500 feet. He has accomplished this feat in first attempt.
• It was for the first time when wingsuit jump demonstration held before an organised gathering. The jump was a tribute to the heroes of the Kargil.
RBI fines MobiKwik, HipBar for violating norms
• The RBI has imposed a penalty of about Rs 26 lakh on Gurugram-based payments startup MobiKwik and Chennai-based mobile wallet and adult beverages delivery startup HipBar for violation of norms.
• While MobiKwik was fined Rs. 15 lakh on May 17, HipBar was fined Rs. 10.85 lakh on May 24.
• They were imposed under Section 30 of the Payment and Settlement Systems Act, 2007.