Cyclone Amphan to make landfall today: What are cyclonic storms, why are they deadly?
Cylcone Amphan is expected to hit Odisha and West Bengal by today afternoon.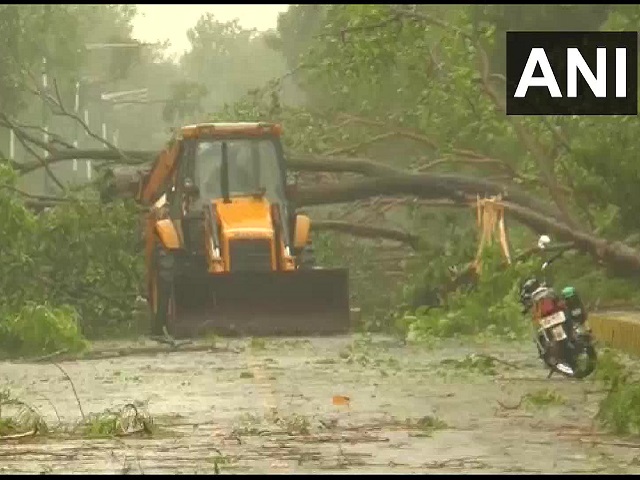 Cyclone Amphan
Cyclone Amphan is expected to hit Odisha and West Bengal by today afternoon. The cyclone is touted to be one of Bay of Bengal's fiercest cyclones of the century. The IMD forecasts predict the cyclone to be potentially devastating and it is expected to turn into an extremely severe cyclonic storm.
The super cyclone is expected to make landfall close to Sundarbans, between Digha in West Bengal and Hatiya Islands in Bangladesh. The landfall is expected to begin from this afternoon.
"After landfall, the cyclone is likely to move northeast close to Kolkata. At the time of crossing the coast, the wind speed is expected to be around 155-165kmph. It is likely to retain its intensity as cyclone till May 21 morning," informed Dy Director, IMD Kolkata.
Cyclone #Amphan lies 177km south southeast of Digha. After landfall, it is likely to move north northeast close to Kolkata. At the time of crossing coast, wind speed to be around 155-165kmph. It is likely to retain intensity as cyclone till May21 morning: Dy Director,IMD Kolkata pic.twitter.com/dCx8YjpQdM

— ANI (@ANI) May 20, 2020
Cyclone Amphan
Cyclone Amphan is likely to be the most intense and the first super cyclone since the 1999 Odisha cyclone. The cyclone's intensity is expected to be similar to Fani, the strongest tropical cyclone to strike India since the 1999 Odisha cyclone, that hit the eastern coast in May last year.
Key Highlights
• The pre-cyclone rains accompanied by strong winds have already hit Bhubaneswar in Odisha. Several trees have also uprooted in Paradip as wind speed touches 102 km/ph.
• The West Bengal Government has already evacuated around 3 lakh people from coastal areas, maximum from North 24-Parganas, South 24-Parganas and East and West Midnapore. Vacant schools and community centres are being used as emergency shelters.
• Odisha government has, however, decided against the reckless evacuation of people in the wake of coronavirus pandemic. It marks a shift from the previously tested cyclone drill of large-scale movement of people to sturdy shelters along the coast.
• The NDRF has deployed 41 teams including reserves in Odisha and West Bengal for relief and rescue assistance when the storm hits.
• Around 15 NDRF teams have been deployed in seven districts of Odisha- Jagatsinghpur, Puri, Jajpur, Kendrapara, Mayurbhanj, Bhadrak, and Balasore, 19 NDRF teams have been deployed in six districts of West Bengal including North 24 Parganas, South 24 Parganas, West Midnapur, East Midnapur, Hooghly, and Howrah.
• In West Bengal, the coastal districts of Gangetic West Bengal, North and South 24 Parganas, East and West Midnapur, Kolkata, Howrah, and Hoogly are expected to receive light to moderate rain with a heavy downpour in isolated places on May 19.
• All villagers and livestock in Jogeshganj, North 24 Paraganas have been shifted to a shelter.
West Bengal: Villagers and livestock in Jogeshganj, North 24 Paraganas being shifted to a shelter, as cyclone Amphan is expected to make a landfall today evening pic.twitter.com/792B2p8ld5

— ANI (@ANI) May 20, 2020
What are Cyclones?
Cyclones are large scale air mass that rotates around a strong center of low atmospheric pressure. They form over warm tropical waters. The inward spiraling winds can extend hundreds of kilometers from the eye of the storm. Cyclones are also known as hurricanes or typhoons, depending on where they originate in the world. Tropical cyclones are the most powerful weather events on Earth.
Why are cyclones deadly?
Cyclones, which suck up vast quantities of water, often produce torrential rains and flooding resulting in a major loss of life and property damage. Besides this, tropical cyclones can unleash catastrophic storm surges, which is tsunami-like flooding, when they make landfall. The storm surges are the deadliest part of a cyclone and are only partially affected by wind speeds.
What are storm surges?
Storm surges refer to rising seas whipped up by a storm. They create a wall of water that is several metres higher than the normal tide level. The large swells of water can move faster than the cyclone and are sometimes spotted up to 1,000 km ahead of a major storm. The surges can also extend to dozens of kms inland, similar to a tsunami. Storm surges up to 16 feet tall are likely to hit the low-lying areas of West Bengal after Amphan makes its landfall, according to IMD.
How are storm surges formed?
The formation of storm surges depends on different factors including storm intensity, its forward speed and the size of the storm and the angle of its approach.
Background
India's eastern coast is routinely hit by bad storm storms that cause widespread damage to human life and property. Bangladesh is also vulnerable to cyclones due to its location at the Bay of Bengal and the geography of its coastal area.
Thousands of people living around the Bay of Bengal have been killed in cyclones in recent decades. This is because, the Bay of Bengal has conditions that are favorable to the development of cyclones, including high sea surface temperatures.
The Bay of Bengal has hosted some of the deadliest storms in history including the one in 1970 that killed half a million people in modern-day Bangladesh. In 1999, around 10,000 people died in India's Odisha state during a cyclonic storm.
According to studies, a warmer climate can bring more destructive cyclones as there would be extra heat in the oceans and atmosphere. Rising sea levels can also boost storm surges from cyclones, making them even more deadly and destructive.