Explained: Nipah Virus Outbreak in India
The Nipah virus (NiV), member of the family Paramyxoviridae, was first isolated and identified during the 1999 outbreak, according to the Centers for Disease Control and Prevention (CDC), United States.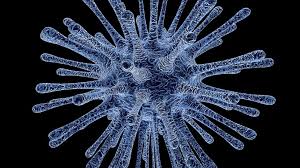 Nipah Virus Outbreak
Recently, the state Health Department has confirmed Nipah virus (NiV) infection for the first time in Kerala with the blood and body fluid samples of two persons who died of viral fever in the past fortnight in Kozhikode district indicating the presence of the zoonotic disease.

This is the first time the Nipah virus has been detected in this state which has high fatality rate and spreads mainly through bats, pigs and other animals. However, According to World Health Organisation (WHO), India has in the past documented human-to-human transmission of the rare Nipah virus.

The Union health minister JP Nadda has also reviewed the situation of deaths related to Nipah virus in Kerala with Secretary Health. He has directed to constitute a high-level team of doctors and visit the district and initiate required steps as warranted by the protocol for the disease in consultation with state government.

In the backdrop of such scenario, it is important for us to know some of the important facts about Nipah Virus, how the transmissions happen, what are its symptoms etc.

What is Nipah Virus?

Nipah virus (NiV) infection is a newly-emerging zoonosis (a disease which can be transmitted to humans from animals) that causes severe disease in both animals and humans. The natural host of the virus is fruit bats of the Pteropodidae Family, Pteropus genus.
Nipah Virus (NiV) Infection

According to WHO, Nipah Virus was first identified during an outbreak of disease that took place in Kampung Sungai Nipah, Malaysia in 1998. It first appeared in domestic pigs and has been found among several species of domestic animals including dogs, cats, goats, horses and sheep. The infection is also known to affect human beings.

The organism which causes Nipah Virus encephalitis is an RNA or Ribonucleic acid virus of the family Paramyxoviridae, genus Henipavirus, and is closely related to Hendra virus.

However, in subsequent NiV outbreaks, there were no intermediate hosts. In 2004, in Bangladesh, humans infected with Nipah Virus as a result of consuming date palm sap that had been contaminated by infected fruit bats. Human-to-human transmission has also been documented, including in a hospital setting in India.

Nipah Virus infection is also capable of causing disease in pigs and other domestic animals.
Till date, there is no vaccine for either humans or animals.
However, as per WHO, the primary treatment for human cases is intensive supportive care.

How this virus got its name?

Nipah virus infection gets its name from the village in Malaysia where the person from whom the virus was first isolated succumbed to the disease. The NiV has been listed in the World Organisation for Animal Health (OIE) Terrestrial Animal Health Code and must be reported to the OIE (OIE Terrestrial Animal Health Code).

How does Nipah spread or gets transmitted?

The disease spreads through fruit bats or 'flying foxes,' of the genus Pteropus, who are natural reservoir hosts of the Nipah and Hendra viruses. The virus is present in bat urine and potentially, bat faeces, saliva, and birthing fluids. Presumably, the first incidence of Nipah virus infection occurred when pigs in Malaysian farms came in contact with the bats who had lost their habitats due to deforestation. Furthermore, transmission between farms may be due to fomites or carrying the virus on clothing, equipment, boots, and vehicles.


Zoonosis

The Nipah virus is a zoonotic virus, which means it spreads to humans from either air or through saliva. Doctors are theorising that it is not an airborne disease, but one that spreads through direct contact; either with the bats or through consuming fruit that bats have nibbled on.

Symptoms
Nipah virus infection is associated with encephalitis (inflammation of the brain). According to Centers for Disease Control and Prevention (US), after exposure and an incubation period of 5 to 14 days, illness presents with 3-14 days of fever and headache, followed by drowsiness, disorientation and mental confusion. These signs and symptoms could lead to coma within 24-48 hours. Some patients have a respiratory illness during the early part of their infections, and half of the patients showing severe neurological signs showed also pulmonary signs.
Source: WHO/CDC