Google for India 2019: Vodafone-Idea phone line, Google assistant in Hindi and key updates to Google Pay
Google for India 2019: Vodafone-Idea phone line -0008009191000- will help the user with Google assistant in areas with no data or internet.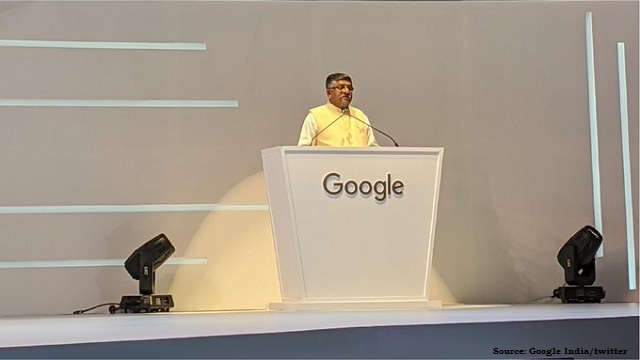 Google for India 2019
Google for India 2019: The 5th edition of Google for India was held in New Delhi on September 19, 2019. Google for India 2019 saw the launch of new features such as Vodafone-Idea phone line, Google Research India AI lab, Job spots on Google pay and new updates to the old ones such as Bolo App, Google Assistant and Google Lens.
Speaking during the Google for India 2019 event, Union Communications and Electronics and Information Technology Minister Ravi Shankar Prasad stated that Google has become a folklore platform integral to the digital narrative of the world.
The most prominent among the new launches is the Vodafone-Idea toll-free phone line, which will enable people with a poor network connection to also access Google Assistant and get the required information. The ability to change the language on Google assistant will further enhance user experience and help Google reach even the remote areas of the country.
Google for India: Key announcements
1. Vodafone-Idea Phone line
Google has introduced Vodafone-Idea phone line with Google assistant. Google has provided a toll-free number- 0008009191000 to connect the user with Google assistant to ask questions or get any information in areas that have no data or internet connection. The feature will be available for all the phones.
The Phone line will make information including sports and weather updates accessible for thousands of people across India.
2. Google Research India AI lab
Google announced the setting up of Google Research India, a new AI lab/ research team in Bengaluru, which will focus on advancing computer science and applying AI research to solve big problems in healthcare, agriculture and education.
Google Research team will focus on advancing fundamental computer science and AI research by building a strong team and partnering with the research community across the country and applying the research to solve major solves in sectors including agriculture, education and healthcare.
The research will also use the research to make apps and services useful to billions of people. Google Research India aims to deliver world-class research and bring the benefits of AI to everyone.
3. Google Bolo App
The Google bolo app is now available in five Indian languages- Bangla, Marathi, Tamil, Telugu and Urdu. Over 800,000 children from over 28,000 villages and towns have read stories more than 3Mn times, on Bolo. New Indian stories are also coming to Bolo in partnership with Katha Kids.
4. Google assistant in Hindi
Google Assistant is now available in 9 Indian languages including Hindi, Malayalam, Tamil, Marathi, Telugu, Gujarati, Urdu, Kannada and Bengali. The user can set the Google assistant to speak in any of the 9 languages by just saying, "Ok Google, Hindi bolo or talk/ speak to me in Hindi".
5. Google, Hindi news
The users will also be able to watch the news in Hindi anytime on Google Assistant by simply saying, 'Ok Google, Hindi news'.
6. Google Interpreter mode
Google is soon going to launch the Interpreter mode, which will be able to do real-time translation between two people speaking in Hindi and English. The user will be able to order food hands free, book a ride or even check bank balance using this feature.
7. Internet Saathi Programme
Google aims to extend the reach of Internet Saathi program to 300,000 villages by the end of 2019. The programme involves an Internet Saathi who visits rural areas and teaches the locals there on how to use the internet.
8. Google Discover
Google Discover will now be available on the home screen of Google App, Go, and Chrome. It will be available in seven more additional languages and will make it easier for users to customise Discover. Users will be able to follow topics of their choice from Discover and the feature will continuously learn from user experience and improve.
Interest Picker
Google has launched Interest picker, which will help personalize a person's discover feed on the Google app by picking what interests him or her.
9. Google Lens
Google lens has been now been upgraded to understand other languages such as Tamil, Telugu and Marathi. Google lens can not only read sentences aloud but also translate documents, look up words and translate them.
10. Google Pay: New features
Google pay's active monthly users have grown by more than 3 times in the last 12 months. Overall, 67 million people use Google Pay monthly, driving transactions worth 110bn dollars on an annualized basis
Google Pay app has introduced new features to make payments more simple, secure and universally accessible.
• The Spot platform: The introduction of the platform aims to help businesses create branded commercial experiences that bridge offline and online worlds.
• Google pay for business now available
• Tokenised cards
• Jobs Spot on Google Pay: The feature will help people find relevant entry-level jobs in fast-growing industries such as retail, hospitality and on-demand businesses.
11. Partnership with Skill India
Google has announced partnership with Skill India and NSDC India, under which, the Skill India program students will be offered a seamless way to get started with Jobs and learn how it can best serve their needs."
Download our Current Affairs & GK app for Competitive exam preparation. Click here for latest Current Affairs: Android|IOS