Himachal Govt launched Mukhyamantri Seva Sankalp Helpline
Himachal Pradesh Government has issued a toll-free number 1100 of this helpline.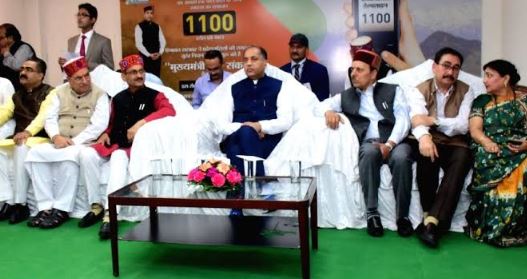 HP Govt launched Mukhyamantri Seva Sankalp Helpline
The Chief Minister of Himachal Pradesh Jairam Thakur has launched the Mukhyamantri Seva Sankalp Helpline recently. The objective of this helpline is to provide timely help to the citizens of the state. CM Jairam Thakur said that now, all citizens of the state will be able to resolve their complaints and problems by calling this helpline. Chief Minister Jairam Thakur had announced about this Helpline during the 2019-20 budget speech.
The state government has issued a toll-free number 1100 of this helpline. Any person sitting in the remote area of Himachal can now call and file a complaint. The ministers can also call people and ask if their problems are resolved or not.
Key Highlights
• The progress of complaints received in the through the helpline will be monitored. Complaints can be registered on the helpline from 7 am to 10 pm.
• This will also ensure transparency in the work of the state government. The registered call will automatically transfer to the concerned department for redress.
• All the officers have to resolve the complaint within seven days to 14 days. If the deadline is exceeded or the complainant is not satisfied then the problem will be sent to the next level.
• About 6500 officers of 56 departments have been added in this software. A call center has also been established at Shimla to take the calls and queries.
MP CM Helpline
Madhya Pradesh is also running a similar helpline for its citizen. The people of the Madhya Pradesh can get quick help from CM Helpline 181 and speedy resolution of complaints. This is an important and far-reaching initiative of the state government towards better governance.
Download our Current Affairs & GK app for Competitive exam preparation. Click here for latest Current Affairs: Android|IOS