ICC World Cup 2019: Team India to sport alternate orange jersey against England
India's new jersey at World Cup 2019: Team India to sport new 'orange' jersey in its match against England on June 30.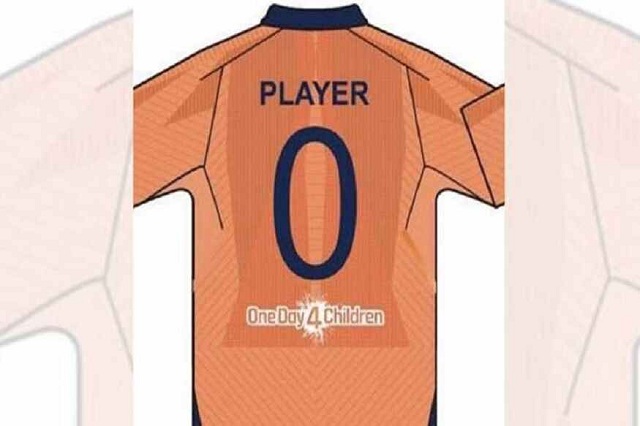 ICC World Cup 2019: Team India to sport alternate orange jersey against England
The men-in-blue are likely to go orange in their Cricket World Cup match against England on June 30, 2019. As reported previously, Team India is likely to sport a new alternate 'orange' coloured jersey for its 'away' matches in the ICC World Cup 2019. The new Indian jersey kit, is reportedly dominated by orange colour rather than the original blue.
The picture of the proposed 'away' jersey has reportedly been provided by IANS. The BCCI is yet to officially confirm it. Among the other nations that were required to have alternate jerseys, except India all others including Afghanistan, Bangladesh, Sri Lanka and South Africa revealed their 'away' jerseys prior to the tournament.
The change in jersey colour is due to ICC's new rule, according to which all participating teams will be required to provide for two different coloured kits for televised ICC events, except for the host country which will have preference in the choice of colour. The host country may provide only one coloured kit to be worn in all matches throughout the event.

All the teams were notified which coloured kit will be worn in each match ahead of the event. The announcement by the ICC came while only few days were left for the much-awaited cricket world cup, to be hosted by England and Wales from May 30.
Click here for complete match schedule, India's matches, team squad, venue details and match timings
Ever wondered why our favourite football teams juggle with their team jerseys and sport a different colour in certain matches? This is because the concept of home and away jerseys is already prevalent in football.
For each game, the ICC has granted one team the home team status, while for the other team the match will be treated as the away venue.
Hence, while the home team will be given the choice of the jersey, the other team will have to opt for the away jersey.
Why India has to change its jersey colour?

Four teams in the upcoming ICC World Cup 2019- England, India, Sri Lanka and Afghanistan- have blue as their preferred colour.

England being the overall hosts of the tournament will be given the choice of jersey in all its games, so the other three nations will have to change their jersey colours while playing against them.

India may have to wear a different jersey for matches against both England and Afghanistan, as both the teams will be the home teams for their matches against India.

Though against Sri Lanka, India has been named the home side and hence, it will get to decide which jersey it will sport in the match and it is likely to choose its traditional blue jersey.
All about India's new jersey!
According to media reports, the men in blue have chosen orange to be the dominant colour in their new jersey.
The officially yet-to-be-released jersey will most likely see the players wearing a darker shade of blue in the front with orange dominating the sleeves and the back.
When will India be seen sporting its new jersey?
Team India will be sporting the new jersey for its away matches against Afghanistan on June 22 and hosts England on June 30.
Apart from these games, Virat Kohli-led India is expected to continue to don their traditional blue jersey in the remaining matches.
Will other nations also change their jersey colours?

Among other nations, three teams including Pakistan, South Africa and Bangladesh have green as their jersey colour. Hence, these teams will have to choose an alternate coloured jersey for a few of their matches.

Pakistan has been allowed to continue with their traditional green jersey throughout the tournament, as the team has been designated as the home team in its matches against Bangladesh and South Africa.

Hence, both Bangladesh and South Africa will be seen sporting a different coloured jersey in their away matches.

On the other hand, as Australia, West Indies, and New Zealand have unique jerseys, the teams will not be required to choose a new coloured jersey for their away matches and will be able to continue with their traditional jerseys throughout the world cup.
Four teams unveil new World Cup kits
Among the five World Cup teams, that have to include an 'away kit' for some of their matches, four teams including Sri Lanka, South Africa, Bangladesh and Afghanistan have unveiled their new contrasting coloured jersey kits. India is the only nation that is yet to reveal its new World Cup kit.
| | | |
| --- | --- | --- |
| Team | Original Jersey Colour | New 'Away' Jersey |
| Afghanistan | Blue | Blue + Red |
| Bangladesh | Green | Red |
| Sri Lanka | Blue | Blue+Yellow |
| South Africa | Green | Yellow |
| India | Blue | Yet to be revealed |
India will start its campaign at the ICC World Cup 2019 on June 5, 2019 against South Africa at the Rose Bowl stadium in Southampton, England.
India lost its first warm-up game against New Zealand by 6 wickets on May 25, 2019.
The ICC World Cup 2019 will open with hosts England taking on South Africa at the Oval in London on May 30.