India declines UAE's Rs 700 crore offer for Kerala floods
The Union Government has decided to decline financial aid offer worth Rs 700 crore from UAE. Despite the generous monetary contributions and material supplies pouring in from different corners of the country, Kerala requires much more to help bring life back to normalcy.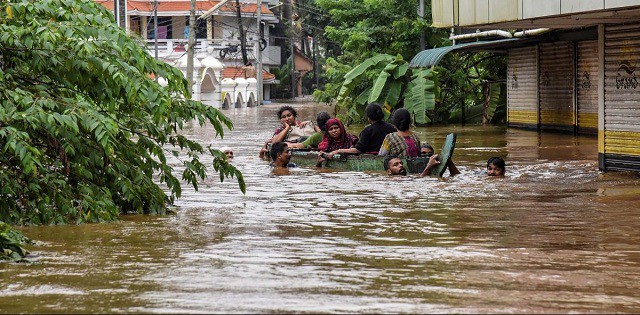 India declines UAE's Rs 700 crore offer for Kerala floods
Kerala's Chief Minister Pinarayi Vijayan announced on August 21 that the United Arab Emirates has promised assistance worth Rs 700 crore for the state's reconstruction. The Union Government has, however, decided to decline all offers of financial help from foreign countries.

The state has reportedly suffered damages worth over Rs 20,000 crore, which includes damaged highways covering about 10,000 kilometres, damaged buildings, crops lost and shutdown of one of the state's three international airports - Cochin International Airport- following heavy flooding.

The state government has demanded a minimum of Rs 2000 crore to help with rehabilitation and reconstruction work.
The Union Government promised an immediate release of Rs 500 crore following Prime Minister Narendra Modi's visit to the flood-ravaged state.
The amount is in addition to the Rs 100 crore promised by Union Home Minister Rajnath Singh as immediate relief during his survey of the state's floods.
The relief aid offered by other states include Rs 10 crore each from the states of Tamil Nadu, Andhra Pradesh, Gujarat , Bihar, Karnataka, West Bengal, Punjab and Madhya Pradesh; Rs 5 crore each from Jharkhand , Uttarakhand , Himachal Pradesh and Rs 3 crore from Chattisgarh, Rs 2 crore from Manipur and Rs 1 crore each from Tripura, Nagaland and Puducherry.
Odisha's CM Naveen Patnaik, who had earlier sanctioned Rs 5 crore along with 245 fire personnel with boats, announced an additional aid of Rs 5 crore.
The Chief Minister of Delhi, Arvind Kejriwal announced Rs 10 crore for relief aid along with one-month salaries of all AAP MLAs and MPs. The Congress MPs and MLAs also followed suit by pledging to donate one month's salary to the state. Jammu and Kashmir state government also made a similar announcement.
Besides this, the state government of Maharashtra announced an emergency financial aid of Rs 20 crore plus food and other essentials and Telangana announced Rs 25 crore worth financial assistance. Telangana CM K Chandrasekhar Rao also directed officials to dispatch R.O machines worth Rs 2.50 crore to the flood-hit state.
UAE: Sheikh Mohammed bin Rashid Al Maktoum, the UAE's PM, has offered almost Rs 700 crore to Kerala, as an acknowledgment of the close connection between Dubai and Kerala.
Qatar: The nation has offered almost Rs 35 crore to the state of Kerala, while Maldives, a country with which India's ties had gone down recently, stepped up with an offer of $50,000.
Funds shortage

Despite the generous monetary contributions and material supplies pouring in from different corners of the country, Kerala requires much more to help bring life back to normalcy. Almost 13 districts, from its total 14, were heavily affected by the floods, with thousands losing their homes completely. Schools, colleges, state institutions all have been affected.

Millions of people are still lodged in relief camps across the state. To help with the rehabilitation and reconstruction work at such a mass scale, the state government has demanded a minimum of Rs 2000 crore from the centre.
Why has the centre refused UAE aid?

The Union Government has decided not to accept offers of financial help from foreign countries, as it wants to convey that the country is capable of handling the flood situation on its own both, financially and logistically.

The government in fact also communicated its position on foreign aid to all its embassies and missions. In a message to the Indian missions, the government said, "If a foreign government makes an offer of help, you may kindly express your appreciation for the sincere sentiments and willingness to assist."

The main reason behind the decision is a policy that the UPA-I government had undertaken after the 2004 tsunami disaster. The change in stance has widely been viewed as a proclamation of the country's self-worth and national pride.
When India refused aid in the past!
2004 Tsunami Disaster: On December 2004, the then Prime Minister Manmohan Singh had famously declined all foreign aid by saying, "We feel that we can cope with the situation on our own and we will take their help if needed."
The tsunami was a 'watershed moment' of India's foreign aid policy and since then, the subsequent governments have been systematically declining foreign financial assistance.
Over the past 14 years, India has declined financial assistance from countries such as Russia, US and Japan during calamities like the 2005 Kashmir earthquake, 2013 Uttarakhand floods and the 2014 Kashmir floods.
During Uttarakhand floods in 2013 that saw a massive loss of life and property, the UPA government had declined foreign aid worth USD $150,000 from the United States.
When India received foreign aid!
Until the 2004 tsunami, the Indian government had accepted financial assistance from foreign governments during the Uttarkashi earthquake in 1991, Latur earthquake in 1993, Gujarat earthquake in 2001, Bengal cyclone in 2002 and the Bihar floods in July 2004.
India gives but doesn't take!

While India has been refusing aid from foreign countries, it has not shied away from giving it. India has given emergency relief aid to several nations including Sri Lanka, Indonesia, Nepal and even Pakistan during their time of need.

What does Kerala want?

The Kerala Chief Minister Pinarayi Vijayan said that if need be, he will hold discussions with the Centre over its refusal to accept the Rs 700 crore worth flood relief aid offered by UAE.
The CM said that the UAE "cannot be considered as any other nation" as "Indians, especially Keralites, have contributed immensely in their nation-building."

The Indian expatriate community, especially the Keralite community living and working in UAE is very large.
Back
ground
The massive floods in Kerala have killed nearly 400 people and 6, 61,887 people are reported to be in relief camps.

Even though the water in Kerala has started to recede, what lies ahead for the state government is the momentous task of rebuilding it. With widespread destruction looming large over 13 or 14 districts, the government requires all the support it can get to manage disaster relief and rehabilitation.

To deal with the situation, the state's CM has demanded Rs 2600-crore MGNREGA special package for central schemes.

Meanwhile, the Southern Naval command has called off its 14-day long rescue operations. The Naval personnel reportedly rescued a total of 16,005 people during 'Operation Madad', which was launched on August 9 for assisting the state administration and undertaking disaster relief operations.