India, Mongolia sign MoUs and release Joint statement
India has introduced e-Visa facility for the Mongolian short-term visitors and Mongolia has announced a "visa on arrival" scheme arrangement for Indian short-term visitors.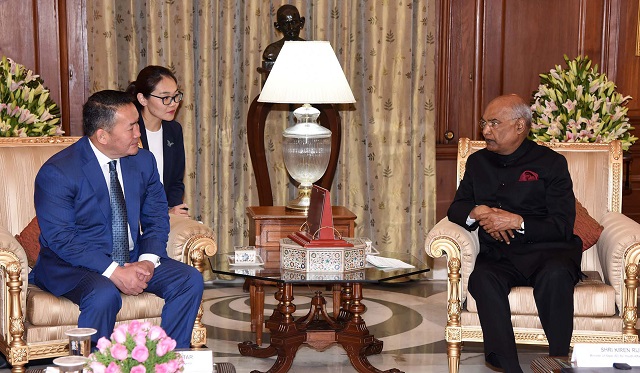 India-Mongolia Joint Statement
India and Mongolia released a joint statement on September 20, 2019 after bilateral talks between Indian President Ram Nath Kovind and visiting Mongolian President Khaltmaagiin Battulga.
The President of Mongolia, Khaltmaagiin Battulga, is on a state visit to India from September 19-23, 2019 at the invitation of Indian President Ram Nath Kovind. During his visit, the Mongolian President also held discussions with Indian Prime Minister Narendra Modi. The two sides spoke on a wide range of bilateral issues covering regional and international issues of mutual interest. The talks were frank, warm and friendly.
Following the talks, four Memorandum of Understanding (MoUs) were signed between the two nations in areas including space, disaster management & culture:
| | | |
| --- | --- | --- |
| S.no | Name of Document | Objectives |
| 1. | Cultural Exchange Protocol(2019-2023) | To promote cooperation and cultural exchanges in the field of music, dance, theater, arts, library, museums etc. |
| 2. | MoU in the field of Disaster Management between National Disaster Management Authority (India) and National Emergency Management Agency (Mongolia). | To promote cooperation in the field of Disaster Management and Disaster Risk Reduction. |
| 3. | MoU on Cooperation in Space between Department of Space (India) and Communications and Information Technology Authority (Mongolia). | To promote co-operation in the field of space exploration for peaceful and civilian purposes. |
| 4. | Comprehensive Work Plan between Ministry of Fisheries, Animal Husbandry and Dairying (India) and Ministry of Food, Agriculture and Light Industry (Mongolia). | Pursuant to the 2015 Agreement between India and Mongolia on cooperation in the field of Animal Health and Dairy, the Work Plan lays out a series of activities to intensify cooperation in this sector. |
Joint Statement: Key Highlights
Bilateral relations
India and Mongolia reaffirmed that as countries sharing civilisational, historical, spiritual and cultural linkages and shared values and ideals of democracy and freedom, they will continue to deepen and broaden their Strategic Partnership. The two sides further appreciated the sustained exchange of bilateral visits since 2015 and agreed to keep up the momentum of reciprocal high-level visits.
Both India and Mongolia recognised the role played by regular meetings of the institutional mechanisms in furthering bilateral relations. In the same context, both sides decided to hold the next meeting of the India-Mongolia Joint Committee on Cooperation in New Delhi at a mutually convenient time.
E-Visa regime
India and Mongolia both appreciated the mutual steps taken further promote people-to-people exchanges and simplify the Visa regime for broad-basing the bilateral Strategic Partnership. Mongolia appreciated India's decision to introduce the e-Visa facility for the Mongolian short-term visitors. In reciprocation, Mongolia announced a "visa on arrival" scheme arrangement for Indian short-term visitors to encourage mutual tourism.
UNSC reforms
India and Mongolia reaffirmed their support for the ongoing reforms of the UN and its principal organs to make the organisation more representative, democratic, transparent and efficient. They emphasized on the importance of early reforms in the United Nations Security Council (UNSC), in the permanent and non-permanent membership categories, to ensure that reflects the current realities in an accountable, representative and effective manner.
Mongolia reiterated its support to India's permanent membership bid at the UNSC. Both sides also reaffirmed their support for their respective bids for a non-permanent seat in the UNSC for the terms 2021-2022 and 2023-2024 respectively.
Terrorism
India and Mongolia, while recognising extremism and terrorism as a grave threat to the entire humanity, reiterated their strong condemnation of terrorism in all its forms and manifestations including cross-border terrorism. They also agreed that terrorism cannot be justified on any grounds and it should not be associated with any religion, nationality, creed and ethnicity. They further agreed to work towards eliminating safe havens of terrorist and their activities and urged the international community to strengthen the efforts to prevent terrorist financing. The two nations also expressed their commitment in combating organized crime, money laundering and financing of terrorism on the basis of the Financial Action Task Force recommendations.
Indo-Pacific Region
India explained its "Indo-Pacific Vision", highlighting that it aimed to create an open, free and inclusive architecture in the Indo-Pacific region through inclusive and collective efforts while considering the legitimate interests of all states in the region and abiding by a rules-based system and international law. Mongolia expressed its support to India's "Indo-Pacific Vision" with a view that it aims at bringing stability and prosperity across the Indo-Pacific region through inclusive and collective efforts.
Mongolia also expressed interest in actively participating in the evolving regional integration in the Indo-Pacific region, including the East Asia Summit. The two nations reaffirmed that a free, open, prosperous and inclusive Indo-Pacific region will serve the long-term interests of the nations in the region.
Defence/ Security
India and Mongolia further agreed to expand cooperation in the sphere of national security to the next level. The two nations appreciated the regular participation of their armed forces in "Nomadic Elephant" military exercise in India and the "Khaan Quest" exercise in Mongolia. The two sides agreed to continue the cooperation in the field of defence exchanges and training.
Bilateral Trade
India and Mongolia further agreed that there was considerable untapped potential for expansion of bilateral trade and investment, especially in the field of tourism, agricultural commodities, dairy products and animal husbandry, information technology, pharmaceuticals and mining. Both nations signed a comprehensive work plan for cooperation in the same field. The nations also agreed to work on early conclusion of the bilateral agreement on promotion and reciprocal protection of investment agreement and the protocol amending the agreement between Mongolia and India for the Avoidance of Double Taxation and the Prevention of Fiscal Evasion with respect to Taxes on Income and on Capital on Double Taxation Avoidance Agreement at the earliest possible time.
Cooperation in Crude Oil
Mongolia appreciated the significant progress made in the implementation of the 'Mongol Refinery Project' under India's Line of Credit (LoC) of US$ 1 billion. They further recognised the need to finalise the transportation means of the crude oil before completion of the Oil Refinery. Both sides also agreed that the project would be significant for the energy security and economic development of Mongolia.
India further agreed to extend an additional LOC of US $236 million for the project, taking India's total commitment for the project to US$ 1.236 billion. Both sides also decided to train engineers and technicians to be employed at the "Mongol Refinery Project" in India through Scholarship from the Indian Government under the existing Indian Technical and Economic Cooperation (ITEC) programme.
Climate Change
The two nations agreed to further strengthen their cooperation in the area of renewable energy. Mongolia conveyed its interest to join the ISA and India invited the Mongolian side to consider signing the Framework Agreement of the International Solar Alliance as soon as the amendments to Framework Agreement get ratified by ISA's member countries. Mongolia further requested India to share its knowledge and experience in solar rooftop project implementation and train Mongolian renewable energy specialists in India. India also announced its decision to extend assistance for upgrading the building of Mongolia's External Affairs Ministry into a green and energy-efficient solar building.
India and Mongolia further reviewed the progress on setting up of the 'Atal Bihari Vajpayee Centre of Excellence in Information & Communication Technology' being developed in Mongolia with Indian assistance. They agreed to take expeditious steps to complete this project particularly keeping in view the significant role it can play in capacity building and human resource development in Mongolia.
Disaster Management
India and Mongolia also identified disaster management as an important area for cooperation and welcomed the signing of a Memorandum of Understanding between National Emergency Management Agency (NEMA) of Mongolia and National Disaster Management Authority (NDMA) of India for disaster risk reduction. Mongolia also appreciated the humanitarian assistance extended by India in 2018 during natural calamities in Mongolia.
Space Cooperation
India and Mongolia also welcomed the signing of an agreement on cooperation in the exploration and uses of outer space for peaceful purposes noting that it would provide a framework for expansion of mutually beneficial cooperation particularly in the fields of remote sensing, satellite communication, and applications of space technology in areas including resource management, weather forecasting and disaster management.