44th anniversary of 1975 Emergency, PM Modi salutes Emergency heroes
On 44th anniversary of 1975 Emergency PM Modi saluted all those who resisted the Emergency. June 25 marks 44 years since Emergency was declared in India.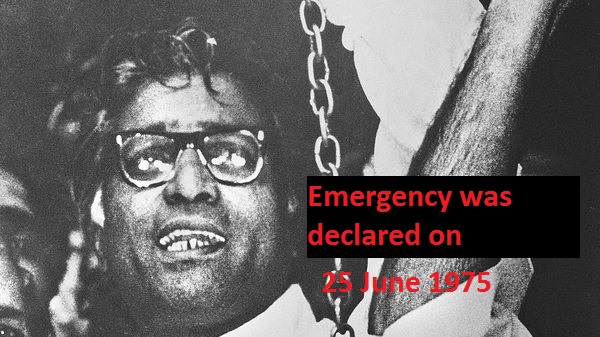 Emergency was declared on June 25, 1975
On 44th anniversary of Emergency PM Modi took to Twitter and wrote that India's democratic ethos successfully prevailed over an authoritarian mindset. Prime Minister Narendra Modi tweets that "India salutes all those greats who fiercely and fearlessly resisted the Emergency." He further said in that tweet, "India's democratic ethos successfully prevailed over an authoritarian mindset." This tweet is followed by a video remembering 25 June 1975 as darkest day of Indian democracy.
Rajnath Singh tweeted on June 25, 2019 about Emergency declared on same day in 1975, he said that it was one of the darkest chapters in the India's history. The Indian Emergency of 25th June 1975-21st March 1977 was a 21 month period, when President Fakhruddin Ali Ahmed, upon advice by Prime Minister Indira Gandhi, declared a state of emergency under Article 352 of the Constitution of India, effectively bestowing on her the power to rule by decree, suspending elections and civil liberties. This was a dramatic turn in the Indian political affairs.
Indira Gandhi tried to defend the emergency on the grounds that she was trying to protect the State and the Indian people. Nevertheless, her emergency rule faced immense criticism and is undoubtedly one of the most controversial periods of the political history of Independent India.
Emergency 1975: Important Fact
• The Government used police forces across the country to place thousands of protestors and strike leaders under preventive detention.
• Vijayaraje Scindia, Jayaprakash Narayan, Raj Narain, Morarji Desai, Charan Singh, Jivatram Kripalani, Atal Bihari Vajpayee, Lal Krishna Advani and other protest leaders were immediately arrested.
• Organisations like the Rashtriya Swayamsevak Sangh (RSS) and Jamaat-e-Islami along with some political parties were banned. Numerous Communist leaders were arrested along with many others involved with their party.
• Elections for the Parliament and state governments were postponed. In September 1976, Sanjay Gandhi initiated a widespread compulsory sterilization programme to limit population growth.
• Censorship played a huge role. It was imposed on the press, cinema and other forms of art, and political leaders were being arrested at the whim and fancy of the government.
• Civil Liberties were suspended Indira Gandhi's 20-Point programme promised to liquidate the existing debts of landless laborers, small farmers and rural artisans.
• A least 50,000 or more people had be jailed in India since the declaration of Emergency. Lok Sabha passes 42nd Constitution Amendment Bill making India a socialist, secular, republic and laying down the fundamental duties of citizens.
Changed laws many times
Every time Supreme Court ordered something against the government, Gandhi changed laws about rights of court. Many other human rights were violated by the Indira Gandhi government. The most famous violation was the forced mass sterilisation campaign started by her son Sanjay Gandhi.
Also Read: RBI launches CMS for online complaints against banks, NBFCs