India, US agree to strengthen economic co-operation; Mali's President names new government - Current Affairs
The two nations appreciated their strong, robust and growing bilateral ties across the entire spectrum of trade and commerce.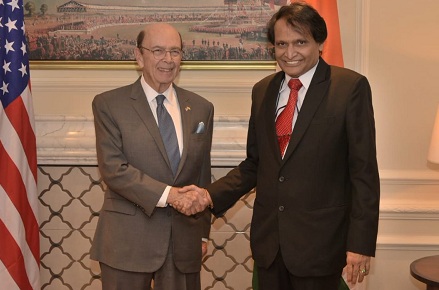 India, US agree to strengthen economic co-operation
Story 1- India, US agree to strengthen economic co-operation

India and the United States have agreed to strengthen economic co-operation and bilateral trade by ensuring greater collaboration amongst stakeholders, including government, businesses and entrepreneurs.

This was agreed upon during a bilateral trade meeting that was held between the two countries in New Delhi on May 6, 2019. The meeting was co-chaired by Union Commerce and Industry Minister Suresh Prabhu and US Secretary of Commerce Wilbur Ross.

Key Highlights

• During the talks, the two leaders appreciated the strong, robust and growing bilateral ties between their countries across the entire spectrum of trade and commerce.

• They also expressed satisfaction over last year's progress, with bilateral trade in Goods and Services registering a growth of 12.6 per cent. They also discussed various outstanding trade issues.

• The Indian Government recently extended its deadline to impose retaliatory import duties on 29 US products, including almond, walnut and pulses, till May 16.

• The deadline has been extended several times since June 2018, when India decided to impose these duties in retaliation to a move by the US to impose high customs duties on certain steel and aluminium products.

• The extension comes in the backdrop of the US decision to withdraw export incentives being provided to them to Indian exporters under Generalised System of Preferences (GSP) programme, which is expected to impact India's exports to the US worth USD 5.6 billion under this scheme.
Generalized System of Preference
The Generalized System of Preference (GSP) is the largest and oldest US trade preference programme and is designed to promote economic development by allowing duty-free entry for thousands of products from designated beneficiary countries.
On March 4, US President Donald Trump announced that the US intends to terminate India's designations as a beneficiary developing country under the GSP programme.
In response, 25 members of the US House of Representatives, in a letter, urged the US Trade Representative not to terminate the GSP programme with India after the expiry of the 60-day notice on May 3. They requested the Trade Representative to continue negotiating a deal that protects and promotes jobs that rely on trade, both imports and exports, with India.
The lawmakers argued that terminating GSP for India would hurt American companies seeking to expand their exports to India.
Background
The India-US bilateral trade in goods and services increased from $104 billion in 2014 to $114 billion in 2016.

The two-way merchandise trade between the nations stood at $66.7 billion. Among this, India's exports of goods to the US were valued at $46 billion and India's imports of goods from the US were valued at $21.7 billion.

The India-US trade in services stood at $47.2 billion. Of this, India's exports of services to the US were valued at $26.8 billion and India's imports of services from US were valued at $20.3 billion.

Further, both the nations have made a commitment to facilitate actions necessary for increasing the bilateral trade to $500 billion.
Story 2 – Mali's President names new Prime Minister post Ogossagou Massacre

Mali's president Ibrahim Boubacar Keïta on May 5, 2019 named a new government under Prime Minister Boubou Cisse, after his predecessor Soumeylou Boubeye Maiga resigned last month amid widespread protests over an upsurge of deadly inter-communal violence.

Soumeylou Boubeye Maiga and his entire cabinet resigned on April 18 following the massacre of around 160 members of the Fulani herding community on March 23 in the village of Ogossagou near Mali's border with Burkina Faso.

Key Highlights

• Mali President announced the new executive comprising 37 members under Prime Minister Boubou Cisse, who was appointed on April 22 to oversee the formation of a "broad-based" government.

• Cisse had signed a pact last week with the opposition and majority party representatives in Bamako, declaring their willingness to set up a politically-inclusive new government.

• The new Mali government includes ten women, more than a quarter of the total but fewer than the previous team, which included about a third.

• The new executive comprises foreign minister Tiebile Drame, who led the election campaign of opposition member Soumaila Cisse against Keita in 2018.

• The key portfolio of defence went to General Ibrahim Dahirou Dembele, former army chief of staff under the junta that emerged from a 2012 coup.

• The role of justice minister went to Malick Coulibaly, president of Mali's National Commission for Human Rights (CNDH), who has held the post before.

• The position of health minister went to UNAIDS Chief Michel Sidibe, whose tenure at the agency was marred by allegations of serious mismanagement. It is not immediately clear whether Sidibe will leave his UN post but he has been scheduled to step down in June following widespread concerns over his conduct in office, including the handling of sexual assault allegations against one of his top deputies.

Background

Thousands of people took to the streets on April 5 to protest against an upsurge of violence in the nation that has claimed around 600 lives, which demonstrators said the government had failed to stop.

Since the appearance of a jihadist group under preacher Amadou Koufa in central Mali in 2015, recruiting mainly among the Dogon, a hunting and farming community, clashes between the Dogon and the nomadic Fulani have intensified.

Last week, the UN's MINUSMA mission stated that the Ogossagou massacre had been planned, organised and coordinated and could constitute a crime against humanity.
On March 23, 2019, several attacks by gunmen killed around 160 Fulani herders in central Mali.
The violence came in the aftermath of the Malian government cracking down on Islamic terror cells in the country.
The attacks took place in the Fulani villages of Ogossagou and Welingara. According to local Malian officials, the attacks were carried out by Dogon hunters armed with firearms and machetes.
The attackers accused the Fulani villagers of having ties to jihadists and stated the attack was in retaliation for an al-Qaeda attack on a Malian military base the prior week which left 23 Malian soldiers dead.
Following this, Mali president Ibrahim Boubacar Keita fired army chief of staff General M'Bemba Moussa Keita and chief of land forces General Abdrahamane Baby. He also ordered the ethnic Dogon militia thought to be responsible for the attack, Dan Na Ambassagou, to be dissolved.
Download our Current Affairs& GK app from Play Store/For Latest Current Affairs & GK, Click here