India vs Pakistan World Cup History: India start out as favourites against Pakistan in Cricket World Cup 2019
India vs Pakistan World Cup History: India's most awaited match in the ICC World Cup 2019 is almost here, the mother-all-battles, India vs Pakistan is scheduled to begin at 3 pm today. The toss to take place at 2.30 pm.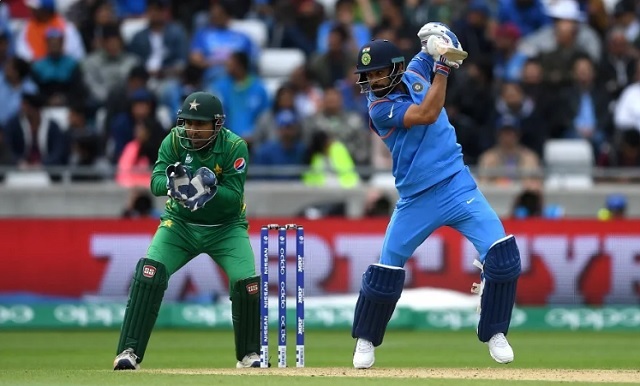 India vs Pakistan World Cup History: India start out as favourites against Pakistan in Cricket World
India vs Pakistan World Cup History: As the concern of poor weather continues to loom, Team India is preparing itself to take on their arch rivals Pakistan in the mother-of-all-battles in Cricket World Cup 2019 today, on June 16 at the Old Trafford cricket stadium in Manchester.

India vs Pakistan is one of the most-awaited matches of the ICC World Cup 2019. Indian fans across the world will be glued on to their TV screens and mobiles to catch every bit of update related to the match. Whenever India and Pakistan come face to face in cricket, tensions are too high on both sides of the border. The simmering cross-border tensions between the two neighbouring nations further add to the cricket rivalry.

The world is waiting to see how India's batsmen fare against Pakistan's strong bowling attack, specially against Mohammed Amir. The weather, however, has become a cause of concern with the Manchester weather report predicting 60 percent chance of rain tomorrow.

Everyone has their fingers crossed, hoping for the sun to keep shining, because a washout of such a highly anticipated match such as India vs Pakistan match is something that no one would want to see, not the players, not the fans and definitely not the ICC, given that they have already faced a huge backlash for the washout of four previous matches including India vs New Zealand on June 13.

Hoping that India vs Pakistan will indeed happen, let us look back at how both India and Pakistan have fared against each other in the previous editions of the cricket world cup:

Among the total six times that India and Pakistan have come head-to-head in ICC Cricket World Cup matches, it has been India that has always won.
India-Pakistan head-to-head stats
Total number of world cup matches played: 6
India won: 6
Pakistan won: 0
Following is the list of all India vs Pakistan world cup matches with result:

1.1992 World Cup: India beat Pakistan by 43 runs at the SCG, Sydney

The two arch-rivals, India and Pakistan came head-to-head for the first time in cricket world cup during the 1992 World Cup edition, 17 years after the cricket tournament was established.

Though Pakistan went on to win the world cup tournament, it lost to India after the men in blue broke through their significant partnerships. Sachin Tendulkar was named man of the match. Following their loss to India, Pakistan went on a winning spree and took home their maiden world cup trophy.

2.1996 World Cup: India beat Pakistan by 39 runs at the Chinnaswamy Stadium

India, which was up against defending champions of that time, batted first and Sidhu, followed by Ajay Jadeja majorly contributed to India's final total of 288. Pakistan also batted well, however, once their major partnership broke down, they lost their momentum. India defeated Pakistan to enter the semi-finals.

3. 1999 World Cup: India beat Pakistan by 47 runs at Old Trafford

The 1999 World Cup clash between India and Pakistan happened during the Kargil War and never gained much hype. India batted first and set up a decent total, which Pakistan failed to chase down. Though India did not progress further in the tournament after a defeat at the hands of Australia in the super six stage, Pakistan went on to enter the finals only to lose to Australia.

4. 2003 World Cup: India beat Pakistan by six wickets at the Centurion
The clash dominated by Sachin Tendulkar's 98 and anchored by Rahul Dravid and Yuvraj Singh drove India to a clear win. The biggest moment in the game was when Sachin was dropped Abdul Razzaq at mid-off, it completely changed the dynamics of the game. India went on to reach the finals, only to lose to Australia.

5. 2011 World Cup: India beat Pakistan by 29 runs at Mohali in world cup semi-finals

India struggled a bit on the match day, despite Pakistan not playing Shaib Akhtar, and could only post a total of 260. Though the total was completely achievable, Pakistani batsmen fell one by one to the sharp Indian bowling attack. The match was one of the most watches matches on television.

6. 2015 World Cup: 2015: India beat Pakistan by 76 runs at the Adelaide Oval

The match was the world cup tournament opener for India, which set off India's winning streak that only ended when they faced Australia in the semi-finals. India was the clear winner in the clash against Pakistan, which boosted the team's confidence in the tournament. India batted first to post 300 on the scoreboard and Pakistan were left reeling.