India-China Doklam border standoff end; Troops being Withdrawn
Delhi that entered into the standoff on the issue says the road in Doklam plateau would be a threat to Siliguri corridor that links India to its northeastern states.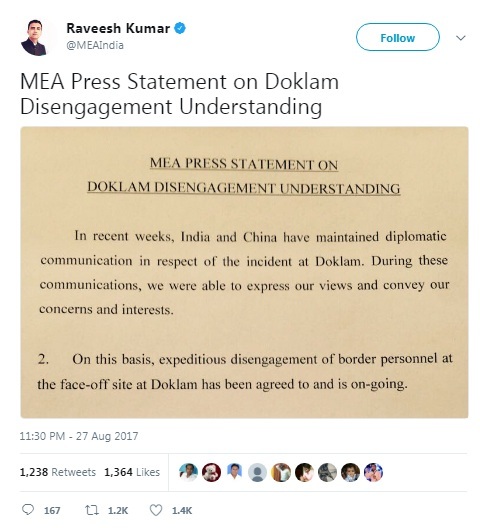 India-China Doklam border standoff end; Troops being Withdrawn
Ending the bitter standoff of 70-days over Doklam, India and China on 28 August 2017 agreed to withdraw their troops from the border region. India said the breakthrough was reached by diplomatic talks.
A press release issued by the Ministry of External Affairs said, "On this basis, expeditious disengagement of border personnel at the face-off site at Doklam has been agreed to and is ongoing."
Indian and Chinese troops were engaged in a standoff at Doklam in the Sikkim section for the since June 2017 and this standoff led to an escalation in bilateral tensions. The conflict saw 300 soldiers from each side confronting with each other on the Doklam plateau.
Doka La is the Indian name for the region which Bhutan recognises as Dokalam, while China claims it as part of its Donglang region. Of the 3,488-km-long India-China border from Jammu and Kashmir to Arunachal Pradesh, a 220-km section falls in Sikkim.
Interestingly, the breakthrough was achieved few days before Prime Minister Narendra Modi's visit to China. PM Modi will be visiting China to attend a summit of the BRICS (Brazil, Russia, India, China and South Africa) group of nations in September 2017. The summit will be held in Xiamen from 3 September to 5 September 2017.
When did the dispute begin?

The dispute began in June 2017 after the Indian Army stalled the construction of Chinese road in Doklam, the area that lies in the tri-junction of India, China and Bhutan. Doklam Plateau is a disputed territory for China and Bhutan. India says that the road in Doklam is a threat to India as the region is close to Siliguri corridor, also known as Chicken's Neck, which links India to its northeastern states.
China's road building activity was also protested by Bhutan.
NOTE: The 3488 km de facto India-China border line known as LAC (Line of Actual Control) is divided into three sectors and they are West, Middle and East.