Iran says 'it's ready for war' after it shot down US military drone
Iran says "It is ready for war" after shooting down American military drone.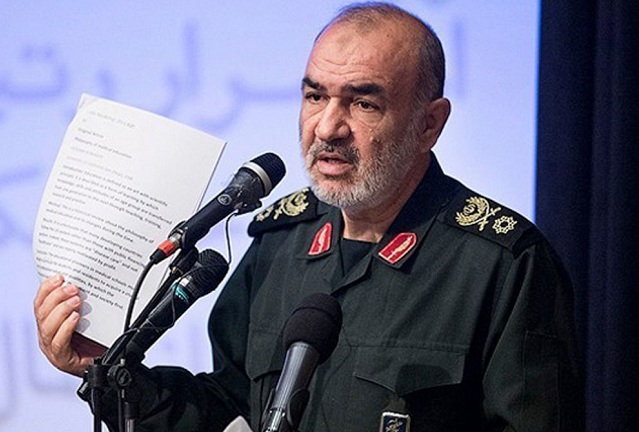 Iran says 'it's ready for war' after it shot down US military drone
Iran on June 20, 2019 shot down an unmanned US Military drone, in an attempt to send a message to the United States stating that, "It is ready for war." The US confirmed that its military surveillance drone was shot down by the Iranian forces while flying over the Strait of Hormuz.

In a live televised speech, General Hossein Salami, the Commander-in-Chief of Iran's Islamic Revolutionary Guard Corps, which the US had earlier designated as a foreign terrorist organization, said that the act of shooting down the American spy drone had a clear, decisive, firm and accurate message. The General further stated, "We do not intend to engage in war with any country, but we are completely ready for the war."
Gen. Hossein Salami's message:-
"The downing of the American drone was a clear message to America, and the message is this: those who defend the borders of the Islamic nation of Iran will react in a total and decisive way to any intrusions by foreign elements on our land. Our borders are our red line. Iran is not seeking war with any country, but we are fully prepared to defend Iran."
US response to shooting down of its military drone
According to the US, its Navy MQ-4C Triton drone was on a surveillance mission in the Strait of Hormuz near the site of the recent tanker attacks, which the US held Iran responsible for.
Iran however, said that the American drone was operating in Iranian airspace, a claim disputed by the US, which stated that it was operating in international airspace.
The US has branded the incident as an 'unprovoked attack on a US surveillance asset in international airspace.'

Impact of Iran's Warning Message

Iran's act of shooting down the American drone is expected to have a wide-reaching impact on the future of Iranian nuclear deal and it is expected to further escalate tensions with the United States, especially with US President Donald Trump.

Tensions are already high in the middle-east and this incident is expected to further trigger more tensions, as this is the first direct attack on a US military asset.

However, this is not the first time that Iran has target an American drone off its coast, as last week, Iran had tried to shoot down another American drone, MQ-9 Reaper that was surveying the attack on one of two tankers in the Gulf of Oman. The United States had held Iran responsible for the attacks on the two tankers, a claim that Iran has denied.
Background - US Sanctions on Iran

US President Donald Trump on April 8, 2019 designated Iran's 'Islamic Revolutionary Guard Corps (IRGC)', as a foreign terrorist organisation.
The United States also ended sanction waivers extended to five Iranian oil importers including China, Japan, India and Turkey.
The US also recently deployed a carrier strike group, bomber task force, and other military assets to the Middle East in an attempt to respond to threats posed by Iran.
The US claims that the Iranian regime continues to develop its ballistic missile capabilities and support terrorism.
The steps taken by the nation, hence, aim to deny Iran the revenue derived from the export of its copper, iron, steel and aluminium products that it may use to provide funding and support for the proliferation of weapons of mass destruction, terrorist groups and networks, campaigns of regional aggression and military expansion.