Kaleshwaram irrigation Project inaugurated in Telangana
This project is designed to sort out issues of drinking water in the state and also irrigation to the dried up areas of Telangana.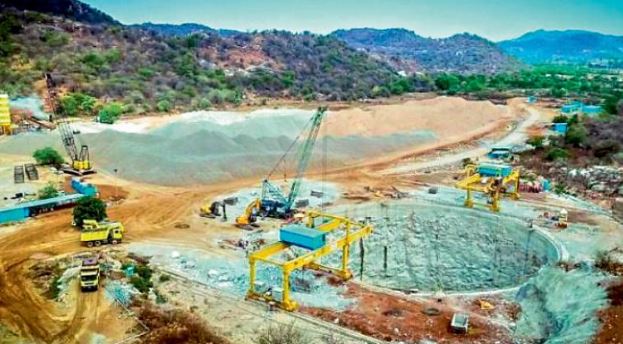 Kaleshwaram irrigation Project
Telangana CM K. Chandrashekhar Rao inaugurated the Rs. 80,190 crore Kaleshwaram irrigation project on June 21, 2019 at its starting point in Medigadda (Jayshankar Bhupalapally) district. It was an historic landmark for Telangana, also, L&T Construction, completed the iconic Medigadda Barrage, in just 24 months.
This project is designed to sort out issues of drinking water in the state and also irrigation to the dried up areas of Telangana. About 225 thousand million cubic feet (TMC) of water will be drawn through this project through Godavari river basin. The project, which will involve building reservoirs at various places, is expected to irrigate 18.24 lakh acres of land in the state with 165 TMC of water, provide 56 TMC of drinking water and supply another 10 TMC for industrial purposes.
Key Highlights of Kaleshwaram irrigation Project
• This project is originally called Pranahita-Chevella project, which was undertaken by the Congress-ruled erstwhile Andhra Pradesh.
• It was redesigned as Kaleshwaram project after Rao's Telangana Rashtra Samithi (TRS) came to power in Telangana in 2014. The cost of the works too went up from a little over Rs. 40,300 crore to Rs. 80,000 crore after the redesigning.
• In its previous plan water was to be taken from the Godavari river by constructing a barrage at Tummidihatti village in Adilabad district but now it has done at Medigadda village in Jayshankar-Bhoopalpally district.
• Under the projects, 3 barrages and 19 reservoirs will be constructed for the storage capacity of 141 TMC, and about 4992.47 mega watts (MW) is required for its functioning. The entire length of the water supply route will be 1,832 kilometers.
• Once fully completed, places like Karimnagar, Rajanna Sircilla, Siddipet, Medak, Yadadri, Nalgonda, Sangareddy, Nizamabad, Jagtial, etc, across the state, will be irrigated.
Other attractions
• One of the many exceptional qualities of this project is the biggest and vital underground pumping station at Ramadugu in Karimnagar district.
• Irrigation officials claimed that if all the seven electrical pumps, each of 139 MW are switched on together, they can discharge 21,000 cusecs of water which is a rare feat in irrigation sector.
• Ramadugu pumping station is located at the 330 metre depth.
• Surge pool and additional surge pools of this pump house are also the biggest in the world.
• It is estimated that the project would require about 7,000 MW of power once the project is fully operational.
Also Read: Yoga Day 2019: PM Modi Yoga address-10 Key Points