Madagascar species under threat; Global Deal for Nature – Current Affairs
Complex life has existed on Earth for about 550 million years, and it is now threatened with the sixth mass extinction.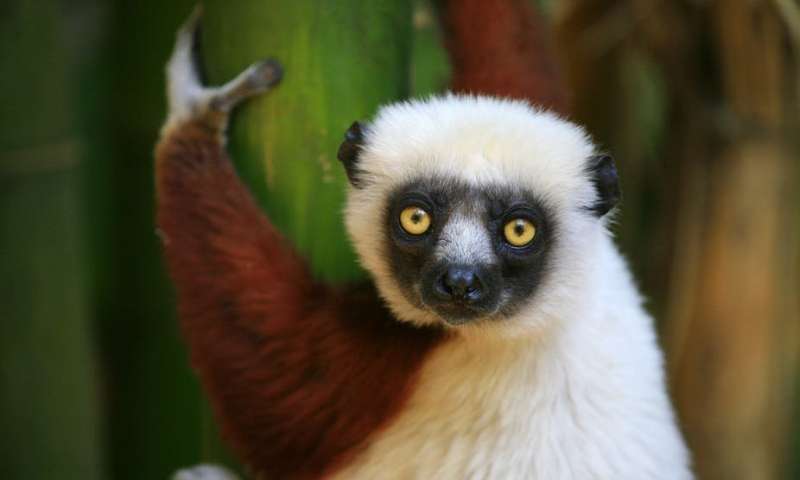 Lemur
Story 1: About 20 Madagascar species under threat: Report
International Union for Conservation of Nature(IUCN) Red List of Threatened Species said that of the 111 lemur species, 24 are currently listed as Critically Endangered, 49 are Endangered and 20 are Vulnerable. Among the species under threat, the majority belongs to the primate group.
The group contains all the species commonly related to lemurs, monkey, apes, and humans. Lemurs are among the unique to Madagascar. Indri, the largest of all lemurs and a species with such symbolic value for Madagascar that it is often compared to the giant panda in China, is among the species of lemurs that would be up-listed from endangered to critically endangered. Michael Tovolahy's patrol observed and filed a report while tracking poachers who are giving big harm to this jewel of biodiversity in Madagascar.
Key Highlights
Madagascar's nine million hectares (22.25 million acres) of forests are shrinking each year by between 50,000 and 100,000 ha - a football pitch is roughly one hectare.
All species are listed by Convention on International Trade in Endangered Species (CITES) on Appendix I, which prohibits the trade of specimens or parts, except for scientific purposes.
Madame Berthe's mouse lemur, the world's smallest primate, would also be up-listed endangered.
Silky Sifaka (Propithecus candidus) also known as "angel of the forest"—refers to its white fur. It is one of the rarest mammals on Earth and is listed by IUCN the as one of the world's 25 most critically endangered primates.
Threats to Lemurs' survival in Madagascar
Widespread destruction of their tropical forest habitat.
Mining inside forest area.
Hunting of lemurs for food and for the pet trade as an emerging but serious threat.
Deforestation driven by slash-and-burn agriculture.
Charcoal production.
About Lemurs
Lemurs, whose name means 'spirits of the night', are a special group of primates, which look something like a cat crossed with a squirrel and a dog.
They are found only on Madagascar and the Comoro Islands.
The largest ever living type of lemur was the Archaeoindris with its weight ranging between 350 and 440lbs (160 and 200kg). It became extinct when humans first settled in Madagascar about 2,000 years ago
The smallest lemur, the pygmy mouse lemur, weighs only 1oz (28g) but the biggest, the Indri and Diademed Sifaka, can weigh up to 15 lb (6.8kg), which is equivalent to a big cat.
Out of the 50 different kinds of lemurs, 10 are critically endangered, 7 are endangered, and 19 are considered vulnerable.
Story 2: Global Deal for Nature; a way forward to prevent sixth mass extinction on Earth
The Global Deal for Nature (GDN) is a time-bound, science-driven plan to save the diversity and abundance of life on Earth. Pairing the GDN and the Paris Climate Agreement would avoid catastrophic climate change, conserve species, and secure essential ecosystem services. GDN's mission is to save the diversity and abundance of life on the earth at the cost of USD 100 billion a year.
This science based plan, published in Science Advances, proposes ambitious targets for the conservation of nature as the most effective pathway to address the extinction crisis and help us avert catastrophic climate change, before it's too late. The Global Deal for Nature analyzed how much of the planet we need to maintain to ensure that our ecosystems continue to harbour an abundance of species, and provide services essential for human life, including carbon sequestration.
Key Highlights
Three objectives of GDN are to protect biodiversity by conserving at least 30% of the Earth's surface by 2030; mitigate climate change by conserving the Earth's natural carbon storehouses; and reduce major threats.
Ecologists warn that if the present trends continue, nearly half of all the species on earth might be wiped out within the next 100 years.
The Global Deal for Nature concludes that we need to protect at least 30% of the Earth's surface by 2030, and provides a framework for the distribution of this 30% across the most important areas for biodiversity.
Climate stabilization areas would cover natural reserves of carbon, such as mangroves, tundra, boreal and tropical forests. In these areas, land conversion needs to be restricted. For example, in critical places such as the Amazon, we have to maintain at least 85% of the forest cover to avoid a shift to a savannah.
To achieve 30% protected areas plus 20% climate stabilization areas, the Global Deal for Nature highlights the essential role of indigenous peoples as traditional stewards of their lands and livelihoods.
Image: weforum.org
Priorities of GDN
Our objective is to present scientific guidance for three major themes that should be included in a GDN and a short list of key milestones and targets that could underpin these themes, which would be complementary and, in many cases, reinforcing of the Paris Climate Agreement. These themes are (1) protecting biodiversity, (2) mitigating climate change, and (3) reducing threats to ecosystem intactness and persistence of species. We also propose that the GDN embrace monitoring progress from the ground, or below the sea surface, to space, using powerful new technologies, much of it publicly available.
Conclusion of report
Complex life has existed on Earth for about 550 million years, and it is now threatened with the sixth mass extinction.
If we fail to change course, it will take millions of years for Earth to recover an equivalent spectrum of biodiversity.
Future generations of people will live in a biologically impoverished world. Adopting a GDN and the milestones and targets presented here would better allow humanity to develop a vibrant, low-impact economy and conserve intact ecosystems, all while leaving space for nature.
Linking the GDN and the Paris Agreement could solve the two major challenges facing the biosphere and all the species within it and result in a return to safe operating space for humanity.