Morning Current Affairs: 28 November 2017
The National Green Tribunal on 27 November 2017 directed all states and Union territories to submit a Coastal Zone Management Plan (CZMP) to the Union Ministry of Environment and Forests before 30 April 2018. A bench headed by NGT Chairperson Justice Swatanter Kumar warned the States and Union Territories that if they fail to submit a plan, they will be liable for an exemplary cost of Rs 5 lakh.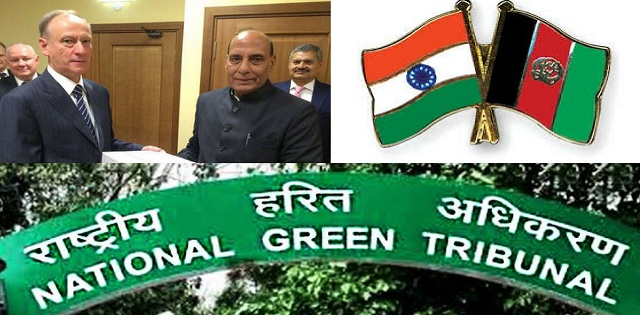 Morning Current Affairs: 28 November 2017
India, Russia sign anti-terror agreement
India and Russia on 27 November 2017 signed an agreement to help each other in combating terrorism. The agreement was signed by Union Home Minister Rajnath Singh and Russia's Interior Minister Vladimir Kolokoltsev in Moscow after they held wide-ranging talks.

During the meeting, the ministers emphasized the strength of the relationship between India and Russia that has been consolidated over the past 70 years in all areas.

Indian and Russian representatives also signed a joint action plan for countering the threat posed by narcotics. This agreement will provide legal framework for bilateral cooperation in this field.
India agrees to provide USD 2.87 million financial assistance to Afghanistan's Transport Network
India on 27 November 2017 agreed to provide financial assistance of USD 2.87 million to Afghanistan for the refurbishment of 350 buses to help in strengthening the public transport system of its capital Kabul.

In this regard, a Memorandum of Understanding was signed between the Acting Afghan Minister of Transport, Mohammad Hameed Tahmasi and Indian Ambassador to Afghanistan Manpreet Vohra.

350 buses are expected to be operational by the end of 2018 to strengthen the Afghanistan's Transport Network.

NGT directs all states to submit Coastal Zone Management Plan before 30 April 2018
The National Green Tribunal on 27 November 2017 directed all states and Union territories to submit a Coastal Zone Management Plan (CZMP) to the Union Ministry of Environment and Forests before 30 April 2018.

A bench headed by NGT Chairperson Justice Swatanter Kumar warned the States and Union Territories that if they fail to submit a plan, they will be liable for an exemplary cost of Rs 5 lakh, which will be recovered from the salary of the concerned defaulting officers.

The direction came on a plea seeking speedy framing of Coastal Zone Management Plan for different states and UTs such as Puducherry, Lakshadweep, Daman and Diu.

The Coastal zone management involves managing of coastal areas to balance environmental, economic and human health related activities.

Source: News On Air

Top 5 Current Affairs: 27 November 2017