National Khadi Festival 2018 held in Mumbai
The Khadi and Village Industries Commission has organised a National Khadi festival with an aim to further popularise khadi products in the country and generate employment in the sector.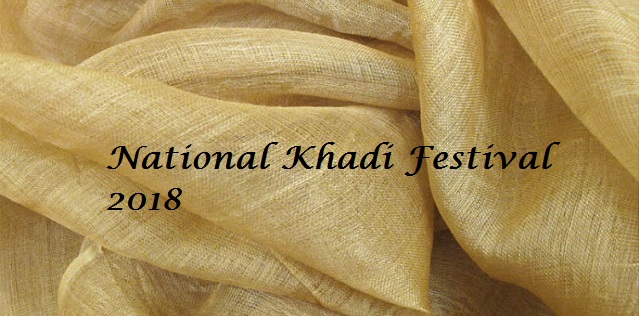 National Khadi Festival 2018 held in Mumbai
The National Khadi Festival 2018 is being organised by Khadi and Village Industries Commission (KVIC) to promote Khadi products. The festival was inaugurated by Union Minister for Micro Small & Medium Enterprises, Giriraj Singh in Mumbai on October 2, 2018, on the occasion of Gandhi Jayanti 2018.

Objective

The main objective of the festival is to promote the products of cottage industry and create awareness regarding the art of states.

It is also aimed at providing employment to weavers and workers who are involved in the cottage industry.

Key Highlights

• Various types of Khadi products from different states would be available during the festival.

• The products include khadi clothes, khadi silk sarees, dress material, kurtas, jackets, bedsheets, carpets, chemical-free shampoos, honey and other household items, art and handicraft.

• Modern design and fashion elements are being introduced in the Khadi products.

• The exhibition is expected to witness participation from around 100 institutions across the country.

• Besides this, a tool for increasing employment in micro enterprises- PMEGP Portal- was also launched.

With such initiatives, the sale of khadi products has been soaring over the years. In the last financial year, the khadi and village industries products in India increased to Rs 59,098 crore from Rs 52,138 crore in the fiscal year 2016-17.
About Khadi and Village Industries Commission

It is a statutory body formed by the Union Government, under the Parliamentary Act, 'Khadi and Village Industries Commission Act of 1956'.

It is an apex organisation under the Ministry of Micro, Small and Medium Enterprises, with regard to khadi and village industries within India.

It seeks to plan, promote, facilitate, organise and assist in the establishment and development of khadi and village industries in the rural areas in coordination with other agencies engaged in rural development wherever necessary.

It is an organisation based on the principles of Gandhiji, taking forward the wider objective of creating self-reliance amongst the poor and building of a strong community spirit.
Important Current Affairs of August 2018
Video: Check out the latest current affairs of this week