Pakistani fans epic reaction on Twitter after losing to India in World Cup 2019
Angry Pakistani fans troll skipper Sarfaraz Ahmed and Shoaib Malik after Pakistan's humiliating defeat at the hands of Team India.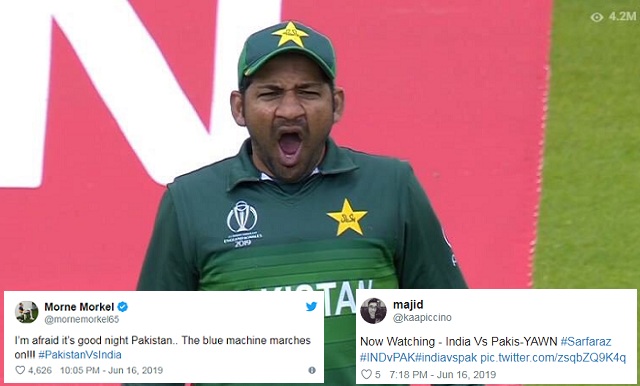 Pakistani fans troll their own cricket team on Twitter
India cannot stop laughing at the epic reaction by Pakistani fans after India beat Pakistan for the seventh consecutive time in ICC Cricket World Cup. The angry Pakistani cricket fans trolled their own team after losing to India at the Old Trafford in Manchester on June 16 in World Cup 2019.
India defeated Pakistan by 89 runs under Duckworth Lewis method after rain suspended play for a while. Pakistan was given an almost impossible chase target of 136 runs in 5 overs. Pakistan was already 6 wickets down with skipper Sarfaraz Ahmed also bowled out on Vijay Shankar's ball. The team finally folded up for 212/6 in 40 overs. The defeat was one of the worst-ever for Pakistan against India in a world cup match. The men in blue clearly out-performed their neighbours in every department- batting, bowling and fielding.
While India's victory was enthralling, what was more entertaining was the twitter reaction from angry Pakistani cricket fans post Pakistan's humiliating defeat. Twitter exploded with reactions from Pakistani fans bashing their own team. A number of hilarious videos, pictures and tweets emerged, where Pakistan fans blamed their national team for their dismal performance.

Pakistani fans clearly ruled twitter with their hilarious tweets, here is the twitter reaction to India vs Pakistan match:
India comfortably triumphed over Pakistan in ICC World Cup match 2019. India defeated their arch rivals by 89 runs after Duckworth Lewis method came into play, following game being interrupted by rain.
Pakistan was given an impossible run chase target of 302 runs in 40 overs, when they were already 166/6 in 35 overs. At the end of 40 overs, Pakistan was 212/6.
With this win, India sealed its seventh victory over Pakistan in a world cup match. India also continued its unbeaten streak in the ongoing cricket world cup.