E Sreedharan Committee to lay down standards for metro rail systems
The recommendations of this Panel will bring India to the international standard inline with Russia and Eastern Europe where every metro has the same standards, the same signalling system and track gauge, etc.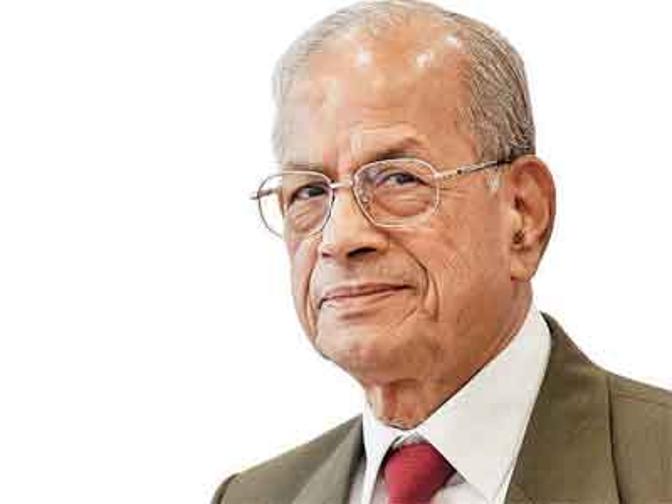 E Sreedharan panel
Transport infrastructure is one of the most important factors for a country's progress. With rapid Industrialization, Urbanization, Globalization and concentration of large population in urban centers, the cities and towns of the country are growing at a faster pace. To keep this faster pace, for moving people, goods and services, metro rail projects are playing a crucial role not only as a transportation solution but as a means to transform cities.
The Indian government has taken various steps to develop Indian Metro sustainable and systematic. However, there are numerous other areas for which indigenous standards need to be formulated.These are layout of metro station,platforms, signage& displays, size of tunnels, fire protection systems, disaster management systems, environment friendly and waste management systems, standards for solar panels at stations etc.

These indigenous standards will ensure that metro rail sub systems for all new metro projects conform to the prescribed standards thus incentivizing manufacturers to plan for long term investments in the country and set up manufacturing units. This will also bring down the cost of the metro rail constructions and operation.
To make this possible, The Prime Minister Narendra Modi approved a proposal to set up a committee which will lay down standards for India's metro rail systems in the country. It will bring India to the international standard in line with Russia and Eastern Europe where every metro has the same standards, the same signaling system and track gauge, etc.
A committee has been constituted for this purpose under the chairmanship of E. Sreedharan for Standardization and Indigenization in Metro Rail with the following members:

Chairman Dr. E. Sreedharan
Sh. H.S. Anand, (for Rolling Stock) Former Director, Rolling Stock, DMRC
Sh. Sameer Lohani, (for Rolling Stock) Executive Director (Carriage), RDSO, Indian Railways
Sh. D. K. Sinha, (for signalling) Director, Operations, Kochi Metro Rail
Sh. Jitendra Tyagi, (for Civil Engineering) MD, Dehradun Metro, Uttrakhand
Sh. Vipul Kumar, (Track & Civil Structure) Executive Director, Track Modernisation, Railway Board
Sh. Prashanth Rao (Automatic Fare Collection System) Director Systems, Ahmedabad Metro
Sh. Anoop Gupta (Traction, Power Supply, Ventilation) Director, Electrical, DMRC
Sh. Mukund Kumar Sinha, (Member Secretary) OSD (UT) and Ex Officio Joint Secretary, MoHUA
The committee is expected to submit its report in 3 months. After 3 months, based on specific task of standardization, Dr. Sreedharan could co-opt the relevant expert members for the task for a specified period of time.
Objectives

Besides recommending standardisation norms for various components, the Sreedharan Panel will also propose ways to indigenise metro components that are currently imported.

This will bring down costs and also give a boost to the government's Make in India policy.

Instead of evolving standards for each component separately, the committee will go into all aspects and then come up with uniform standards for various components that will be followed by metro rail systems across the country.
Standardisation will also reduce costs.
Cooperative Federalism

The Prime Minister linked process of making metro systems to cooperative federalism. He said wherever metros are being built in India, the Centre and the respective state government are working together.

He approved setting of the panel during the inauguration of Mundka-Bahadurgarh section of the Delhi Metro Green Line, which is part of a series of phase-III launches that are expected to add about 170km more to the capital's metro network this year.
The 11.2-km fully-elevated Bahadurgarh corridor has seven stations. Bahadurgarh would be Delhi metro's third foray into Haryana, after Gurugram and Faridabad.
Background

Last year, Sreedharan had written to Modi to make the metro a completely "Make in India" project.

Currently, metro projects with a total length of 370km are operational in eight cities, including Delhi, Bengaluru, Kolkata, Chennai, Kochi and Mumbai. Work on another 537km is in progress in 13 cities. Besides, metro projects with a total length of 595km across 10 new cities are at various stages of planning and appraisal.

The metro policy approved by the government in 2017 emphasised the need to standardise and indigenise components.

About E Sreedharan

A retired Indian Engineering Service (IES) officer, Sreedharan has served as the managing director of Delhi Metro from 1995 to 2012.

He is credited for changing the face of public transport in India with his leadership in building the Konkan Railway.

He was awarded the Padma Shri by the Government of India in 2001, the Padma Vibhushan in 2008,the Chevalier de la Legion d'honneur in 2005 by the French government and was named one of Asia's Heroes by TIME magazine in 2003.