PUBG Mobile Lite India (Top Free Game): Know Gameplay, Rewards & Royal Pass - Get Direct Link Here
PUBG Mobile Lite (India) becomes top free game on Google's Play Store. Know how to play PlayerUnknown's Battleground Mobile Lite game and check the complete Gameplay, Rewards, RoyalPass and locations. Get direct PUBG Mobile Lite game link here.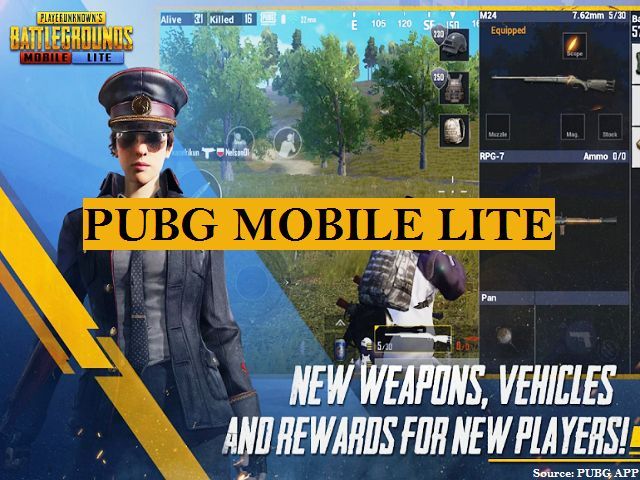 PUBG Mobile Lite
PUBG Mobile Lite (PlayerUnknown's Battleground) was launched in India on 26 July 2019 and within just three days of its launch, the game has become the top free game on Google's Play Store. What is PUBG Mobile Lite? - The PUBG Mobile Lite is a controlled and lighter version of the PUBG Mobile game. This PUBG Mobile Lite version has been designed exclusively for basic Android phones, which run on 2GB or lower memory. So, people with entry-level smartphones having low configuration can now access the PUBG Mobile Lite gameplay, which is the perfect replacement for PUBG Mobile. All they need is around 500 MB of space in their mobile phones to install the game.
Direct PUBG Mobile Lite Game Link: PUBG MOBILE LITE
Tencent and PUBG Corp jointly launched this lite version of PUBG Mobile game in India within a month of the launch of PUBG Lite for PC in India. The PUBG Mobile Lite has been available on the Google Play Store for almost a year now; however, the game was available in India last week itself. The game allows users to play on the battlefield in a group of 60 players in a smaller map. The game lasts for only 10 minutes, unlike the PUBG Mobile which stretches up to 30 – 40 minutes.
The PlayerUnknown's Battleground Mobile Lite game has been built on the Unreal Engine 4 and is played in a smaller map area with just 60 players in a match. The PUBG Mobile Lite players can experience smooth gameplay in low network areas as well. This Lite version even assists the players with crawling and standing positions, enabling them to have a grip over their gameplay in a weak network zone.
System Requirements to play PUBG Mobile Lite version:
- Entry-level smartphones
- 600 MB of space for installation
- Less than 2 GB RAM
PUBG Mobile Lite Gameplay, Graphics, Rewards, Pass, Map, & Duration
PUBG Mobile Lite's home page is similar to that of the PUBG Mobile. As soon as the player signs in, he or she gets to see the PUBG weekly rewards, sign in rewards and other in-game rewards. At the bottom of the game, there is a tab that enables players to invite their friends and add them in the game. However, the game does not allow players to form a Clan or Crew tabs.
Game Map: For beginners, there is only one map 'Erangel' and only a single arcade mode option 'War mode'.
No POCHINKI, ROZHOK, or SCHOOL: PUBG players will not find these places now in PUBG Mobile Lite; rather they get to play in places like Stadium, Pilot Plaza, and Downtown.
Number of Players: Instead of 100 players, only 60 players can play the battlefield game in the PUBG Mobile Lite version.
Graphics: PUBG Mobile Lite graphics display features trees, leaves, buildings, doors, and the water. All PUBG Mobile graphics and equipment like vehicles, guns and weapons are available in the game.
Duration of Game: The game just lasts for 10 minutes.
Winner Pass: Instead of the Royal Pass, the PUBG Mobile Lite has the WinnersPass.
Why was the PUBG Mobile Lite version launched in India?
Considering that the majority of the Indian smartphone users use entry-level android phones or smartphones, PUBG India decided to launch the PUBG Mobile Lite version so that this segment can get access to the game which was earlier beyond their reach.
Which country was the first to witness the launch of PUBG Mobile Lite version?
The game was initially launched in the Philippines in August 2018.
Other top trending games in India on Google Play Store
The other top trending games that follow the PUBG Mobile Lite are Fun Race 3D, Ludo King, Garena Free Fire, Bottle Shooting Game and others.