PUBG-Jio Partnership to offer Free In-game Rewards; Check PUBG Mobile Season 8 Leaked Royale Pass
PUBG-Jio partnership: Reliance Jio is now the official digital partner of PUBG in India. Jio subscribers will be able to earn free in-game rewards and skins. Check here the PUBG Mobile Season 8 leaked Royal Pass and Know Why Jordan banned PUBG!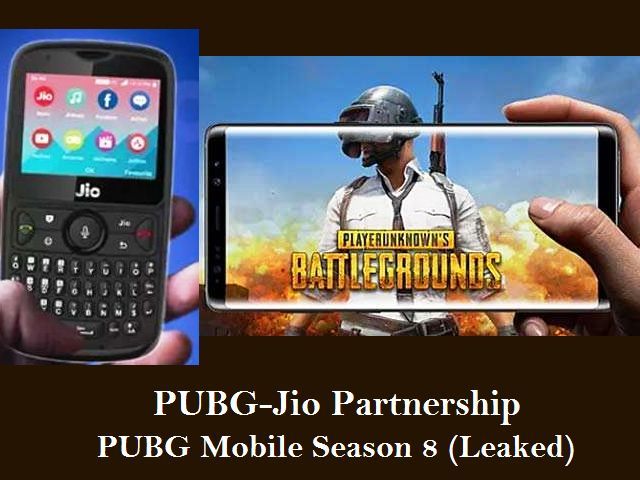 PUBG Mobile Season 8 Features Leaked
PUBG partners with JIO: PUBG India and Reliance Jio are now official digital partners. Jio will offer free in-game rewards to the players as a part of its association on PUBG Lite. Jio users who pre-registered for PUBG Lite for PC version in India will get exclusive rewards such as free skins and weapons. PUBG (PlayerUnknowns Battlegrounds), the popular battle game, recently launched the PUBG LITE Beta version for PC in India, which is a free-to-play game. PUBG LITE for PC is currently available in India for download. The game is currently in test mode and could be downloaded only by those who pre-registered. PUBG LITE is compatible with low-end Computers without graphics card and higher RAM. PUBG Lite pre-registration concluded on July 3, 2019.
Know here about the launch of PUBG Lite version for PC in India
Minimum system requirements to play PUBG Lite on PC:
- Intel Core i3 processor of 2.4GHz
- 4GB RAM
- Intel HD Graphics 4000
Additional requirements for smooth gameplay:
- Nvidia GeForce GTX 660
- AMD Radeon HD7870 graphics card
PUBG Lite to be available with Hindi Language option; Get All Details Here!
Special in-game rewards
• Players will be rewarded with the special in-game rewards for participating in the event, such as Cheetah parachute and a Tiger M46 tank.
• PUBG gamers will be gifted with Bloody combat pants, Black scarf, and punk glasses, if the beta registration crosses 100000.
• Players will be gifted with Red Sports top, Gold scarf, and Striped long-sleeve shirt, if the registration crosses 200000 mark.
• These special rewards will be offered in the game via codes and the gamers will be notified on their email.
17-Year-Old Haryana boy commits suicide after being stopped from Playing PUBG
A 17-year-old Haryana boy from Jind, Haryana committed suicide after his mother stopped him from playing PUBG Mobile game. A drop out of school since his Class X completion, the boy used to spend most of his time playing PUBG on his mobile phone.
This is not the first scary incident, earlier also similar incidents of PUBG Addiction have come across. Previously, a 15-year-old Maharashtra boy in Thane district killed his elder brother who scolded him for playing PUBG.
Jordan bans PUBG over its 'Negative Effects'
Jordan on July 6th banned the PlayerUnknown's Battlegrounds (PUBG) game across the country, citing its "negative effects". The PUBG game has been extremely popular in the Kingdom. Even the corporate institutions have issued warnings for employees to prohibit the battle game.
This is not the first time that a country banned the PUBG Mobile game. Earlier, the game had been banned in Iraq, Nepal, Indonesian province of Aceh and Indian state Gujarat.
PUBG Mobile Season 8 Royale Pass leaked
As per the rumoured leak, the PUBG Mobile Season 8 will offer Elite Upgrade and Elite Plus Upgrade, enabling players to move couple of ranks higher. PUBG Mobile is all set to launch the Season 8 with some exciting new features such as Royale Pass, PP-19 Bizon Gun, Skins and Outfits, new theme 'Ocean', rewards and so much more. The Season 8 Royale Pass has new skins, emotes, weapons and other rewards. The major features revealed are new logo featuring octopus tentacles; a blue skin for the DP8 on the basis of ocean-theme; Scarlet Horror weapon; PP bizon gun and a new mission 'Perseverance'.
PUBG Mobile Tips: How to win Chicken Dinner- Level 3 Loots, Guns, Gears, Circle
PUBG (PlayerUnknown's Battlegrounds) Season 8 will feature ocean crates with rewards, updated profile avatars and a new achievement tier. PUBG Mobile Season 7 is yet to end; and the Season 8 will begin with new Beta version 0.13.4 update, which is pretty big of almost 2GB in size. PUBG Corporation recently tweeted about the end of PUBG Mobile Season 7, asks PUBG Players to keep an eye over new Season 8 release rumours.
When will PUBG Players be able to access Season 8 Royale Pass?
Gamers will be able to access the PUBG Mobile Season 8 Royal Pass after the official roll out of the Season, which is expected to take place around July 15th as the ongoing Season 7 ends on July 14th (Sunday).
How to download PUBG Mobile Season 8 Beta?
- Download the PUBG Mobile Beta app from your App Store.
- Install the gaming app
- Run PUBG Mobile beta app
- Sign In using Guest account
How will Season 8 Royale Pass be useful for PUBG Players?
PUBG Mobile Season 8 Royale Pass will be priced at 600 UC and will push the player to couple of ranks higher. On the other hand, the Royale Pass for Elite Plus Upgrade will cost 1,800 UC and will directly take the player to rank 25 which is otherwise worth 2,500 UC. The pass will allow users to access Elite Missions; Warning Sign QBZ skin; and unlock up to 100 rewards. With purchase of Season 8 Elite pass and Military Operation Avatar, players will get backpack skin 'Urban Scavenger'.
PUBG Mobile Season 8 : New Weapons, Skins & Rewards
- Royale Pass
- Blue skin for the DP8
- Ocean theme for the SCAR-L called Scarlet Horror
- PP Bizon Gun that takes 9mm ammo and can be attached with scopes or muzzles
- New mission achievement tier - 'Perseverance'
- Royale Pass Rank Upgrade: 75 rewards with rare outfits, Bronze Armor, Shark's Bite DP28 Delta Squad Set
- Two New Emotes - Triumphant Victory and Spawn Island Line Dance
- Season 8 Royale Pass will make a player earn 600 UC that can be used to purchase Season 9 Pass
PUBG Mobile World Cup 2019 Challenge: Predict to Win
PUBG Mobile on July 9th announced the World Cup 2019 Predict and Win challenge for the players, wherein PUBG Mobile players need to predict which team will win the ongoing Cricket World Cup matches.
Gamers who predict right will win an OPPO F9 Pro mobile phone, Flipkart vouchers, Skins and other exciting rewards. Have a look at the challenge: