Resilient Cities Asia Pacific Congress 2019; Cassini found lakes on Titan - Current Affairs
The crucial data for the new research were gathered on Cassini's final close flyby of Titan, on April 22, 2017.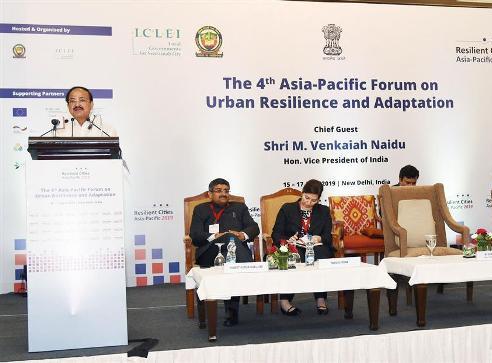 4th Resilient Cities Asia-Pacific-2019 Congress
Story 1: Resilient Cities Asia-Pacific Congress 2019 held
The 4th Resilient Cities Asia-Pacific (RCAP) 2019 Congress was organised by ICLEI – Local Governments for Sustainability and hosted by South Delhi Municipal Corporation from April 15 to 17, 2019 in New Delhi. It offered cities and regions from Asia-Pacific a variety of innovative solutions that build resilience to climate change at the sub-national level. The event also offered a combination of high-level planarians and technical sessions on the implementation and achievement of the Sustainable Development Goals, the Nationally Determined Contributions (NDCs), and the New Urban Agenda of 2016.
Conference Objectives
To share and learn about good urban resilience practices and show-case innovative ideas, solutions and initiatives.
To provide local governments with exposure and access to tools and processes that help. mainstream resilience considerations into policy and practice.
To provide a networking platform to promote concerted and coordinated action in Asia among the main players in the field of urban resilience.
To explore tangible opportunities for creating partnerships between local governments and the private sector.
To bring together funders and cities and facilitate the match-making between available financial resources and current cities' needs.
Major Highlights
The United Nations session at the 4th Resilient Cities Asia-Pacific Congress 2019 brought together representatives from various UN agencies like UNDP-GEF, UNESCAP, UN-HABITAT and UNIDSR to discuss the role of local and sub-national governments in the implementation and achievement of the Sustainable Development Goals (SDGs), the Nationally Determined Contributions (NDCs), the Sendai Framework and the New Urban Agenda of 2016.
The session, organized by ICLEI – Local Governments for Sustainability, witnessed discussions on the need for localizing the global frameworks; ensuring that targets that go along with Sustainable Development Goals consider local contexts, challenges, and realities.
Some of the challenges discussed at the session were lack of continuous engagement with relevant stake holders; limited involvement of private sector, lack of infrastructure is increasing the vulnerability and suchlike.
Background
RCAP was launched in 2010. Resilient Cities is the annual global platform for urban resilience and climate change adaptation where dialogues are conducted to forge partnerships, with the ultimate goal of identifying implementable solutions and creating lasting impacts for cities in the region.
Liked the article? Do watch our videos too!
Story 2: NASA's Cassini found lakes of liquid methane on Saturn's moon Titan
Before Cassini's final plunge into Saturn's largest moon in 2017, NASA's Cassini spacecraft gathered radar data revealing that the small liquid lakes in Titan's northern hemisphere are surprisingly deep, perched atop hills and filled with methane.
The new findings, published in Nature Astronomy, are the first confirmation of just how deep some of Titan's lakes are (more than 300 feet, or 100 meters) and of their composition. They provide new information about the way liquid methane rains on, evaporates from and seeps into Titan, the only planetary body in our solar system other than Earth known to have stable liquid on its surface.
Major Findings
As per the Nature Astronomy, Saturn's largest moon, Titan, hosts liquid hydrocarbon lakes and seas on its surface.
During the last close encounter with Titan (22 April 2017), the Cassini spacecraft used its RADAR as a sounder to probe the depth of several lakes in the north polar terrain.
This was the first time that Titan's lakes, as opposed to its seas, have been viewed in a sounding configuration.
These lakes can exceed 100 m depth and their transparency at the 2.17 cm radar wavelength indicates that they have a methane-dominated composition.
This composition differs significantly from that of Ontario Lacus, the only major lake in Titan's southern hemisphere, which is more ethane rich.
If the methane-rich north polar lakes, perched hundreds of metres above the major seas, are formed by a karstic-type process, then they may drain by subsurface flow at rates between 0.001 and 1 m yr−1 (Titan year).
Image: NASA/JPL-Caltech/Univ. Arizona/Univ. Idaho
Titan's hydrologic cycle
Scientists have known that Titan's hydrologic cycle works similarly to Earth's with one major difference. Instead of water evaporating from seas, forming clouds and rain, Titan does it all with methane and ethane. We tend to think of these hydrocarbons as a gas on Earth, unless they're pressurized in a tank. But Titan is so cold that they behave as liquids, like gasoline at room temperature on our planet. On the eastern side of Titan, there are big seas with low elevation, canyons and islands. On the western side; small lakes. And the new measurements show the lakes perched atop big hills and plateaus.
About NASA's Cassini
Cassini, arrived in the Saturn system in 2004 and ended its mission in 2017 by deliberately plunging into Saturn's atmosphere, mapped more than 620,000 square miles (1.6 million square kilometers) of liquid lakes and seas on Titan's surface.
It did the work with the radar instrument, which sent out radio waves and collected a return signal (or echo) that provided information about the terrain and the liquid bodies' depth and composition, along with two imaging systems that could penetrate the moon's thick atmospheric haze.
The crucial data for the new research were gathered on Cassini's final close flyby of Titan, on April 22, 2017.
It was the mission's last look at the moon's smaller lakes, and the team made the most of it. Collecting echoes from the surfaces of small lakes while Cassini zipped by Titan was a unique challenge.