Sania Mirza twitter spat with Veena Malik, says "I'm not Pakistan cricket team's dietician or mother"
Sania Mirza slammed Pakistani actress Veena Malik for questioning her parenting after she was spotted at a sheesha bar along with her husband Shoaib Malik and other Pakistani cricketers.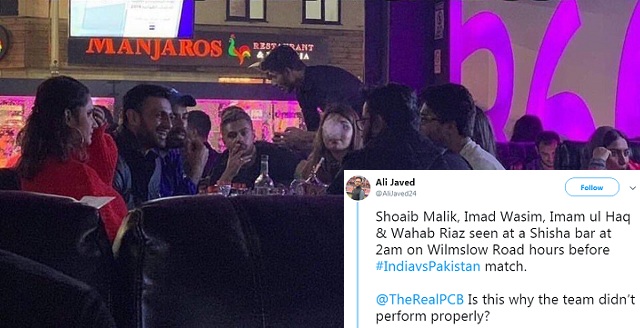 I'm not Pakistan cricket team's dietician or mother: Says Sania in a twitter spat with Veena Malik
Sania Mirza Tweet to Veena Malik: The buzz around Pakistan's humiliating loss to India in world cup clash refuses to die down, with the latest victim of angry Pakistani fans being Sania Mirza, who got into a twitter spat recently with Pakistani Actress Veena Malik when she slammed Sania for taking her child to a sheesha bar after a fan video of her surfaced that showed her enjoying sheesha along with her husband Shoaib Malik and a few Pakistani cricketers.

Reacting to the fan video, Veena Malik tweeted questioning Sania's parenting stating, "Sania, I am actually so worried for the kid. You guys took him to a sheesha place isn't it Hazardous? Also as far as I know Archie's is all about junk food which isn't good for athletes/Boys. You must know well as you are mother and athlete yourself?"

Sania responded to Veena's tweet by saying, "Veena, I have not taken my kid to a sheesha place. Not that it's any of your or the rest of the world's business cause I think I care about my son a lot more than anyone else does. Secondly, I am not Pakistan cricket team's dietician nor am I their mother or principal or teacher to know when they sleep, wake up and eat."
Sania Mirza Tweet:
Veena Malik Tweet:
Veena Malik's tweet was in reaction to Sania's original tweet against the fan who had shared the video of her at the sheesha bar. Sania had blasted the fan for invading their privacy by saying, "That's the video you shot without asking us, disrespecting our privacy even though we had a child with us? And got told off for doing so and you came up with this crap? FYI 'outing' was dinner & yes ppl are allowed to eat if they lose a match!"
The original video showed Sania and Shoaib at the restaurant along with Pakistani cricketers Wahab Riaz and Imam-ul Haq. As per Sania, the video was from their outing after the match. However, fans and Pakistani media trolled Sania Mirza, her husband Shoaib Malik and the Pakistani cricket team for overlooking fitness standards and staying out late right before the much crucial India vs Pakistan Clash.

Shoaib Malik also reacted to the allegations by tweeting, "When will Pak media be accountable for their credibility by our courts?! Having served my country for +20 years in Intl Cricket, it's sad that I have to clarify things related to my personal life. The videos are from 13th June and not 15th."

Malik added by saying, "On behalf of all athletes I would like to request media and people to maintain respect levels in regards to our families, who should not be dragged into petty discussions at will. It's not a nice thing to do."
Shoaib Malik Tweet:
After India beat Pakistan in their much-anticipated world cup clash at the Old Trafford in Manchester, videos and pictures emerged showing Pakistan players going for burgers on the eve of the match.
Angry Pakistani fans did not leave a stone unturned to troll the Pakistani cricket team for their poor performance on the field. They blamed the result on the Pakistani team's poor fitness standard and lack of proper preparation.
The Pakistani fans also trolled Indian tennis star Sania Mirza for Pakistan's poor performance, as she is married to Pakistani all-rounder Shoaib Malik whose performance in the ongoing cricket world cup has been very disappointing.
A fan uploaded a video that showed Sania at a Manchester restaurant along with her new-born son and Shoaib Malik and other Pakistani cricketers.The fan's tweet claimed that the group was out till about 2 am (a rumour denied by PCB), on the eve of India vs Pakistan world cup match. The tweet triggered a response from Veena Malik targeting Sania and questioning her parenting, which resulted in a full-fledged twitter war between the two women.