Top Current Affairs Quiz: 12 October 2019
The day's updated quizzes cover topics such as Google Doodle, Sports Awards 2019 and Troops in Saudi Arabia among others.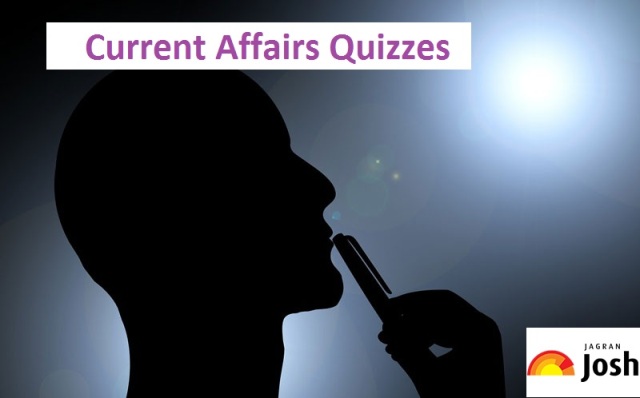 Current Affairs Quizzes
12 October 2019: The Current Affairs Quizzes section of Jagranjosh aims to help every competitive exam aspirant to revise the day at ease. The day's updated quizzes cover topics such as Google Doodle, Sports Awards 2019 and Troops in Saudi Arabia among others.
1. What is the name of India's first female graduate (Hons) for whom Google has recently dedicated a doodle?
a. Kamini Roy
b. Avantika Deshbandhu
c. Sapna Verma
d. Payal Trivedi
2. What is the name of NASA's recently launched a satellite to study the ionosphere?
a. PROP
b. ICON
c. MARK
d. ROCK
3. Who has been ranked second in the Forbes List of 100 Indian billionaires?
a. Kumar Birla
b. Hinduja Brothers
c. Azim Premji
d. Gautam Adani
4. What is the name of the first person who did spacewalk in 1965 but died recently?
a. Alexei Leonov
b. Fyodor Gorbachov
c. Joseph Huston
d. Mark Elliot
5. Who among the following has been awarded Lifetime Achievement Award during Indian Sports Awards 2019?
a. Mary Kom
b. Bichung Bhutia
c. Milkha Singh
d. PT Usha
6. In which country more than 3,000 women watched a football match in the stadium for the first time in nearly 40 years?
a. Pakistan
b. Iran
c. Nepal
d. Japan
7. Which state government has announced to establish a 'Kanyashree University' for women empowerment?
a. Haryana
b. Madhya Pradesh
c. Rajasthan
d. West Bengal
8. Which bank has recently reduced the marginal cost-based lending rate (MCLR) by 0.05 percent?
a. Dena Bank
b. Punjab National Bank
c. Allahabad Bank
d. Bank of Baroda
9. Which Indian woman athlete has broken her own national record in the 59th National Open Athletics Championship and won the gold medal in the women's 100m event?
a. Duti Chand
b. Sudha Singh
c. Vidya Rajput
d. Vrinda Nayar
10. Which country has recently deployed additional 3,000 troops to Saudi Arabia?
a. England
b. USA
c. France
d. Germany
Answers
1. (a) Kamini Roy
Google Doodle has been made on the 155th birth anniversary of Kamini Roy. She was the first woman in Indian history to get a graduate (Hons) degree. He was born on 12 October 1864 in the Bakerganj district of British India
2. (b) ICON
NASA has launched a satellite named ICON to study the ionosphere. According to information released by NASA, this mission will bring out the information about where the Earth and the ionosphere meet. The mission was to be launched in 2017 but due to a technical flaw, it has been launched after two years.
3. (d) Gautam Adani
Forbes has recently released a list of Indian billionaires. Gautam Adani gained 8 points benefit compared to the previous year to finish second. Mukesh Ambani remains in the first place for the 12th consecutive time.
4. (a) Alexei Leonov
Alexey Leonov was the first astronaut who did a spacewalk for the first time in the world. Alexey Leonov of the Soviet Union has died in Russia at the age of 85 years recently. On 18 March 1965, he took a spacewalk for 12 minutes in the space.
5. (c) Milkha Singh
India's legendary athlete Milkha Singh was recently awarded Lifetime Achievement Award 2019. Bajrang Poonia received the Sportsman of the Year award in the men's category while Vinesh Phogat received the Sportswoman of the Year title.
6. (b) Iran
After the 1979 Islamic revolution in Iran, women were banned from watching men's sports. Earlier, the international football federation FIFA had suggested suspending Iran's team due to male-only policy. Iran is the last country in the world where women are not allowed to watch football matches.
7. (d) West Bengal
Chief Minister Mamata Banerjee announced that for the empowerment of girls, the West Bengal government has decided to open Kanyashree University in Nadia district and Kanyashree Colleges across the state. It was launched in 2013 and the state government has allocated a budget of seven thousand crores for it.
8. (c) Allahabad Bank
This deduction will be applicable from 14 October 2019. Now, the bank's one-year benchmark MCLR will come down from 8.40 percent to 8.35 percent. Similarly, for one-day to six-month loans, the MCLR will be between 7.85 to 8.20 percent.
9. (a) Duti Chand
Duti Chand has broken her own record of 11.26 seconds at the Asian Championship with a time of 11.22 seconds in the semi-finals of the tournament. It is also a new national record. Earlier, with a time of 11.26 seconds, this record was jointly made with Rachita Mistry.
10. (b) USA
Special US Envoy for Iran, Brian Hook recently announced that the United States is ready to deploy additional 3,000 troops to Saudi Arabia. Troops will be deployed to Saudi Arabia with the aim of providing more security to the oil facilities.
Also Read | Top Current Affairs Quiz: 11 October 2019
Also Read | Kamini Roy Honoured by Google Doodle on her 155th Birth Anniversary