Virat Kohli's witty response to ICC's tweet; Ranveer Singh and Virat Kohli's hug post Ind VS Pak match
Captain Virat Kohli tweeted a picture of him saying 'Doing it since the early 90s!'. In the picture, Kohli is seen donning the same pose in both the images, one from his childhood and other from Ind VS Pak World Cup match in Manchester.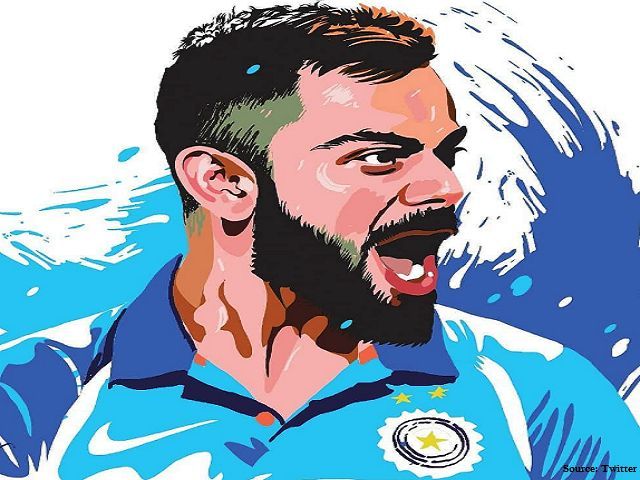 Virat Kohli
Ind vs Pak ICC World Cup 2019 match of June 16 was eye candy for every one! While the Pakistani fans and the cricket fans worldwide trolled Sarfaraz Ahmed's yawn on the match day, Indian captain Virat Kohli was no behind in turning in the heads around. Kohli's expressions such as his look at the rain left no threads in making the headlines.

Captain Virat Kohli yesterday tweeted a picture of him saying "Doing it since the early 90s!" as a response to such headlines. The picture is actually a mirror image of Kohli's childhood. In the picture, the first half shows Baby 'Cheeku' Kohli looking upwards and the second half shows Captain Kohli looking upwards into the sky when it rained. Have a look:
Kohli's tweet came as a response to ICC's post showing Captain as 'unimpressed' by the rain:
Ranveer Singh & Virat Kohli's Surprise Hug
Earlier on the match-day when everyone was glued to their respective handsets, TVs or screen to watch the score, actor Ranveer Singh stole all the TRPs by visiting Old Trafford in Manchester. He couldn't stop, but went to the field and hugged Kohli. Have a look:
To this, Mazher Arshad, a cricket statistician, tweeted, "Ranveer Singh literally bowed down before Virat Kohli and then gives him a congratulatory hug. Don't think India has produced a more love-able cricketer than Kohli. Deserves to win everything. #IndvPak".