World Bank launches first Human Capital Index, Singapore tops list
The World Bank has launched its first human capital index, which ranks countries based on their success in developing human capital. While Singapore tops the rankings, African countries occupying the bottom spots.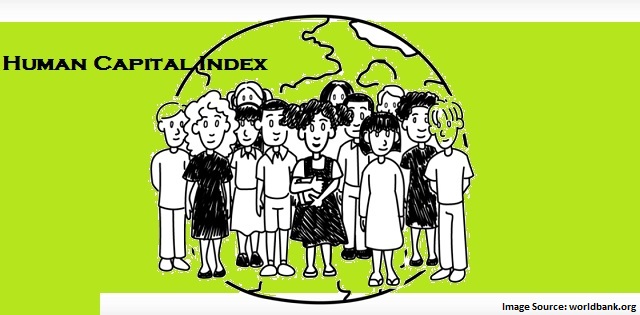 World Bank launches first Human Capital Index, Singapore tops rankings
The World Bank launched its first Human Capital Index (HCI) in Bali, Indonesia on October 11, 2018, as part of the World Development Report 2019. The index ranks countries based on their success in developing human capital.

The index ranks 157 countries based on their education and health outcomes and the impact they are having on productivity. While Singapore tops the rankings, African countries occupying the bottom spots.
About Human Capital Index
Objective
The human capital index, which has been modeled on the World Bank's existing doing business index that assesses national business conditions, aims to create a similar ranking for countries based on how well they look after their people.
The index claims to seek to measure the amount of human capital that a child born today can expect to attain by age 18.
The HCI index values are contended to convey the productivity of the next generation of workers, compared to a benchmark of complete standard education and full health.
The four key indicators of the index include:
1. Under‐5 mortality rates
2. Expected years of Quality-Adjusted School
3. Adult survival rates
4. Rate of stunting for children aged below five years
| | |
| --- | --- |
| World Banks's Human Capital Index | UN's Human Development Index |
| HCI uses survival rates and stunting rate as measure of health | HDI uses life expectancy as measure of health |
| HCI uses quality-adjusted learning as measure of education | HDI uses years of schooling as measure of education |
| HCI excludes per capita income | HDI includes per capita income |
| HCI excludes income component | HDI includes income component |
The index draws attention to the fact that human capital is connected to productivity, it's connected to economic growth and it's more highly correlated than other kinds of infrastructure investment that heads of state and ministers of finance are much likely to go for because of the sooner visible outcomes.
Key Highlights

• The index measures the Index outcomes for each country as a fraction of maximum value of 1.

• It also measures the mortality rate for children under five, early childhood stunting rates due to malnutrition and other factors and health outcomes based on the proportion of 15-year-olds who survive until age 60.

• Further, it measures a country's educational achievement based on the years of schooling a child can expect to obtain by age 18, combined with a country's relative performance on international student achievement tests.

• Overall, the index found that on an average 56 percent of children born today will forego more than half their potential lifetime earnings because governments were not investing adequately to ensure their people are healthy, educated and ready for an evolving workplace.
Top Findings

The index found that advanced economies such as North America and Europe mostly have HCI value of above 0.75, while South Asia and Sub Saharan Africa have the lowest HCI among the regions.
Singapore topped the rankings list, followed by South Korea, Japan and Hong Kong. On the other hand, African countries with high childhood stunting rates and low access to formal education fared the worst in the rankings, with Chad and South Sudan taking up the two lowest spots. The United States was ranked 24th on the list, while the United Kingdom was ranked 15th.
The World Bank predicts that in the lowest country ranked on the list, Chad, productivity and earnings potential would be only about 29 percent of what their potential would be under ideal conditions.
In top-ranked Singapore, the earnings potential was 88 percent of potential, while in the United States, ranked 24th between Israel and Macau, productivity and earnings were measured at 76 percent of potential.
The HCI for India was estimated at 0.44. The quality-adjusted learning was measured in the case of India by using the data as old as 2009.
Besides, there were 28 countries, from Indonesia to Lesotho to Ukraine, who signed on as "early adopters" of the index to work with the World Bank to devise plans to improve their investment in health and education.
Further, the index showed that a country ranked at 50 percent, such as Morocco and El Salvador, would lose 1.4 percentage points of annual GDP growth compared to its potential under ideal health and education conditions.
The bank has warned that a wave of automation and artificial intelligence will eliminate many low-skilled jobs in the coming years, making it harder for people with low levels of education and poor health to compete for work.
HCI Observations for India
The children born in India today will be only 44 per cent as productive when they grow up as they could be if they enjoyed complete education and full health.
There has also been a marked improvement in the HCI components in India over the last five years:
Probability of survival to age 5: 96 out of 100 children born in India survive to age 5
Expected years of school: In India, children who start school at the age 4 can be expected to complete 10.2 years of school by their 18th birthday
Harmonised test scores: Students in India score 355 on a scale where 625 represents advanced attainment and 300 represents minimum attainment.
Learning-adjusted years of school: Factoring in what children actually learn, expected years of school is only 5.8 years.
Adult Survival Rate: Across India, 83 per cent of 15-year olds are expected to survive until the age of 60 years.
Healthy Growth (Not Stunted Rate): 62 out of 100 children are not stunted. 38 out of 100 children are stunted and so at risk of cognitive and physical limitations that can last a lifetime.
Gender Differences: The HCI in India is marginally better for females in comparison to that for males.
Conclusion
The index concludes that for 56 per cent of the world's population the HCI is at or below 0.50 and for 92 per cent it is at or below 0.75.
Hence, only 8 per cent of the population can expect to be 75 per cent as productive as they could be.
Singapore's high score of 0.88 out of a maximum possible score of 1 was driven by a strong focus on quality education and an innovative health insurance system delivered by spending a relatively modest 4 per cent of gross domestic product on health care.
World Development Report (WDR)
The main theme of the World Development Report (WDR) 2018 is "The Changing Nature of Work".
As part of this report, the World Bank has launched a Human Capital Project (HCP).
The HCP programme is claimed to be a program of advocacy, measurement and analytical work to raise awareness and increase demand for interventions to build human capital.
The three main components of HCP include:
1. Cross-country human capital measurement metric called the Human Capital Index (HCI)
2. Programme of measurement and research to inform policy action
3. Programme of support for country strategies to accelerate investment in human capital
Video: Check out the latest current affairs of this week