Bottle Cap Challenge: Everything You Need To Know!
These days a new thing is going viral on internet that is Bottle Cap Challenge. Do you know about it? From Hollywood and Bollywood celebrities to MMA fighters and kids at neighbourhood, everyone seems to be taking it up. What is Bottle Cap Challenge, who started doing first? Let us find out!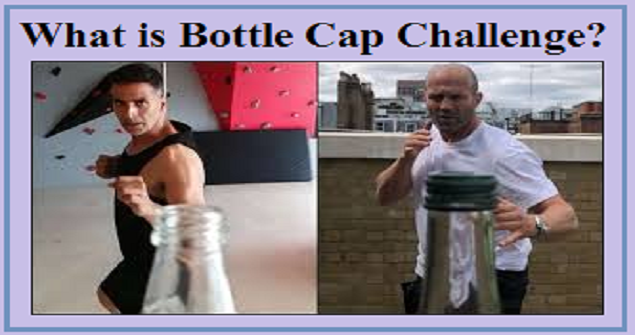 What is Bottle Cap Challenge?
Have you noticed while scrolling Twitter that Bottle Cap Challenge has generated an incessant discussion?
When Bottle Cap Challenge originated and how?
Bottle Cap Challenge is originated on 25 June. Let us tell you that it is a video challenge which was first started by taekwondo instructor and fighter Farabi Davletchin on Instagram. This was picked up by reigning UFC Featherweight champ Max Holloway that really made it viral. Various celebrities are also signing up for it.
What is Bottle Cap Challenge?
A bottle with a loose cap is placed on a table. So, now a person is required to untwist the cap with a spin or roundhouse kick that leaves the cap flying off without moving the bottle. Yes, this is a challenge and may be a tough task! And while performing the task, it should be recorded in a slow motion so that it should be clear that the task is performed perfectly or not. And yes, slow motion video will also give a kind of suspense to it.
What is Article 15 of the Indian Constitution?
After taking challenge Holloway then challenged music artist John Mayer. He surprised the fans and internet with a kick that would make any athelete proud. In this way challenge went viral and people started watching videos on Instagram and Twitter. Now, Fast and Furious Hollywood star turn came to give a shot namely Jason Statham and it was his video that really woke India up to the challenge.
Meanwhile, Bollywood celebrity Akshay Kumar who is known for his stunts and fitness aced the Bottle Cap Challenge and told that he was inspired by his 'action idol' Statham. He also asked his followers to take and try the challenge and the best videos he saw of his followers would repost and retweet by him.
Further, other film stars from Tamil, Telugu and Kannada also started taking challenge. Among them the 'Action King' Arjun Sarja was first South Indian actor to try it as well and he dedicated his attempt to Bruce Lee and his fans.
Several actors also participated in the challenge namely Siddhant Chaturvedi, Ishan Khatter, American DJ Diplo, Irish boxer and MMA champ Conor McGregor etc.
Earlier, several other challenges were posted like #kick or #dametucosita and now #BottleCapChallenge which is relatively easier. As, only bottle is required with a cap, camera and plenty of patience and time to nail the kick.
Google Chrome to get some serious competition from Brave browser: Here's why