Essay on Holi 2023 for Children and Students in English, Easy and Simple with 10 Lines
Holi Essay in English: Holi the festival of colours and joy signifies the victory of good over evil. Check this article for small and long essays on Holi in English for your school, and offices.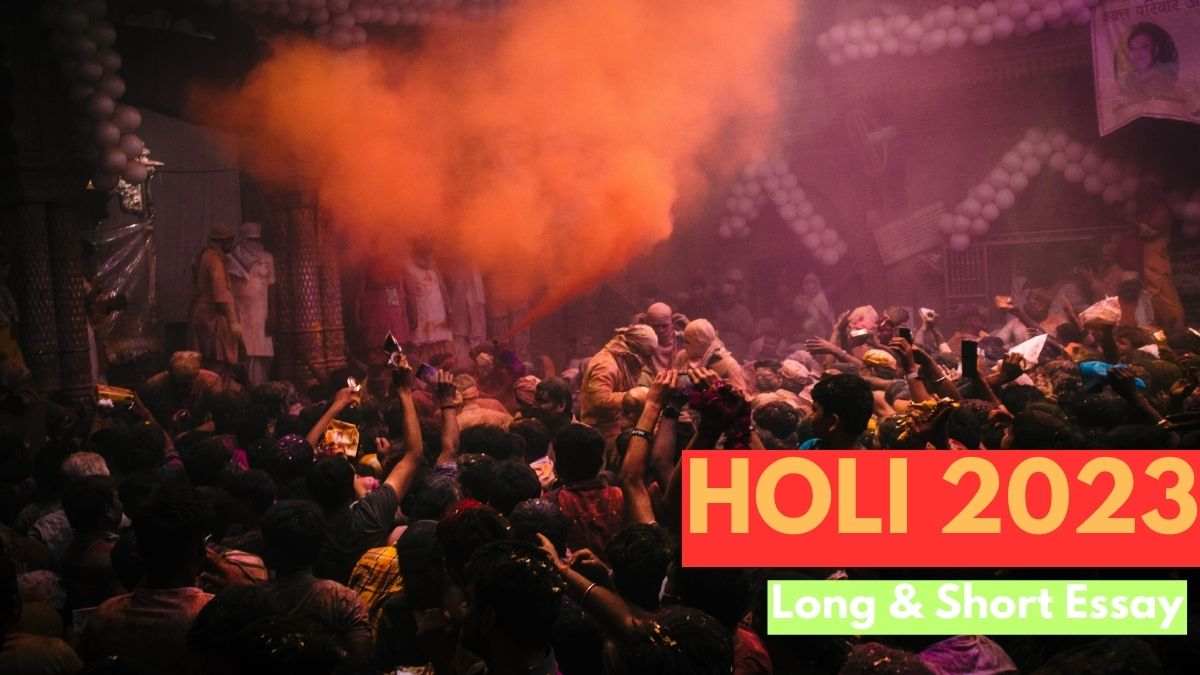 Get here Essay on Holi in English in Easy and Simple Lines.
Holi is a yesteryear Hindu tradition and is also one of the most popular festivals in Hinduism. It was originated and predominantly celebrated in the Indian subcontinent and later spread to the Western world through the Indian diaspora. The festival of colour has various religious and spiritual significance. It celebrates the eternal and divine love of Lord Krishna and Radha. And on the other hand, the day also signifies the triumph of good over evil, as it commemorates the victory of Lord Vishnu as Narasimha Narayana over Hiranyakashipu.
Here are some short and long Holi essay examples in English that you can use to wow your friends, coworkers, and professors. Before moving on to the samples, you must comprehend the fundamentals of essay writing.
Holi 2023: When is Holi in India? Check Date, Time, Shubh Muhrat, Rituals, Celebrations & More
What do you understand by an Essay?
Essay writing is an essential part of the curriculum. Students are asked to write essays as part of the exam to show their creativity and verbalization abilities. Essays give teachers the chance to evaluate a student's language and grammar proficiency. Children love celebrating Holi, and they frequently enjoy writing essays about it.
The three main components of an essay are
Introduction

Body

Conclusion
6 Important Tips to Write an A+ Essay
Start by doing some research

Making an essay outline is a good idea.

You Must Write Body Paragraphs

Make Your Introduction Interesting

Be succinct in your conclusion.

Make at least three revisions before final submission.
Holika Dahan 2023: Date, Shubh Muhurat, Rituals, History, and Significance
Holi Essay in 10 Lines
Sample 1
Every year, the entire nation celebrates Holi, the festival of colours and joy.

It is observed in March, the beginning of the summer season in Hindi, during the month of "Falgun."

A sizable bonfire is lit in preparation for Holi in an effort to invoke the demon king Hiranyakashipu's sister Holika, who was killed in the fire by internal evil.

Religious texts imply that Radha and Krishna founded Holi.

The second traditional example connects Shiva to Holi in yoga and deep meditation.

Holi is celebrated because it brings people together, so it is done so joyfully and enthusiastically.

On Holi, we gather with our friends, neighbours, and relatives to colour them with "gulals."

To commemorate the festival of the season, people in north India organise Kavi Sammelans and sing a variety of folk songs.

Along with the well-known "gujiya," which is filled with a variety of dry fruits and mawa, other mouth-watering treats are prepared.

Holi is a celebration of community, harmony, and peace that symbolises the victory of good over evil.
Sample 2
The majority of Indians celebrate Holi, a festival of vibrant colours.

Every year, it is observed in March to signal the start of the spring season.

It is essentially a two-day festival that starts with choti-holi and ends with faag, Phalgun, Falgun, or Fagun.

On the first night of Holi, a bonfire is lit to symbolize the death of Holika, the sister of the demon

Hiranyakashipu

.

Holi celebrates the triumph of good over evil.

People make sweets and snacks at home, particularly gujiya.

It is a day to be enjoyed and celebrated with loved ones, leaving all resentments and negativity behind.

The festival is observed by decorating with vibrant Gulaals and pichkaris (water guns).

We should be careful, as no one should suffer harm because of the coloured balls, balloons, or water guns.

Holi is a festival that promotes goodness, brotherhood, and positivity; as a result, we should always celebrate it in a positive manner.
Small Easy Essay on Holi
One of India's most important holidays, Holi is observed with great fervour, zest, and enthusiasm. The festival of colours is another name for it, and it is when people play with and splash colour on one another. Holi also represents the victory of good over evil because it was on this day that Lord Vishnu's half-lion, half-man incarnation Narasimha killed the evil Hiranyakashyap and saved Prahlad, one of his followers.
A few days prior to the festival, people begin buying food items to prepare special meals with, as well as coloured balloons and other festival decorations. Children are the ones who get the most elated for Holi and begin celebrating it early by dousing their friends in colour with water cannons or "pichkaris" (color-spraying devices). The markets outside of towns and cities are embellished with "gulals," "pichkaris," and other decorations.
Holi is also a festival of peace where friends and family get together in the evening or go visit friends, family, and neighbours to wish them a happy festival and greet them with candy and coloured powder. The mouthwatering Holi treats like "gujiya," "laddoos," and "thandai" give the festive season some flavour. On Holi, people give a fresh start by hugging one another and forgetting their past grievances and hatreds.
Holi 2023: Why do we Celebrate Holi Festival? Know the Reason Behind it
Long Holi Essay in English
The Indian people joyfully celebrate Holi, a very well-known festival of colours, each year in the month of "Phalgun," or March. It is a festival filled with lots of games and amusements, especially for kids, who begin celebrating a week before and keep the celebrations going for another week after the festival. Hindus throughout the nation, particularly in North India, celebrate Holi during the month of March.
Holi has been celebrated for years in India, and there are many myths and legends surrounding it. It is a very significant and important festival. According to Hindu mythology, the celebration of Holi is thought to have begun long ago when Holika was burned in the flames while attempting to burn her own nephew to death.
Hiranyakashyap, the father of little Prahlad, is reputed to have been a demon king who attempted to burn to death his own son when the latter refused to worship him because Prahlad was a great devotee of Lord Vishnu. After trying numerous methods to kill Prahlad without success, Hiranyakashyap ordered his own sister Holika to sit in the fire while holding Prahlad in her lap because she had the posses special power against fire.
This tactic, however, was also unsuccessful because little Prahlad was a follower of Lord Vishnu and was saved by his God. Prahlad escaped the fire unscathed, but Holika was burned. Hindus have been celebrating Holi every year since that time.
People create a pile of wood on the crossroads the day before Holi and burn it as a symbol of Holika as part of the "Holika Dahan" ceremony. Additionally, people worship the burning Holika by circling it repeatedly in order to burn away their sins and illnesses in order to receive blessings of prosperity and good health. Another tradition in north India is to massage the body with mustard paste before burning it in the Holika fire in an effort to purge the body of all illnesses and evils.
After "Holika Dahan," people gather together the following morning to celebrate the colourful festival of Holi by hurling colours at one another in good fun. One week prior to the main festival, Holi preparations get underway. A week before the event, people especially kids start purchasing various colours with great enthusiasm.
Even they begin using "pichkari" and little balloons to play colour games with their friends, neighbours, and family. The festivities begin early in the morning when people visit their friends and family and colour them. Holi treats include "gujhiya," "sweets," "pani puri," "dahi bade," and chips, among other things, which are enjoyed by both the guests and the hosts.
Holi is a festival that primarily promotes love and brotherhood. Bright colours are used during the festival to represent prosperity and joy. Holi also represents the victory of good over evil, which is the central theme of the majority of Indian festivals. It also teaches us to abide by moral principles and shun social vices.
Team Jagranjosh extends warm wishes to all its Readers for the festival of colour. Happy Holi!!
FAQ
Why is Holi celebrated in simple words?
The Holi Festival is celebrated as the significance of good over evil. And it is also a way to welcome in spring, and also is seen as a new beginning where people can release all their inhibitions and start fresh.
Why do we celebrate Holi in 10 lines?
As it gives a quick snap of the popular festival.
What is the essay of Holi?
Holi is known as the festival of colours. It is one of the most important festivals in India. Holi is celebrated each year with zeal and enthusiasm in the month of March. Those who celebrate this festival, wait for it every year eagerly to play with colours and have delectable dishes.