List of Men's Cricket Test Match Playing Teams
England and Australia are the two most old Test match playing nations in the world. Currently, there are 12 test match playing teams in the world. Afghanistan is the latest test playing nation since 14 June 2018.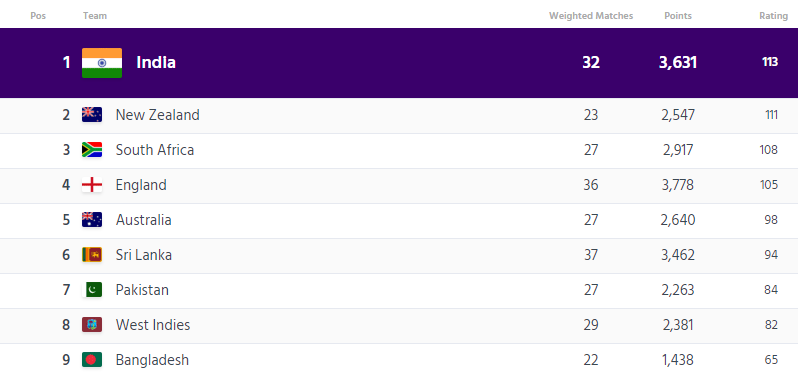 Cricket Test Match playing Teams
The International Cricket Council (ICC) is the global governing body for international cricket, encompassing men's, women's teams. ICC is governed by the ICC Constitution.
Currently, there are 104 members of the ICC. ICC has two Membership categories which are as follows:
Full Members: These members are part of the governing bodies for cricket of a country recognised by the ICC. These members are authorised to play test matches organised by the ICC. Currently, there are 12 countries included in this list. Zimbabwe has been included in the ICC list again.
Associate Members: These members do not qualify as a full member but cricket is firmly established and organised in these countries. Currently, there are 92 members in this category.
Currently, there are 12 Test-playing men's teams. All teams represent individual, independent nations, except for the West Indies, England & Ireland.
Test status is given to a country or group of countries by the International Cricket Council (ICC). Teams that do not have Test-playing status can play in the ICC Intercontinental Cup.
List of Top 10 Biggest cricket stadiums in the world
At the ICC Annual Conference 2017 in London, Afghanistan and Ireland were accepted as Full Members. So the total number of teams allowed to play the test match became twelve.
The list of test match playing teams is as follows;
| | | |
| --- | --- | --- |
| S.N. | Team | Test Status Awarded |
| 1. | England | 15 March 1877 |
| 2. | Australia | 15 March 1877 |
| 3. | South Africa | 12 March 1889 |
| 4. | West Indies | 23 June 1928 |
| 5. | New Zealand | 10 January 1930 |
| 6. | India | 25 June 1932 |
| 7. | Pakistan | 16 October 1952 |
| 8. | Sri Lanka | 17 February 1982 |
| 9. | Zimbabwe | 18 October 1992 |
| 10. | Bangladesh | 10 November 2000 |
| 11. | Ireland | 11 May 2018 |
| 12. | Afghanistan | 14 June 2018 |
Interesting to know that the first officially ICC recognised Test match took place on 15–19 March 1877 between Australia and England at the Melbourne Cricket Ground (MCG), where Australia won by 45 runs.
Team India played its first test match against England at Lords in 1932 under the Captainship of C K. Nayudu. Englands won this match by 158 runs.
Image source:Livemint
A question may arise in the mind of the readers of this article that what is the criteria to give the status of test playing team. The International Cricket Council has made criteria to qualify as the test match playing team.
One criterion is as follows;
An associate nation needs to compete and win the Intercontinental Cup, which is a two-year first-class competition for associate nations.
The associate nation which wins the ICC Intercontinental Cup gets a chance to compete with the lowest-ranked Test team once every four years in the ICC Test Challenge.
We hope you like this article. For more such interesting stories do visit the General Knowledge section of jagranjosh.com.
How Bowling Speed is calculated in Cricket Matches
List of Indian Cricketers inducted in the ICC Cricket Hall of Fame