Today In History, 30 January: What Happened On This Day
What happened today in history (30 January): Christian Bale, Franklin D. Roosevelt and Chidambram Subramaniam born, Orville Wright and Mahatma Gandhi died, Martyrs Day celebrated in India, The Beatles' last performance, worst maritime disaster ever occurred, Hitler became the Chancellor of Germany, and more.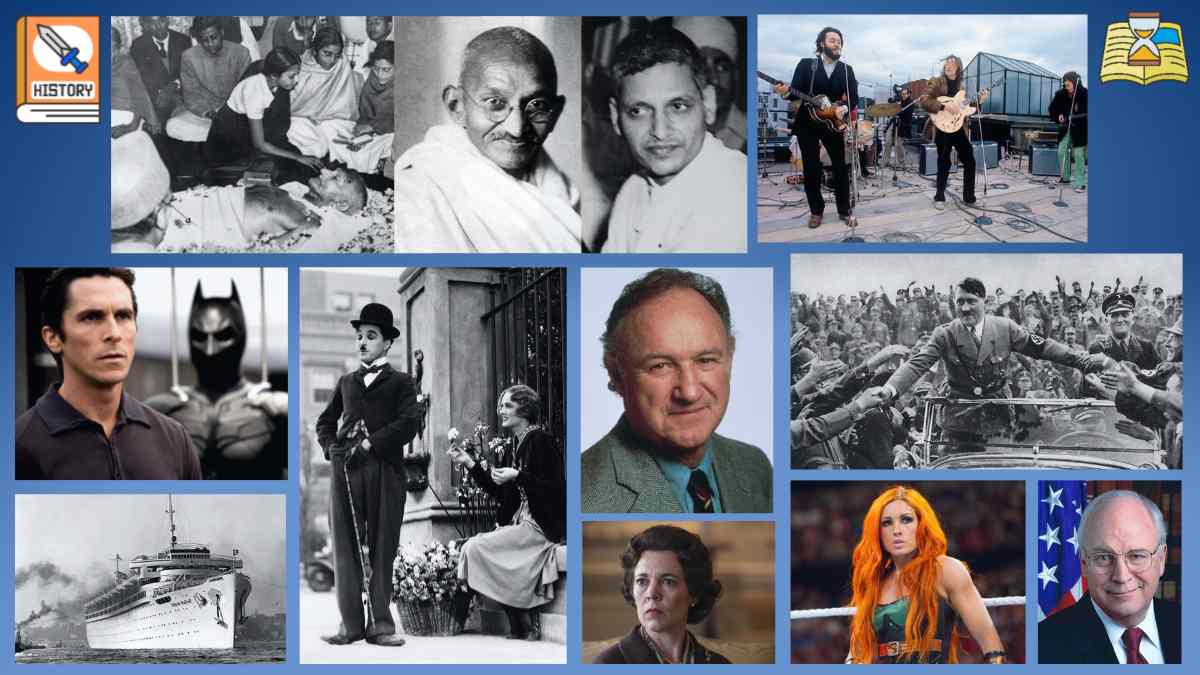 This day in history (30 Jan): Mahatma Gandhi's Assassination Commemorated as Martyrs Day
Today in History, 30 January: Only one day is left before the first month of 2023 ends. February is almost upon us and with it the wane of winter.
Today is 30 January, a usual lazy day in the winter month of January. However, 30th January is a consequential day in world history. Many defining and world-altering events transpired on this day.
Read on to know what happened today (Jan. 30) in sports, politics and art, along with famous birthdays and deaths in world history.
Related: Today in History, 27 January: What Happened on This Day
Historical Events On This Day
In 1649, in a rare occurrence in England, a King, Charles I, was executed for his tyranny, military failures, and for causing the English Civil War.
In 1790, the world's first lifeboat was tested in the water by inventor Henry Greathead.
In 1933, Adolf Hitler was named chancellor of Germany by President Paul von Hindenburg, beginning the rise of the Nazi party.
In 1939, Nazi leader Adolf Hitler predicted the end of Jews in Europe if another world war were to occur.
In 1945, the German ocean liner Wilhelm Gustloff was sunk by a Soviet submarine, resulting in the biggest maritime disaster in history and the deaths of 9,000 people.
In 1948, Mahatma Gandhi, a renowned Indian peace activist, freedom fighter, and the father of the nation who introduced the non-violent protest method of "Satyagraha" to the world, was assassinated by Nathuram Godse, a Hindu nationalist who held Gandhi responsible for the partition and the Kashmir war. The day is commemorated as Martyrs Day in India.
In 1956, the home of American civil rights activist Martin Luther King Jr. was bombed.
In 1995, devastating floods forced over 100,000 people to evacuate low-lying areas in the Netherlands.
In 2020, the World Health Organization declared COVID-19 a Public Health Emergency of International Concern.
Sports Events Today
In 1994, Indian cricketer Kapil Dev took 2/41 as India beat Sri Lanka by an innings and 95 runs, equaling Sir Richard Hadlee's world record of 431 Test wickets.
In 2022, Spain's Rafael Nadal won a record 21st Grand Slam singles title with an epic 2-6, 6-7, 6-4, 6-4, 7-5 win over Daniil Medvedev of Russia at the Australian Open.
Art and Culture Events Today
In 1931, Charlie Chaplin's iconic silent comedy film "City Lights," directed and starring Chaplin alongside Virginia Cherrill, premiered.
In 1969, the celebrated English rock band the Beatles performed their last live gig, a 42-minute concert on the roof of Apple Corps HQ in London for a limited audience.
Notable Deaths On This Day
| | | |
| --- | --- | --- |
| Sr No | Death Year | Personality |
| 1 | 1649 | Charles I, King of England and Ireland from 1625 to 1649 who was executed for his administrative failures and causing the English Civil War |
| 2 | 1948 | Mahatma Gandhi, Indian freedom fighter and proponent of non-violence, who is considered the Father of the Nation of India |
| 3 | 1948 | Orville Wright, American aviation pioneer who co-invented the first successful airplane |
| 4 | 1951 | Ferdinand Porsche, Austro-Bohemian automotive engineer who founded the company Porsche AG, created the Volkswagen Beetle and the first gasoline-electric hybrid vehicle |
| 5 | 1968 | Makhanlal Chaturvedi, Indian poet, writer, essayist, playwright and journalist who significantly contributed to India's freedom struggle |
| 6 | 1991 | John Bardeen, American physicist and engineer who is the only person to win the Nobel Prize in Physics twice for his work on semiconductors and transistors |
| 7 | 2011 | John Barry, British composer who arranged the first James Bond theme and composed for eleven films in the series |
Famous Birthdays On This Day
| | | |
| --- | --- | --- |
| Sr No | Birth Year | Personality |
| 1 | 1505 | Thomas Tallis, one of the greatest English music composers who mainly created vocal music for royals |
| 2 | 1882 | Franklin D. Roosevelt, American politician and lawyer who served as the 32nd President of the US from 1933 to 1945 and led the country during World War II |
| 3 | 1910 | Chidambram Subramaniam, Indian politician who led the Green Revolution to achieve agricultural reforms |
| 4 | 1913 | Amrita Sher-gil, Indian-Hungarian painter who's often called the Indian Frida Kahlo for her avant-garde art works |
| 5 | 1925 | Douglas Engelbart, American computer scientist known for developing the computer mouse and graphical user interface |
| 6 | 1930 | Gene Hackman, veteran American actor and two-time Oscar winner best known for his iconic films The French Connection, Unforgiven and Mississippi Burning |
| 7 | 1941 | Dick Cheney, American Republican politician who served as the 46th vice president of the US from 2001 to 2009 who is known for his controversial measures in the Iraq and Afghanistan Wars |
| 8 | 1951 | Phil Collins, English singer and musician known for his hit singles like "In the Air Tonight" and "Another Day in Paradise" |
| 9 | 1974 | Christian Bale, English actor known for his highly committed and intense performances, often accompanied by drastic body transformations like in the films American Psycho, The Machinist, Batman Begins, The Fighter and Vice |
| 10 | 1974 | Olivia Colman, English actress and Academy Award winner known for her versatile performances in films and TV shows like The Favourite, Broadchurch and The Crown |
| 11 | 1987 | Becky Lynch, Irish professional wrestler who competes in the WWE |
Related | Today in History (29 January)
Related | Today in History (28 January)
FAQ
What happened today in history (30 January)?
Indian freedom fighter and proponent of non-violence Mahatma Gandhi, was assassinated by Nathuram Godse on this day, 30 January in 1948.
Which famous personality was born on this day, 30 January?
Famous Hollywood star Christian Bale and WWE wrestler Becky Lynch was born today (30 Jan).