What is Mission Shakti?
Mission Shakti an anti-satellite weapon ASAT is successful by targeting a live satellite in a low earth orbit. It is an important step towards securing India's safety, economic growth and technological advancement. No doubt ASAT weapon system will give a new strength to India's space programme. Do you know about Mission Shakti? What is it and why this mission is so special, what is ASAT, LEO, etc. Let us study through this article.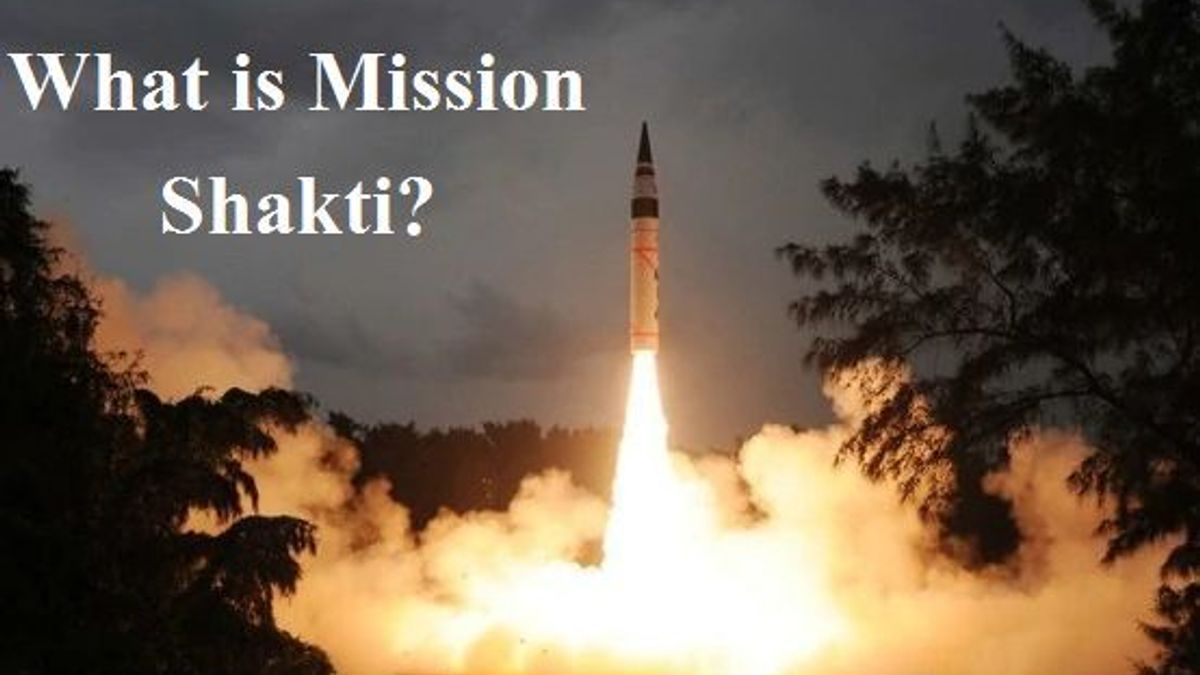 What is Mission Shakti?
Prime Minister Narendra Modi made a big announcement on 27 March, 2019 that India became the fourth country to acquire the capability of space warfare after US, Russia and China. As, scientists of India had successfully conducted Mission Shakti by shooting down a live satellite in the low earth orbit (LEO).
Before we proceed, let us tell you about Low earth orbit (LEO)
Low earth orbit is an orbit within a locus extending from the surface of the earth up to an altitude of 1,200 miles or 2000 km. Do you know that most of the manmade objects in space are in LEO? Due to their high speed, data transmitted through LEO is handed off from one satellite to another and generally move in a range of bound transmitting stations. Most of the applications of communication use LEO satellites because it takes less energy to place the satellites into LEO. Let us tell you that LEO orbits are not geostationary as network of satellites are required to provide the continuous coverage.
What is ASAT?
ASAT is anti-satellite weapon system that is designed to destroy or incapacitate satellites. Development of such type of weapon systems has a long history. Used during the Cold War between United States and the former Soviet Union. At that time various types of systems are there that can be launched from the ground or from planes. Let us tell you that in 1985 in the Cold War the United States has used an ASAT system to destroy its P-781 satellite to study solar radiation.
When China conducted an anti-satellite missile test on 11 January, 2007, these weapons again became popular. Target was Chinese weather satellite the FY-1C that sailed at an altitude of 865 kilometres. One Year later, the US launched 'Operation Burnt Frost' to destroy a non-functioning U.S. National reconnaissance Office (NRO) satellite named USA-193.
So, we can say that the US was the first nation to build space warfare in 1950s. The USSR followed US and acquired the capability by early 1960s. Then China became the third country to launch ASAT. He had conducted his first ASAT test in 2007. Here, we would like to tell you that till date no country has used an ASAT weapon against another nation. This test only shows space warfare capabilities of the country.
What is new about India's ASAT system?
But India's ASAT system is new as the satellite was about 300 km away from earth and the success of the Mission Shakti demonstrated India's anti-satellite missile capability by shooting down a live satellite. No doubt it is a rare achievement of India and makes the country in the list of space super powers.
According to Director-General of the Defence Research and Development Organisation (DRDO) Dr, V.K. Saraswat that in 2012 India had all the building blocks necessary to integrate an anti-satellite weapon to neutralise hostile satellites in low earth and polar orbits. However no formal announcement was there for such a mission.
Now, let us study about Mission Shakti

Source: www.letsstudytogether.co
An anti-satellite missile test that is Mission Shakti was conducted by India on 27 March, 2019 from Dr. A.P.J Abdul Kalam Island launch complex. Let us tell you that DRDP carried this technological mission in which the satellite used was one of India's existing satellites operating in the lower orbit.
As per planning, the test was successful and achieved all the parameters. No doubt an extremely high degree of precision and technical capability was required in the test. Significance of the test is that India is successful in demonstrating its capability to intercept a satellite in the outer space that too based on complete indigenous technology.
The satellite that was destroyed was Indian and DRDO's Ballistic Missile Defence interceptor was used. India used the technology of Kinetic Kill to achieve the objectives that were set out in the mission.
What is an Interceptor missile and how it is useful?
Now let's have a look why Mission Shakti is different from other missions?
- As we know that Anti-satellite technology has so far been in the hand of the United States, Russia and China. The demonstration and successful tests of ASAT technology make India a member of an elite group of countries.
- On the other hand the technology of anti-satellite is indigenously developed which further add credentials. The indigenous technology was available with the DRDO since 2012 but was not used till now.
- According to Arvind K. John an analyst in New Delhi based think-tank Observer Research Foundation "The ASAT weapon is likely to be the most potent military tool for the armed forces over the next few decades, notwithstanding a revolutionary technological breakthrough".
- Within three minutes of launch, Mission Shakti was successfully completed.
- How we will come to know that mission met all the objectives? The tracking data from range sensors has confirmed that the mission met all the objectives as the interceptor missile was a three-stage missile with two solid rocket boosters.
- No doubt this test is a message to other countries.
- Do you know that anti-satellite system is an asset? With the help of ASAT we can target and destroy satellites of the enemy that can completely halt the communication systems of a country and during conflict the enemy would not be able to use missiles or drones.
According to our honourable Prime Minister Narendra Modi Mission Shakti was very special. He cited two reasons:
1. India is the only 4th country to acquire such a specialised and modern capability.
2. The entire effort in the mission is indigenous. After the completion of the mission, satellites can be hit at long ranges with a few centimetres accuracy.
Government of India has cleared that the ASAT test is not directed against any country. India's space capabilities do not threaten any country and nor are they directed against anyone. So, now it may be clear what is Mission Shakti and how India became the fourth nation to possess an ASAT weapon after US, Russia and China.
What is Space Station and how many Space Stations are present in space?