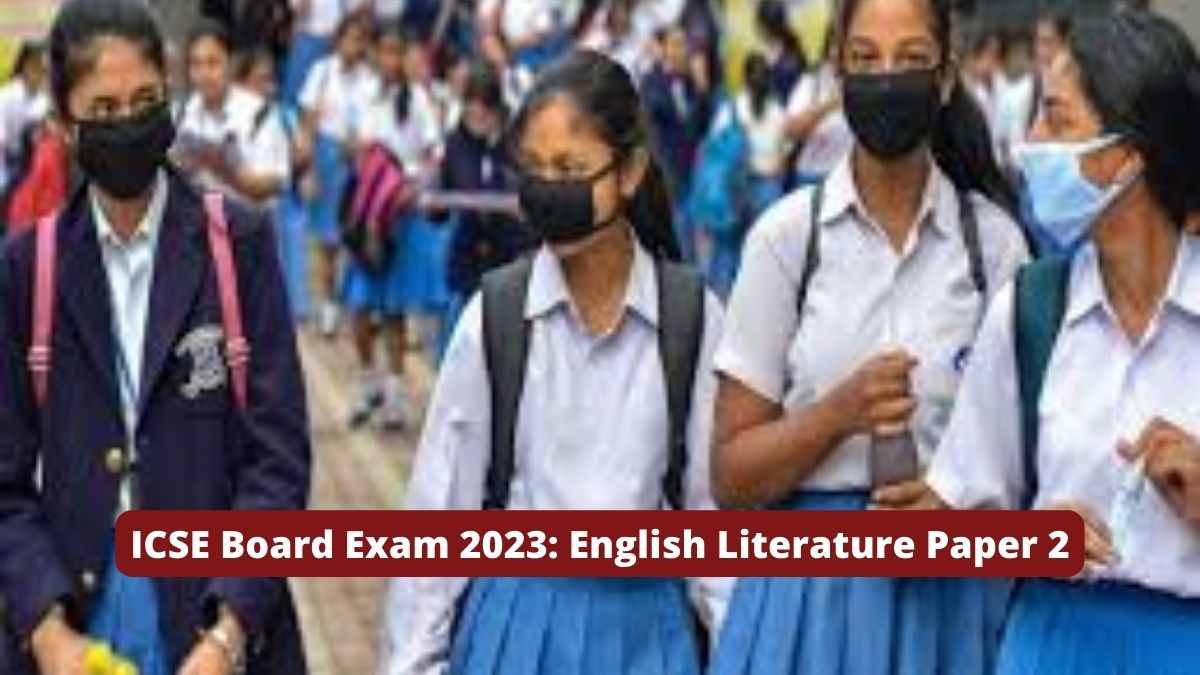 ICSE Board Exam 2023: The Council for the Indian School Certificate Examinations (CISCE) will conduct ICSE class 10 board exam for English Literature (paper 2) today on March 1, 2023. The ICSE board exam will commence at 11 am and conclude at 1 pm. CISCE has already released the ICSE board exam admit card 2023 for students. They must carry their ICSE class 10 admit card along with them to their respective exam centres.
Also, ICSE Board exam day guidelines have also been mentioned in the admit card. As per the guidelines, the ICSE board exam question papers 2023 will be distributed at 10:45 am. Students will get 15 minutes to go through the same. Here, they can check ICSE board exam dates, timings and other important instructions.
ICSE Board Exam Dates 2023
Dates

Subjects

March 1, 2023

English Literature - Paper 2

March 3, 2023

Commercial Studies (Group II Elective)

March 4, 2023

Art Paper 1 (Still Life)

March 6, 2023

History & Civics - H.C.G. Paper 1, History & Civics (Thailand) - H.G.T. Paper 1

March 10, 2023

Mathematics

March 11, 2023

Art Paper 2 (Nature Drawing/ Painting)

March 13, 2023

Geography - H.C.G. Paper 2, Geography (Thailand) - H.G.T. Paper 2

March 14, 2023

Environmental Science (Group II Elective)

March 15, 2023

Second Languages: Ao-Naga, Assamese, Bengali, Dzongkha, Garo, Gujarati, Kannada, Khasi, Lepcha, Mizo, Malayalam, Manipuri, Marathi, Nepali, Odia, Punjabi, Sanskrit, Tamil, Tangkhul, Telugu, Urdu

Modern Foreign Languages: Arabic, Chinese, French, German, Korean, Modern Armenian, Portuguese, Spanish, Thai, Tibetan

March 17, 2023

Physics - Science Paper 1

March 18, 2023

Art Paper 3 (Original Composition)

March 20, 2023

Chemistry - Science Paper 2

March 21, 2023

Economics (Group II Elective)

March 23, 2023

(Group III-Elective)

Carnatic Music, Commercial Applications, Computer Applications, Cookery, Drama, Economic Applications, Environmental Applications, Fashion Designing, French, German, Hindustani Music, Home Science, Hospitality Management, Indian Dance, Mass Media & Communication, Physical Education, Spanish, Western Music, Yoga

Technical Drawing Applications

March 24, 2023

French / Sanskrit (Group II Elective)

March 25, 2023

Art Paper 4 (Applied Art)

March 27, 2023

Hindi

March 29, 2023

Biology - Science Paper 3
Last Minute Guidelines for ICSE Board Exam 2023 of English Literature Paper 2
Students should reach their exam centre at least 30 minutes before the commencement of the ICSE board exam.

They must not carry any electronic devices or other types of calculating machines inside the exam hall.

They must go through the instructions carefully regarding number of questions that have to be attempted, etc.

Students can use a black or blue ball pen to write their answers. They can use pencils only for diagrams.

They have to write on both sides of each sheet of the answer booklet unless the rubric of the question paper prohibits this.

Students must check that the main answer booklet, continuation pages, and maps have the correct UID, index number, subject name, etc written on it.
ICSE Board Exam 2023 English Language Paper Analysis
As per the schedule, ICSE Paper 1: English Language exam was conducted on February 27, 2023, from 11 am to 1 pm. As per media reports, students had mixed experiences. Some found it too difficult, others too easy. Also, some of them informed that few ICSE board exam questions were similar to those in the specimen question paper. Students had to attempt a total of five questions in the exam. ICSE Class 10 English Language paper was conducted for 80 marks.
ICSE Board Exam 2023 For Commercial Studies (Group II Elective)
As per the date sheet released, the next paper will be held on March 3, 2023. Students have to appear for Commercial Studies (Group II Elective) paper from 11 AM. It is advised that, they must go through and practise from the ICSE class 10 specimen papers 2023 to score better. With the help of ICSE board exam question papers from previous years and specimen papers, students will get an overall idea of the pattern.
Also Read: ICSE Board Exam 2023 Begins With English Paper, Check Class 10 Timings and Guidelines Here