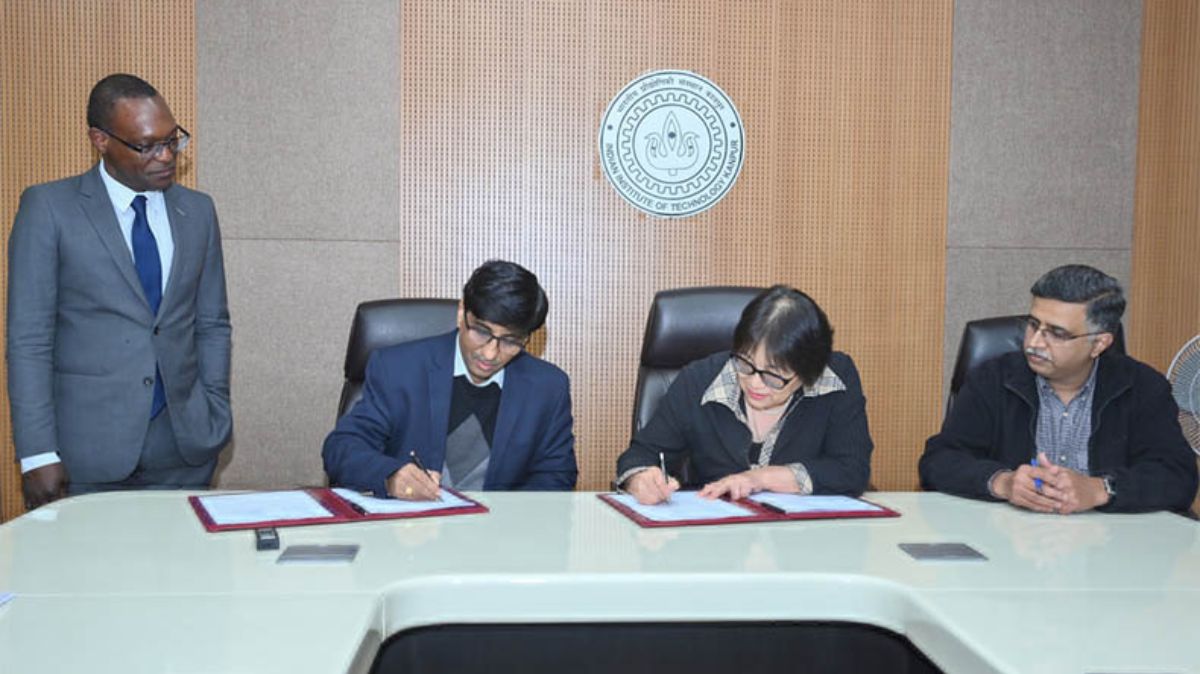 The Indian Institute of Technology Kanpur (IITK) and the University of Alberta, Canada have collaborated on a joint degree programme (JDP) and research. As per the latest notification, the agreement was signed between the two esteemed organisations on January 18, 2023.
The official deal has been signed by IIT Kanpur Director Professor Abhay Karandikar, Professor Dhirendra Katti, Dean of International Relations from IIT Kanpur, along with Professor William Flanagan, President and Vice-Chancellor and Dr Cen Huang, Vice-Provost and Associate Vice-President (International) from the University of Alberta.
.@IITKanpur and @UAlberta have signed a Memorandum of Understanding (MoU) towards collaborating for a Joint Degree Program (JDP) and be part of a Joint Research Innovation Network. pic.twitter.com/YftwfJ4ZPr

— Abhay Karandikar (@karandi65) January 19, 2023
All interested students will be able to participate in the Joint Degree Programme through this agreement and they will also have the chance to conduct research at the partner university. Also, the agreement will encourage research collaborations between faculty members on energy materials, systems and technologies required towards the clean energy transition.
Academic Perks for Students
Talking about the agreement, faculty from two different universities will mutually supervise a doctoral student and will also provide students with an opportunity to conduct research and visit the partner university for a period of one year or more. Moreover, the joint doctoral course aims at granting students the opportunity to work with prestigious faculty at both institutions in key research fields of mutual interest.
Excellent visit with @IITKanpur today, which included signing an MoU and Joint Doctoral Degree Program agreement✍️Excited to expand our partnership further in research and mobility 🤝#energy #AI #quantum pic.twitter.com/1WExveee5O

— UAlbertaIntl (@UAlbertaIntl) January 18, 2023
The Director of IIT, Professor Abhay Karandikar expressed his excitement to join hands with the University of Alberta on this joint degree programme. Unique opportunities will be given with leading researchers to learners in their respective fields. This is another significant addition to the progressive collaborative R&D ecosystem at IIT Kanpur.
Foreign Delegates Meeting
The delegation from the University of Alberta had important interactions and discussions with the IIT Kanpur faculty members working in the area of Energy and discussed the major possible areas of collaboration in this field. Additionally, the deputies also visited the Department of Sustainable Energy Engineering facilities like PG Energy Lab, Battery Fabrication Lab and other operations such as Smart Grid Center as well as Solar Energy Research Park. The collaboration between these two prominent universities will also be done in the Joint Research Innovation Network with the primary focus on developing new, renewable, and efficient energy materials, systems, and technologies for the clean energy transition to address several climate issues.
Also Read: Punjab to Become a Leading State in Education Sector Vouches CM Bhagwant Mann