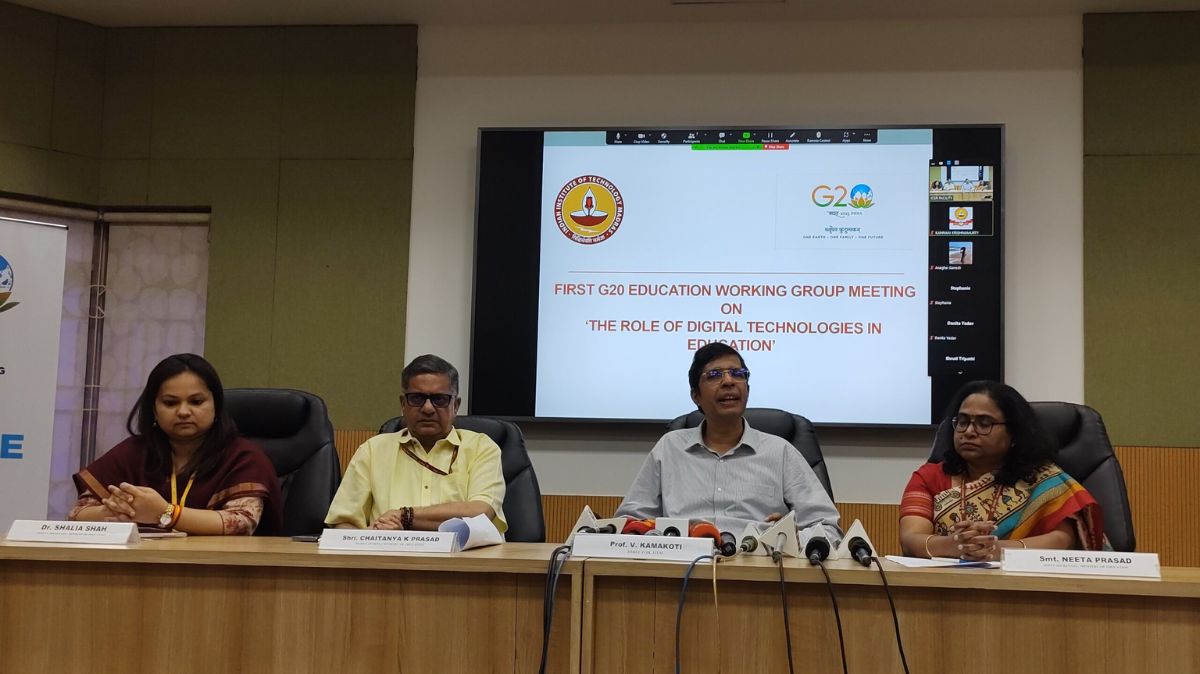 IIT Madras: The Indian Institute of Technology (IIT) Madras is organizing an official seminar on the "Role of Digital Technology in Education" today, January 31, 2023. This event begins at 9 am today before the G20 Education Working Group meeting in Chennai which will be hosted on February 1 and February 2, 2023, respectively.
As per the press release by IIT Madras, the seminar will be held at Research Park and the main aim is to target policies for the efficient use of digital technology in education in the G20 member countries. Moreover, the event will be held as a part of the Sherpa Track – First Education Working Group in Chennai, Tamil Nadu between January 31 to February 2, 2023.
Please watch live the first #G20 seminar on Role of digital technology in #education, Jan 31, 2023, 9:00 AM at @iitm_respark, @iitmadras.

Watch:https://t.co/9Kjmu8wWWU@g20org @EduMinOfIndia

— IIT Madras (@iitmadras) January 31, 2023
Education Working Group
Under India's Presidency of G20, G20 Summit 2023 intends to achieve major areas or themes in order to further promote academic research and collaborations among educational institutions across various G20 member countries. For G20 Summit 2023, India has assumed the presidency from Indonesia till November 30, 2023.
In addition to this, through the G20 seminar, the primary focus will be on enhancing the usage of digital technologies to build student learning opportunities and capacities in future. This is also intended to support and strengthen digital technologies for the education of special children. The Director of IIT Madras, Professor V Kamakoti stated that the participants or the audience of the event will also share their best-known practices regarding the use of digital technologies to promote inclusive as well as equitable quality education in all G20 member countries.
The members of the G20 Education Working Group, Delegates from G20 countries, representatives from UNESCO, UNICEF, World Bank, OECD and industrial professionals from other organisations and representatives from Indian knowledge partners have marked their presence for the seminar today. In the next two days, the group would also showcase NEP 2020 and other education policies, infrastructure, etc.
G20 Summit 2023 Seminar Participants
The following are the participants present in the G20 seminar arranged by IIT Madras.
Members of the G20 Education Working Group from each G20 member country, guest countries, and International Organizations are invited to this big G20 event.

Several of the representatives of select academic institutions in G20 member countries are engaged in the implementation of promoting the use of digital technologies for ensuring quality learning opportunities for improved learning outcomes.

Representatives of international organizations such as UNESCO, UNICEF, World Bank, and OECD, among others are also present.

Representatives of knowledge partners from India
Over the past few years, all G20 member countries have made significant progress in the expansion of digital technologies for overall improvement in the educational sector by providing digital access and the teaching-learning process. In view of the SDG4-Education 2030 agenda, it is essential that digital technology transforms educational systems in a better way and that further advancements happen from time to time. It will upgrade the level of lifelong learning as well as narrow persistent learning deficits.
Also Read: ICMAI CMA June 2023: Registration Closes Today, Get Application Steps Here