"Banasthali Vidyapith is a wonderful blend & an epitome of tradition and modernity"-M Venkaiah Naidu
Banasthali Vidyapith is a unique institution in the world for women's education. Its ideology of five-fold education is an innovative way of holistic development as well as character building for the students.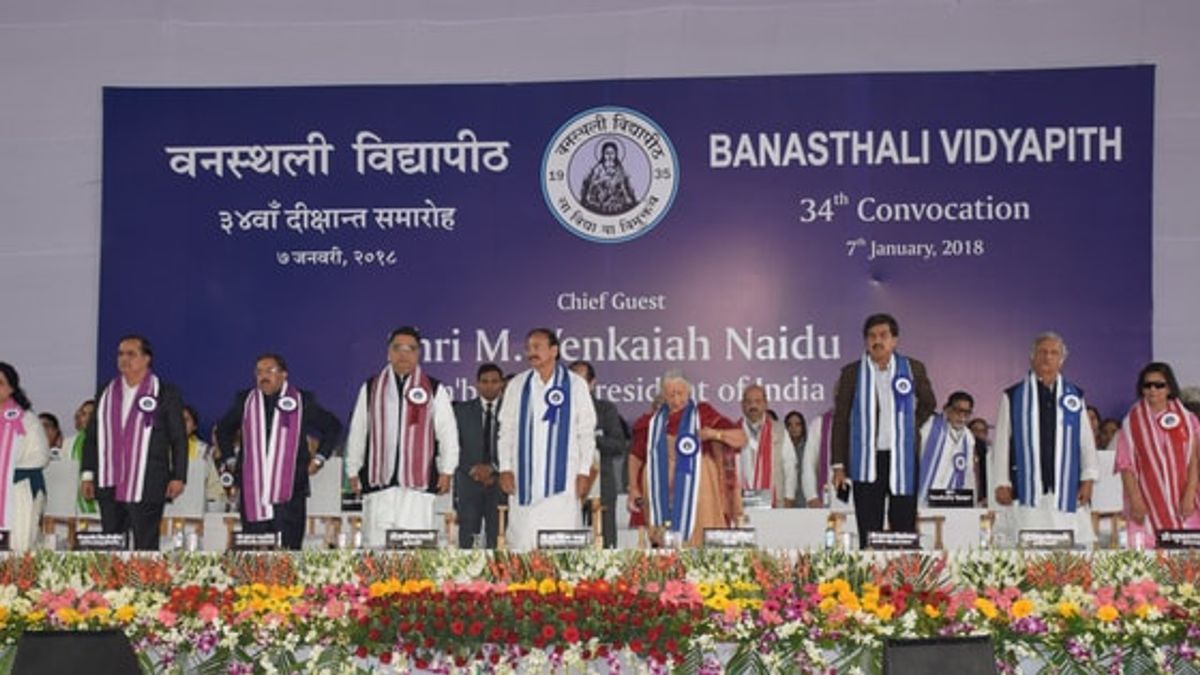 Banasthali Vidyapith
"Banasthali Vidyapith is a wonderful blend and an epitome of tradition and modernity"-M Venkaiah Naidu, Vice President of India
"Banasthali Vidyapith is a unique institution in the world for women's education. Its ideology of five-fold education is an innovative way of holistic development as well as character building for the students."
"Banasthali Vidyapith is an epitome of tradition and modernity. I am amazed to see the beautiful amalgamation of women's education, values, Indian culture and ethos, technology and advanced infrastructure in this world's largest fully residential university- Banasthali Vidyapith," said Shri M. Venkaiah Naidu, Hon'ble Vice President of India, while addressing a congregation of graduate, post-graduate and doctorate degree recipients at the 34th Convocation Ceremony of Banasthali Vidyapith held on January 7,2018.


"This is my first visit to Banasthali Vidyapith and I thank Prof. Aditya Shastri, Vice Chancellor of the University for inviting me to this one of its kind institution. He is doing a noble task in educating the young women of India through the unique educational ideology of Panchmukhi Shiksha. Each of the missionary activity that I witnessed today beginning with the Swagat Gaan to parade, the all girls' band, horse riding and show jumping assured me that a unique institution like Banasthali Vidyapith is nurturing the future leaders who will take our nation to greater heights," the Vice President of India said. He hailed the vision and tireless efforts of Pt. Hiralal Shastri, Padma Bhushan Smt. Ratan Shastri and all those who helped them in shaping the great institution committed to the cause of women's education.

Shri Naidu added, "Panchmukhi Shiksha- the unique ideology for women's education in this institution of international repute, has played a pivotal role in helping the students to realise their innate potential and integrating the knowledge gained with its cultural and environmental context."
The Vice President hailed the students and said, "through the Panchmukhi Shiksha, you, the students of Banasthali Vidyapith will take the glorious legacy of ancient Indian women scholars like Lopamudra, Gargi and Vidyottama. Such a unique educational ideology should be replicated over the entire country. It will help us in going back to our roots which is the need of the hour. One should never forget ones mother, mother tongue, motherland and Guru. Google will never become the substitute of Guru. Instead of caste, community and cash barriers, people should focus on character, calibre, competence and conduct.

Shri Naidu added, "It is gratifying to note that in the era when literacy was low and girls remained confined to homes, Banasthali Vidyapith became the pioneer in the cause of education of girls. In the era when women were learning to use cycles, Banasthali Vidyapith ensured that women swiftly rode and raced horses, and touched the sky as gliders and pilots. Again, in the era when women were asked to settle down in mundane jobs after professional education, Banasthali Vidyapith nurtured the likes of Ft. Lt. Avani Chaturvedi, one of the first fighter pilots inducted in Indian Airforce. Today when STEM courses still remain male dominated; the students of this premiere university for women are learning the Internet of Things and gaining technological skills in the most advanced industry 4.0 laboratories of Mechatronics and Robotics".

He made an appeal to all corporate and business houses to duly support Banasthali Vidyapith in its journey of development and thus play a role both in rural reconstruction and women development. Talking about rural reconstruction he quoted Gandhiji, "Go back to villages" and added that Pt. Hiralal Shastri, a man of character and vision, followed Gandhiji's words when others hardly paid heed.
Appreciating the one of a kind of its institution, Shri Naidu said, "Banasthali Vidyapith has over the years emerged as a dynamic educational institution preparing its students for the many roles that they may assume in life. It has carved a niche for itself among the cluster of educational institutions in the state and country and continues to spread its wings far and wide."

Expressing his wishes to the new graduates, the Vice President said that India is a land of opportunities. One can achieve anything with hard work and passion irrespective of one's background and hoped that they will make use of their knowledge and training to contribute towards nation-building and will make a positive impact on the world around them while pursuing their own dreams and fulfilling their ambitions.

His oratorical skills that were par excellence enthralled the audience. Time and again the venue was thundered with applause.

Initiating his address Prof. Aditya Shastri said, "Banasthali has never followed the westernized style of formal convocation ceremonies. We have always had the tradition of beginning the convocation with Vedic Richas. The recipients are dressed in traditional Indian attire made of Khadi and are formally initiated as graduates by the Head of the Institution who gives them a Deeksha in Indian Gurukul tradition."

While introducing the honourable chief guest Shri M. Venkaiah Naidu, Vice Chancellor of Banasthali Vidyapith, Prof. Aditya Shastri said that, "Typically biographic information and salient achievements are shared on such occasions, but everything pales in comparison to the enormous and larger than life persona of his. With humble beginning he has been one of the most prominent public figure of the country for the last several decades. We all know that he has served as the President of Bharatiya Janata Party.
He had headed several important Ministries in the Atal Bihari Vajpayee Government as well as in the current Modi Government before taking over as the Vice President of India in August, 2017. As the Chairman of the Rajya Sabha, we have all witnessed his masterly conduct of the proceedings. People attain excellence in their respective fields but it is indeed astonishing and mind blowing how anybody could play so many different roles in one life time. All in all, if I were to summarize his life I would say he has been a great son of the soil and I salute him for a lifetime of dedicated services to the nation. We are all extremely proud that you are the Vice President of this wonderful nation of ours."

In his address, Prof. Shastri said that when he visited the hon'ble Vice President to extend the invitation, he immediately gave him appointment and the Vice Chancellor was deeply touched by the humility of Shri Naidu. Both of them had a discussion over several pertinent issues and during the entire meeting the hon'ble Vice President was extremely humble.
In fact, Prof. Shastri went on to say, "the redoubtable belief of the Vice President in the unity and diversity of India and the affection he has for the countrymen reflects his uncomparable faith in Indian culture and strong sense of nationalism." Prof. Aditya Shastri added, "Banasthali also believes in simplicity, humility and modesty and its comprehensive educational ideology rests on the twin pillars of Indian culture and nationalism. Banasthali, as you now know, is the creation of a father who made a promise to himself to train every other girl just the same way he would have trained his own daughter whom he lost before her hour. Banasthali embarked upon its journey way back in 1935, when the concept of education for a girl child virtually didn't exist. Our founders went door to door to recruit students. There was no question of charging any fee over the first few decades. With that humble beginning 83 years ago, Banasthali today stands as one of the world's largest fully residential women's universities having more than 15000 students on its 850-acre campus situated amidst rural setting in Rajasthan and having a distinct educational ideology and offering a variety of programmes from nursery up to doctoral level across a wide spectrum of disciplines to prepare enlightened citizens with strong value-base."

Paying his gratitude to the Vice President, Prof Shastri said that "Banasthali has earned one more well-wisher and we look forward to your enshrined blessings. Today we are extremely delighted and honoured to have you amongst us."

The vote of thanks was delivered by Prof. Siddharth Shastri, Vice President, Banasthali Vidyapith. He expressed warm gratefulness to hon'ble Vice President of India Shri M. Venkaiah Naidu as well as all the dignitaries, administration, media, guardians, staff and students.


Earlier in the morning, the chief guest of the 34th Convocation of Banasthali Vidyapith, the hon'ble Vice President of India, Shri M. Venkaiah Naidu reached Banasthali at 10:00 am by a chopper that landed on Marut Maidan, the airfield of Banasthali Vidyapith. He was accompanied by Shri Arun Chaturvedi, Minister of Social Justice and Empowerment GoR, and Shri Rajpal Singh Shekhawat, Minister of Industry, GoR.

The Vice President of India was received by the President of Banasthali Vidyapith, Prof. Chitra Purohit, Vice President Prof. Siddharth Shastri, Vice Chancellor Prof. Aditya Shastri, Shri Sukhbir Singh Jaunapuria, MP, Tonk- Sawai Madhopur and the senior officials of the state and district administration. At the Swagat Dwar, the Vice President was given a ceremonial welcome amidst the presence of the Pro Vice Chancellor Prof. Ina Shastri, Prof. Sudha Shastri, Treasurer, Banasthali Vidyapith, the students and the staff members. The band of Banasthali Sewa Dal gave national salute. Shri Naidu was escorted to Shantabai Shiksha Kutir, the birth place of Banasthali and Gandhi Ghar, the residence of the founders where Prof. Aditya Shastri explained the significance of the places. The next destination was Laxmibai Maidan where the chief guest unfurled the national flag. He inspected the parade and was highly impressed by the march past. The chief guest was all praises for the green and serene campus, activities like horse riding and show jumping that he witnessed during his drive through the university campus.

A total of 3847 graduates were awarded degrees that included 299 PhD degrees. Gold medals were awarded to 99 meritorious students. Flying, horse riding and shooting and all exhibitions as well as departments were open for visitors in the afternoon. Cultural programme representing the rich cultural diversity, both classical and folk of India was also organised for the guests and campus fraternity in the evening.
Disclaimer: The information provided in this Notification is solely by Banasthali Vidyapith., Jagranjosh.com bears no representations or warranties of any kind, express or implied, about the completeness, accuracy, reliability, suitability or availability with respect to the information. Individuals are therefore suggested to check the authenticity of the information.